What's The Song In Netflix's Extraction 2 Teaser Trailer?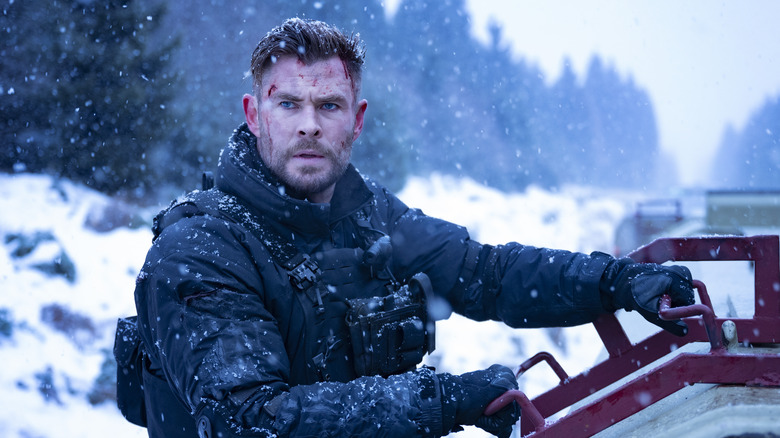 Netflix
When it comes to comic book movies, Anthony and Joe Russo take the source material seriously. It helps that the directors and producers — known for helming two "Captain America" joints, as well as "Avengers: Infinity War," and "Avengers: Endgame" — are comic book scribes themselves. In 2014, they penned "Ciudad" alongside Ande Parks and artist Fernando León González. That violent tale of an embattled mercenary named Tyler Rake is the comic book basis for "Extraction," a 2020 action hit for Netflix.
Now, Netflix has debuted the trailer for "Extraction 2," which sees Chris Hemsworth reprising his role as Tyler Rake. The teaser cuts to the chase by immersing viewers in two minutes of high-octane action footage as Rake protects a new ward. The trailer is mostly soundtracked by noises of bone-crunching punches and explosions. There's also an ominous voiceover that tells Tyler, "You were clinically dead nine months ago."
Towards the end of the trailer, a song finally enters the sonic fray — Baauer's remix of "In Cold Blood" by alt-J. For "Extraction" fans, the song should sound pretty familiar.
alt-J also soundtracked the original Extraction trailer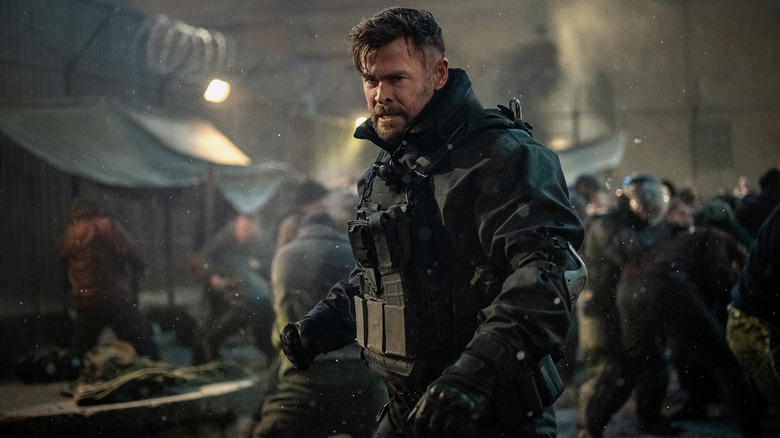 Jasin Boland/Netflix
Tyler Rake spends much of the "Extraction 2" trailer beating up goons in a snowy courtyard surrounded by prison fencing. When alt-J's "In Cold Blood" kicks in, the trailer cuts to Rake gunning down a helicopter with a machine gun as the song's cheerful "la la"s provide a counterpoint to the intense carnage. The blasting synths courtesy of DJ Baauer are very suited to the explosive scene.
"In Cold Blood" might sound familiar to "Extraction" fans, as the same remix was featured prominently in the original film's trailer. Using the same track creates a through line between the two films, with "In Cold Blood" fast becoming the series' theme song. A recognizable motif could serve the films well if the Russo brothers make good on their promise to pursue an entire "Extraction" cinematic universe.
As for alt-J, the glitchy band have brought their tunes to a number of trailers and soundtracks, including "Outer Banks," "The Blacklist" and another Russo film, "Captain America: Civil War."