Why Modern Family's Sofia Vergara Thought Ed O'Neill Spoke Spanish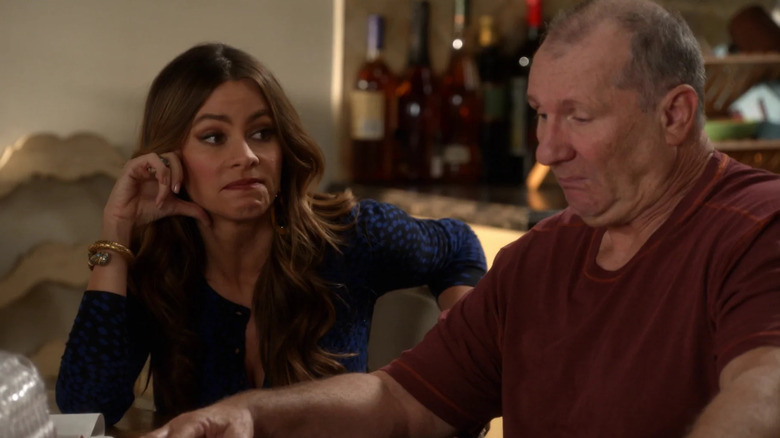 ABC/Hulu
Sofia Vergara suffered something of a shock after joining the cast of ABC's "Modern Family." The problem was that Ed O'Neill, her on-screen husband, couldn't speak Spanish, and she'd spent no small amount of time assuming that he could. As shared by Entertainment Weekly, during a 2015 "Jimmy Kimmel Live" interview, Vergara confessed that, when she lived in Colombia, she would watch a Spanish dubbed version of Fox's "Married ... With Children." Since O'Neill starred in that particular production, Vergara's first impression of him included a voice that wasn't his own, speaking a language that wasn't his, either. "I always thought Ed spoke Spanish," admitted Vergara. "He had a very sexy Antonio Banderas voice, the guy who was dubbing him." 
To make this whole situation even funnier, we need to understand the timeline. "Married ... With Children" was released to American audiences in 1987 and to Colombian audiences in 1992. Obviously, the latter group was treated to the Spanish dub. In 1992, Vergara was approximately 20 years old. Since she told "The Howard Stern Show" in 2021 that she "grew up" watching O'Neill, it's wholly possible for her to have spent the better part of two decades assuming that her 'future husband" was bilingual.
A good reason to laugh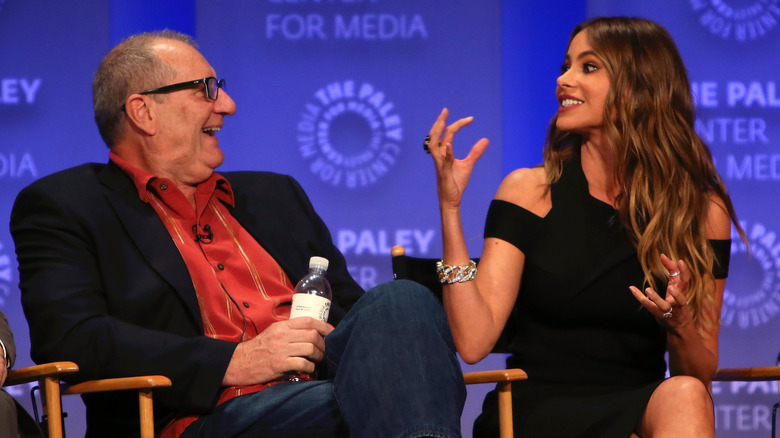 David Livingston/Getty Images
While Vergara didn't elaborate on how she made this discovery, it's safe to assume that her perception shifted when O'Neill opened his mouth to speak — not exactly a difficult conclusion to reach. To her credit, Vergara always recalls the misunderstanding with a hearty bout of laughter, so she's happily in on the joke. That said, there's something deeply "Modern Family" about imagining the finer points of the story. Maybe Vergara tested her costar by exclusively speaking in Spanish offscreen? Or, maybe O'Neill caught wind of the goof and tried to learn a little Spanish simply to get a reaction out of her. 
Surely, something must have happened, even if it was just a silly prank between the two of them. Since "Modern Family" ended in 2019, Vergara and O'Neill have publically continued their witty banter. In 2020, O'Neil briefly appeared on "America's Got Talent" via video call to tease Vergara about her role as judge. Could it be a public appearances sort of thing? Maybe, but the cast of "Modern Family" always claimed to be close, so it's nice to hope.