Modern Family's Sarah Hyland Is Grateful For Her Bond With Co-Star Julie Bowen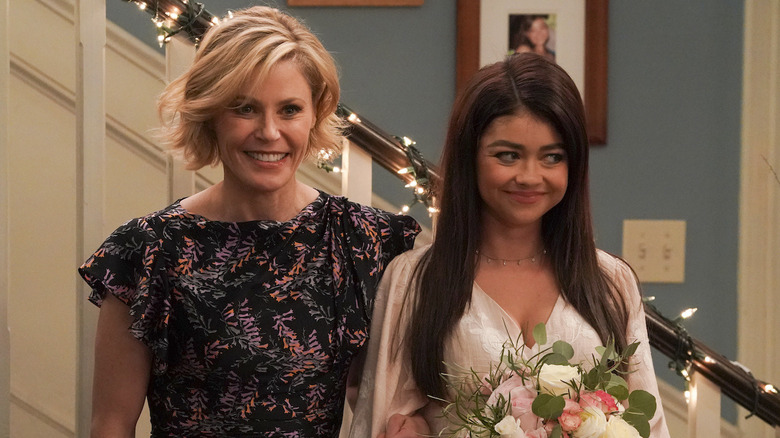 ABC
"Modern Family" worked hard to portray the relationship between families in today's world. The two main groups of the series — the Dunphys and the Pritchetts — certainly have a lot of love for one another, even if it isn't always front and center. For example, Haley (Sarah Hyland) and Alex (Ariel Winter) constantly make fun of one another, Mitchell (Jesse Tyler Ferguson) and Cam (Eric Stonestreet) bicker over minor things, and Jay (Ed O'Neill) sometimes struggles to adjust to life with Gloria (Sofía Vergara) and Manny (Rico Rodriguez). Still, when it comes down to it, they're a close-knit unit.
Off the set, the actors of "Modern Family" grew close over to one another throughout the show's 11-season run, becoming a family of their own. For example, many cast members attended Hyland's wedding in 2022, with Ferguson even officiating it (although Hyland's on-screen dad Ty Burrell was meant to do it but had a family emergency). And, as it turns out, Hyland has close bonds with another member of her on-screen family: Julie Bowen, who plays her mom, Claire.
Praising her on-screen mom, Hyland told Glamour in April 2020, "Julie has been like a mother to me over the past 11 years. She is one of the strongest, smartest, most opinionated women I've ever met." And her praise doesn't stop there — in fact, Bowen isn't even the only one Hyland expressed admiration for.
Hyland appreciates having all the women of the show in her life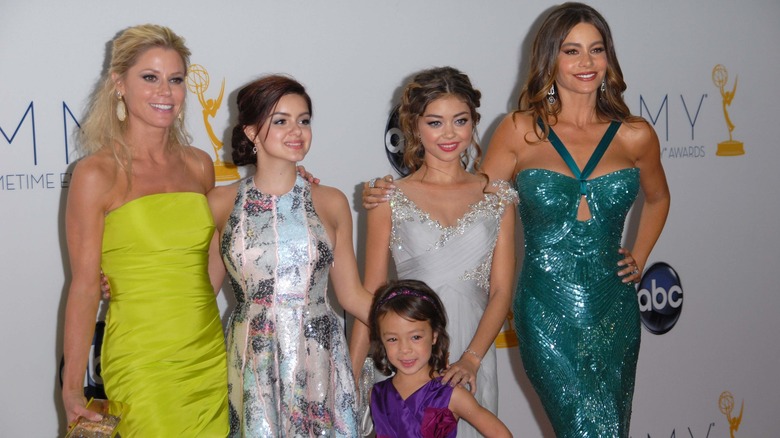 s_bukley/Shutterstock
Beyond her on-screen mom Julie Bowen, Sarah Hyland also revealed to Glamour that she appreciates all the relationships she developed with the other women on the show, especially since most of the cast consists of men. Hyland said, "The show is a male-dominant cast, really, so the female relationships have meant so much to me. It's been amazing to have Julie Bowen and Sofia Vergara to look up to as role models because they're so funny, smart, talented, and kind." The actor also noted that she loves having seen her on-screen sister, Ariel Winter — who she calls beautiful, intelligent, and opinionated — as well as her on-screen niece, Aubrey Anderson-Emmons, grow into themselves.
Further, she discussed what she's learned from her female castmates, including Bowen. On the topic of looking up to Bowen, Hyland explained that Bowen had taught her how to filter herself and be strategic about what she talks about. The actor continued, "She's taught me how to keep, at times, my mouth shut. Watching her in interviews, in work settings — really just in life — her brain is the most fascinating thing to me."