The History Channel Made A Stink About Danielle At The Start Of American Pickers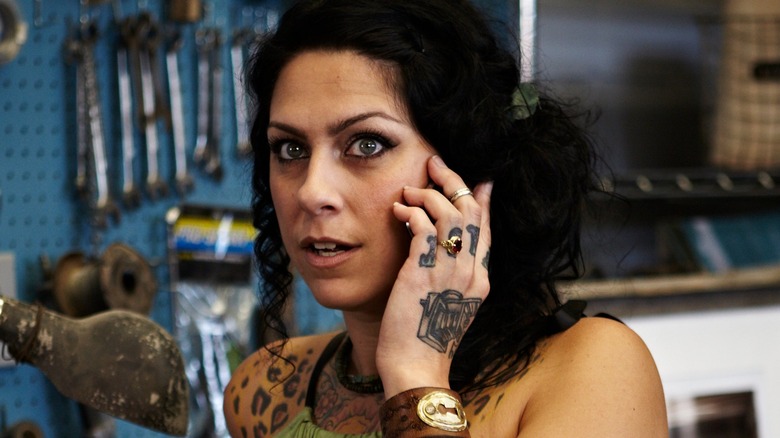 Zachary Maxwell Stertz/History
History struck gold with "Pawn Stars," a reality show following the happenings of a pawn shop in Las Vegas. It's safe to say taking a bet on "American Pickers," which follows the far more off-the-beaten-path hobby of picking antiques and collectibles, was riskier.
It's clearly paid off, with "American Pickers" still going strong over a decade after it initially premiered. But the show may have looked far different today if the crew had gone along with History's original plans for the show. Mike Wolfe spoke with Script Mag in 2013 about the inception of the reality series where History wanted the focus solely on Wolfe and his picking partner at the time Frank Fritz. And initially, History wanted nothing to do with Danielle Colby, who's still a fixture on the series. 
Wolfe and Colby went way back, as he mentioned, "I had known Danielle for 15 years. She had just closed her store in LeClaire, and I approached her and said History bought the show, and I want her to be on it. I needed her to do the research of where we're going." That's precisely what she's done on the series, and sometimes, she's even gotten out in the field to help Wolfe out. But at the beginning, History wanted her off-camera because they had only signed contracts with Wolfe and Fritz. It didn't take long for people to catch on that Colby was something special.
Danielle Colby was an asset in making American Pickers popular
Danielle Colby fielding phone calls and telling Mike Wolfe and Frank Fritz where to go was integral to the show's beginnings. However, History didn't see the value in her inclusion off the bat. She still worked with the duo, but everything she did was off-camera. Slowly but surely, the crew began to recognize the potential that was there, with Wolfe going on to say, "After the crew saw us for about a week in the shop, and what we were doing, they started filming her on their iPhones and sent the footage to History and then decided to bring her into the show."
Wolfe later explained that Colby kind of made the show what it was. Instead of it just being two guys going to different houses to look for antiques, there's an added element of someone telling them where to go. There's an additional character within the show, and it certainly didn't hurt that she was an attractive woman; as Wolfe elaborated, "It brings a girl into it. History viewership is 60% male. The first thing I told her was I wanted her to do it because I want to make a show about antiques that no one has ever seen before, and you look like you have nothing to do with antiques. You're a smart ass, you're a girl, and we need a girl."
Wolfe's instincts proved to be fortuitous. "American Pickers" got excellent ratings for a cable network, and Colby became a runaway star. She's even found success as a burlesque dancer, proving she is, indeed, a woman of many talents.