Friends: Brooke Shields Small Cameo Ended Up Being A Big Career Moment
"Friends" is the series that keeps on giving.
The iconic NBC sitcom continues to be one of the most talked-about shows from the '90s because, well, it defined the '90s. Not only did the series kickstart the careers of its main cast, but it also served as a valuable platform for several other actors. Several iconic performers appeared as guest stars on "Friends," including Brad Pitt, Denise Richards, and Brooke Shields. For Shields, her "Friends" appearance was a major moment that went on to shape her career.
Shield appeared in the Season 2 double episode "The One After the Superbowl," which also featured cameo appearances from Julia Roberts and Homer Simpson voice actor Dan Castellaneta. In the episode, Shields stars as a woman who believes Joey (Matt LeBlanc) is the fictional doctor he plays on television. Joey attempts to quell Shields' delusions but fails, resulting in one of the most memorable cameos in the entire series.
While appearing on The View, Shields remained eternally grateful for having the opportunity to play a small part in "Friends." "It was the first time that I was allowed to be funny," shared Shields. The actress continued by pointing out how her character's signature laugh wasn't in the original script. "I said 'She's so beautiful, she has to be really crazy,'" Shields said, discussing how the laugh ties into her character's quirky personality. Eventually, the producers agreed to let Shields throw in the laugh. "It was as if my whole career just became clear to me, because that was my instinct, they trusted me. It was right. It was hilarious."
Broke Shields found her footing in comedy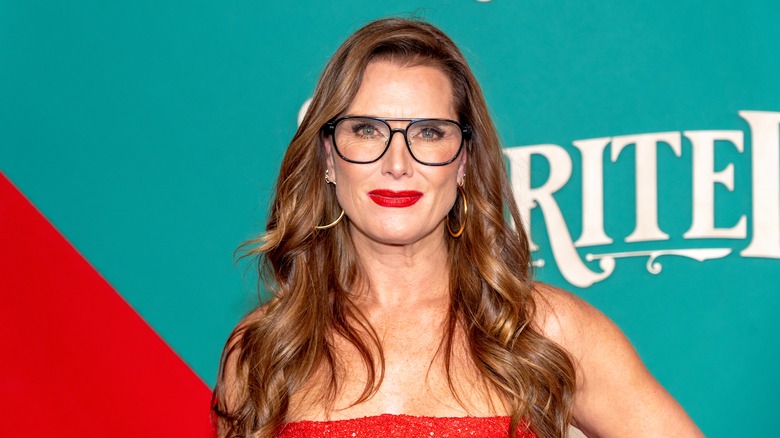 lev radin/Shutterstock
Take a look at Brooke Shields' post-"Friends" career and it's clear that comedy has gone on to define it. Prior to appearing on "Friends," Shields was best known for her appearances in "The Blue Lagoon" and "Pretty Baby." Following the 1996 episode, Shields went on to lead the sitcom "Suddenly Susan," which nabbed her two Golden Globe nods. She also had a guest arc on "That '70s Show" and has appeared in films like "Furry Vengeance."
In an interview with The Guardian, Shields suggested that she's at her happiest when she's participating in comedic roles. Why is she so attached to the genre? "The visual of a pretty girl falling on her face somehow is really appealing. That's been in comedy for a long time," Shields said, particularly praising Lucille Ball. "My image went through so many different machinations," the actress concluded.
Without "Friends," it's hard to imagine where Shields' career would have taken her. The actress most recently appeared in Netflix's Christmas-themed rom-com "A Castle for Christmas," opposite "Princess Bride" star Cary Elwes.