Carnival Row: Orlando Bloom Thought Of Philo As Both Batman And Joker In S2
Julie Vrabelova/Prime Video
When most fans think of Prime Video's fantasy series "Carnival Row," it's doubtful that they think of DC Comics characters like Batman and Joker. However, that's exactly what "Carnival Row" star Orlando Bloom has done when it comes to describing the inner conflict that goes on with his character Rycroft "Philo" Philostrate. For Bloom, both characters represent the struggles that Philo goes through during the events of Season 2.
"I was playing with this idea of one version of Philo being a bit like Batman while the other one is like the Joker," Bloom told Collider. "He's got this Joker on his shoulder, coming out ... I just had these ideas of [what] his dark shadow side would look like and how that would play out with him, and I wanted to go big with that. I wanted to go bold, and I wanted to show that it had really been running his life and a lot of his decision-making."
Bloom clearly put a lot of thought into how he would show Philo's character struggle throughout Season 2 of "Carnival Row," especially when it comes to dealing with the fae side of him that he's hidden from the world. It's an interesting choice to use such well-known comic book characters to represent that, but given the duo's seemingly eternal struggle in the comics, it makes sense. Still, when it comes to Philo's character arc as a whole, Bloom had a lot of kind words for Season 2 showrunner Erik Oleson.
Bloom really enjoyed embracing the fae side of Philo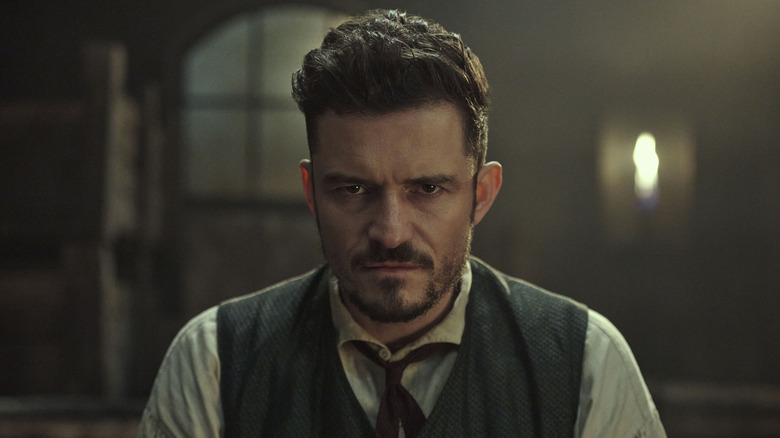 Julie Vrabelova/Prime Video
"Carnival Row" star Orlando Bloom praised Season 2 showrunner Erik Oleson for following through on a lot of character arcs that were set up in Season 1. The actor admitted that one of his favorite aspects of the second and final season of the fantasy series was finally getting to explore the fae side of Philo, and really play with that more.
"I think Erik Oleson has landed all the character arcs for all of these really phenomenal actors and characters," Bloom told Collider. "I had the best time, going back and playing with this character. When we meet Philo, at the beginning of this season, he's stepped into the Row to embrace and accept his fae nature, something that he has hidden his entire life because revealing that secret would have been the end of his life as he knew it."
Bloom was excited to finally see what those two sides of his character would actually look like when fully realized, which came late into Season 2 and which is where his idea of Joker and Batman came to fruition. It's likely not an easy thing to bring characters to life with multiple layers like this, but drawing from well-established characters can be one solid method. Bloom could certainly do a lot worse than two of the most popular comic book characters of all time.