First How To Drain Your Dragon: The Hidden World Poster Sees Toothless Meet His Match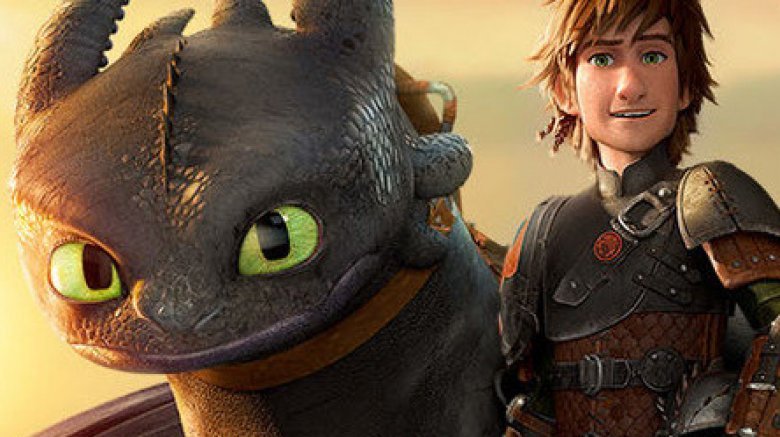 There's someone out there for everyone — even dragons in a hidden world. 
DreamWorks Animation and Universal Pictures have lifted the veil off the first-ever poster for How to Train Your Dragon: The Hidden World, the third installment in the adored action-fantasy film series. The image gives fans the first look at Toothless the dragon's "untamed, elusive mate" — a female Night Fury with white scales and sparkling blue eyes, the perfect match for the all-black, green-eyed Toothless.
Check it out below.
Prior to releasing the film's first poster, Universal rolled out an official plot summary: "What began as an unlikely friendship between an adolescent Viking and a fearsome Night Fury dragon has become an epic trilogy spanning their lives. In this next chapter, Hiccup and Toothless will finally discover their true destinies: the village chief as ruler of Berk alongside Astrid, and the dragon as leader of his own kind. As both ascend, the darkest threat they've yet faced — as well as the appearance of a female Night Fury — will test the bonds of their relationship like never before."
How to Train Your Dragon: The Hidden World features a voice cast including Jay Baruchel as Hiccup (formally but less frequently known as Horrendous Haddock III); Cate Blanchett as Valka, Hiccup's mother; Gerard Butler as Stoick the Vast, Hiccup's father; and Craig Ferguson as Gobber the Belch. Topping off the cast are America Ferrera as Astrid Hofferson, Christopher Mintz-Plasse as Fishlegs Ingerman, Jonah Hill as Snotlout Jorgenson, T.J. Miller and Kristen Wiig as Tuffnut and Ruffnut Thorston, Kit Harington as Eret, and F. Murray Abraham as Grimmel. 
Directed by series filmmaker Dean DeBlois, How to Train Your Dragon: The Hidden World has Brad Lewis (Ratatouille, ANTZ) and Bonnie Arnold (Toy Story, Tarzan) attached as producers. The culmination of the How to Train Your Dragon franchise, The Hidden World will launch on March 1, 2019.