Who Did Jonathan Banks Play On CSI?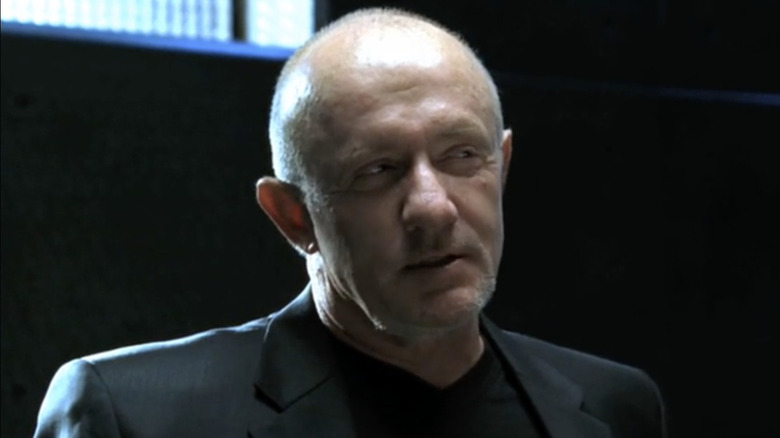 CBS
The CBS series "CSI: Crime Scene Investigation" may not have gotten everything right when it came to forensics, but the show's ability to recruit top-notch talent for guest spots was outstanding, as the series has seen its fair share of star power on the call sheet. Out of all the big names that once graced the screen on the investigative procedural program, many might recall that one of those recognizable Hollywood players was actor Jonathan Banks.
It's certainly no secret that most people know Banks as one of the small screen's best fixers, Mike Ehrmantraut from "Breaking Bad" and "Better Call Saul." Those two credits are undoubtedly among his most popular, but Banks has been a prolific player in the realm of acting, with over 170 credits dating back to 1974. Among those many endeavors was a notable stint on "CSI: Crime Scene Investigation," where he played the character Bobby Jensen. In Season 5, Episode 7 ("Formalities"), Jensen's daughter is found dead, and he becomes a person of interest in the tragic demise of a casino owner's daughter. Banks' persona would return in Season 6, Episode 13 ("Kiss Kiss, Bye Bye"), where Mr. Jensen is involved in the murder of a wealthy socialite. Banks would also make an appearance on "CSI: Miami" several years later in Season 10, Episode 10 ("Long Gone"), where he played Oscar Duarte, a convicted drug felon involved in a hostage situation.
His turns in the "CSI" franchise are among the many tough guy roles he has taken over the years, earning him a reputation for being a reliable asset to get the job done, much like his "Breaking Bad" character.
The actor's on-screen tough guy reputation helped him secure Breaking Bad
It presumably took years for Mike Ehrmantraut to gain his reputation in the "Breaking Bad" universe for being a reliable individual who can be trusted with a substantial role and get the desired results while making it look easy. Banks has a lot in common with his on-screen counterpart in that manner, and both have worked very hard to garner the experience needed to excel at being a terrific tough guy.
When the AV Club interviewed Banks, they most likely put it best when summing up him up overall as "the quintessential bad guy and the quintessential 'that guy.'" In the same discussion, Banks revealed that his earlier work gave him enough street cred to be the heavy favorite for the infamous "Breaking Bad" role. "Vince [Gilligan] and Tom [Schnauz] and ... I don't know who else was there at NYU with them, but they were big 'Wiseguy' fans when they were in school, and they knew me from ... whatever else I'd done," the actor said. "Whatever paltry crap has come up over the years. [Laughs.]"
Banks' efforts throughout his career didn't go unnoticed by the "Breaking Bad" creators, but while some from the show revere his intimidating on-screen actions, others cannot hesitate to mention how he is anything but menacing on set. Giancarlo Esposito confirmed what fans suspected by discussing his co-star's lighter side, saying, "I contend that Jonathan is a really soft human being underneath his gruff exposure." While Banks' reputation for playing characters like Mike Ehrmantraut, Bobby Jensen, or Oscar Duarte certainly precedes him, it's comforting to find out he is known for being a nice guy in real life.