Every NCIS Character Who's Been Killed Off The Show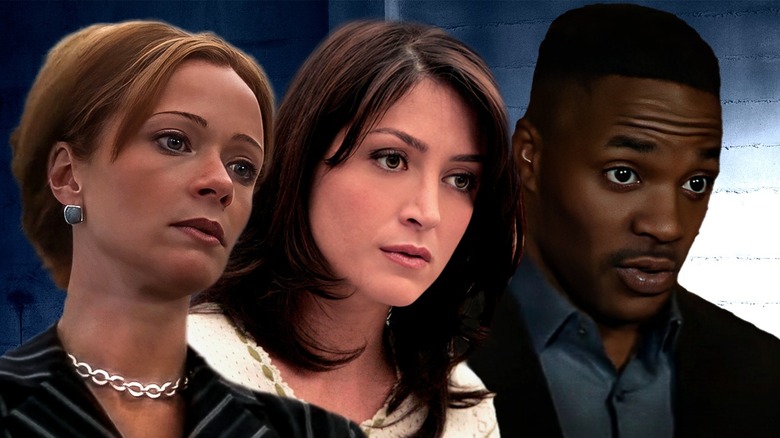 Static Media
From the moment "NCIS" hit television screens in 2003, the "JAG" spin-off has proved immensely popular with viewers. Throughout its 20-year run, the show has largely followed Leroy Jethro Gibbs (Mark Harmon) and his team of Special Agents at the Naval Criminal Investigative Service as they solve major cases and track down a variety of criminals. Carefully blending police procedural elements with military drama, the show has established itself in popular culture due to its longevity and continuing high quality.
But the fact that it has been on the air for so long also means that its cast has changed significantly over the years — even Mark Harmon has now departed the show. This means that the writers have had to come up with ways to bring character arcs to an end to explain why they are no longer part of the show.
Thankfully, that is not a particularly difficult task considering that the entire premise of the show sees the NCIS team in a number of dangerous situations — battling against terrorists, serial killers, and other violent criminals who are willing to kill to escape justice. Even the Special Agents themselves are willing to do some pretty questionable things that often land them in tricky situations, and many have met untimely and grisly ends. This is every NCIS character who has been killed off the show so far.
NCIS Special Agent Caitlin Todd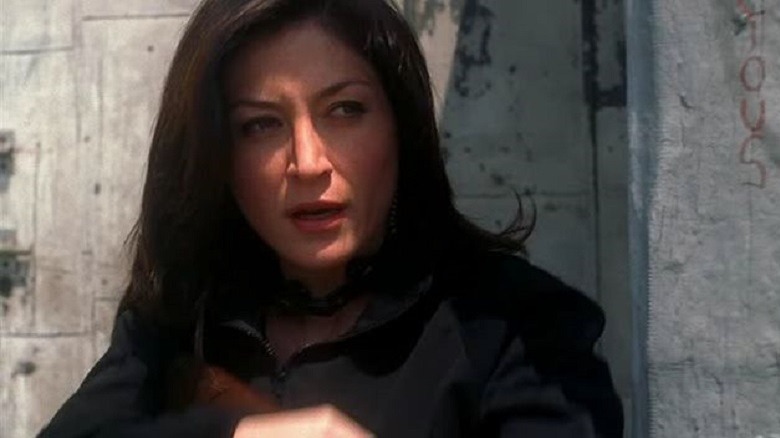 CBS
Fans of the early seasons of "NCIS" will no doubt be aware of Caitlin Todd. Portrayed by Sasha Alexander — who is probably best known for her work in the film "Yes Man" and the comedy-drama series "Shameless" — the character was a former member of the Secret Service who joined the NCIS team following a controversy involving her personal life. She was ever-present from episode 1 and continued in her role as a regular up until the Season 2 episode "Twilight."
Todd was killed during that episode, assassinated by Ari Haswari (Rudolf Martin), who was working as a Mossad double agent. He shot and killed the NCIS Special Agent using a sniper rifle as she and her team searched for terrorists in a warehouse. She later appeared briefly in Season 3 when her funeral was held and she was granted the Presidential Medal of Freedom posthumously.
Alexander has since spoken out about her desire to leave the show, telling Zap2It that she didn't regret leaving the series "for a million reasons that I've never spoken out about ... for a million reasons that I can't."
NCIS Director Jennifer Shepard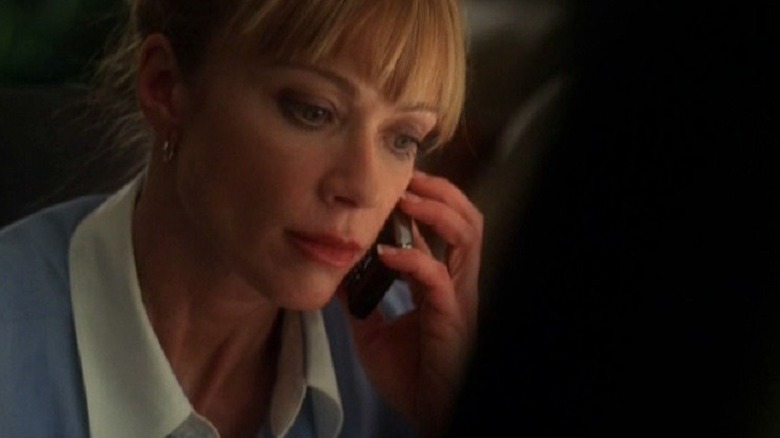 CBS
Jennifer Shepard began her career as an NCIS Special Agent but eventually rose through the ranks to become the director of the organization. Joining the show in Season 3, she was the daughter of Colonel Jasper Shepard (Webster Williams) and she replaced Thomas Morrow (Alan Dale) following his resignation after the death of Caitlin Todd in Season 2. A no-nonsense leader, she was a dedicated and strict director who pushed her colleagues to become the best they could be.
Played by actor Lauren Holly, Shepard eventually met her end in Season 5 after more than 80 episodes on the show. She was killed during a shootout with a number of assailants in a diner that she had visited in the hopes of finding who was responsible for killing Special Agent William Decker (Mark Vahanian). According to Holly, her role was only initially meant to be a temporary part (via Smashing Interviews Magazine) and she explained on her personal blog that she was no longer enjoying her time on the show. She went on to say: "To be honest, now that the work bug had bitten me again, I got bored with my part of the director."
MI6 Liaison Officer Clayton Reeves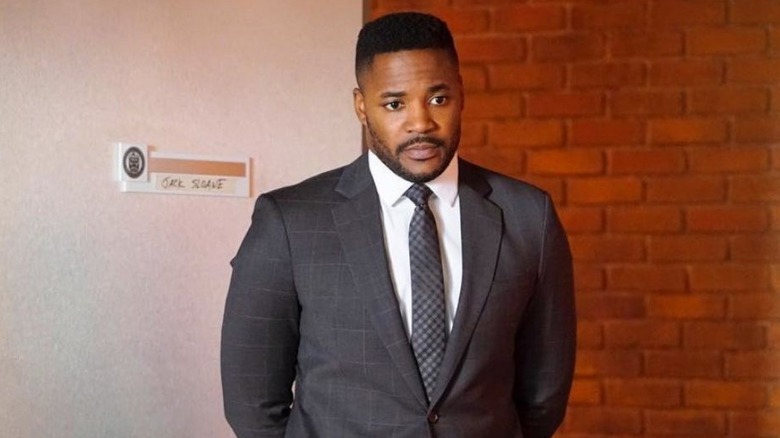 CBS
Among the many main characters killed off on "NCIS," Clayton Reeves stands out as one of the more irregular. That's mainly because the character was not part of the NCIS but rather a liaison officer who worked closely with the team. He was actually employed by the secret intelligence service branch of the UK's government known as MI6, and he first appeared during Season 13 before becoming a regular fixture among the NCIS group in Season 14.
However, his tenure on "NCIS" was not as long-lived as many might have hoped. In the Season 15 episode "Two Steps Back," Reeves was gunned down by a mugger who was attempting to rob Abby Sciuto (Pauley Perrette). English actor Duane Henry played the character throughout his run on the crime drama but he has also had stints on "Doctors" and "W.E." Henry was seemingly happy with the way his character departed and sacrificed himself for Abby, telling Parade: "I couldn't have done it any better because I love her so much, she did so much for me."
NCIS Special Agent Christopher Pacci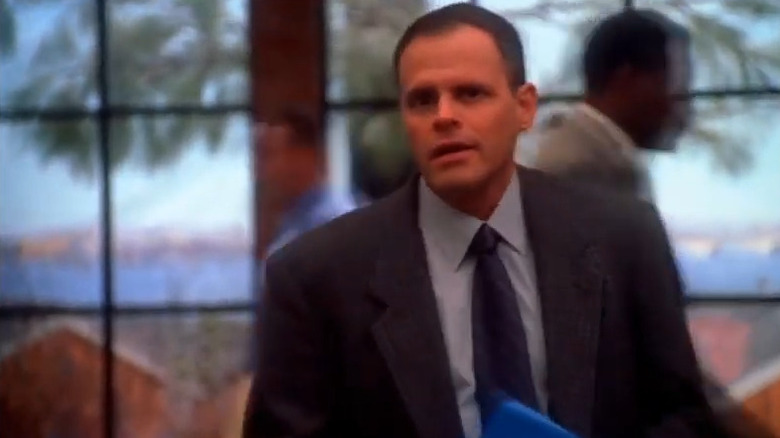 CBS
"Teenage Mutant Ninja Turtles III" and "Inception" star Tim Kelleher is the man who brought the character of Special Agent Christopher Pacci to life in "NCIS." Often operating alone, he was largely responsible for cold cases, working on solving crimes that had been open for years or even decades. Despite being a hard-working part of the team, the character had a relatively short-lived time on the show.
Pacci made his final appearance during the Season 1 episode "Dead Man Talking" while he was investigating a cold case without any backup. On the case of a former Navy Lieutenant Commander known as Hamilton Voss (Jamie Luner) — who had stolen $10 million before his sudden death — Pacci discovered that Voss was still alive and well. He had faked his death and undertaken sex reassignment to try and evade justice. Now living as Amanda Reed, she shot Pacci in the head and went as far as to disembowel him to keep her secret safe. Leroy Gibbs eventually manages to corner Reed, shooting and killing her as she reaches for her gun.
NCIS Special Agent Paula Cassidy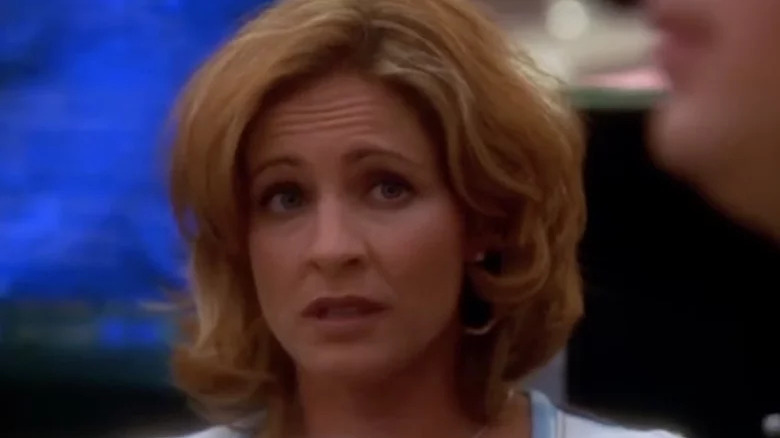 CBS
Special Agent Paula Cassidy was another character who was killed early on in "NCIS" history. First introduced during the Season 1 episode "Minimum Security," she would go on to make a handful of appearances throughout the next three seasons. During her brief stint, she was romantically involved with Anthony DiNozzo (Michael Weatherly) and also moved to the Pentagon to lead her own team before they are killed following a bomb explosion. She had previously worked as both a criminal profiler and interrogator during her time in the military.
Jessica Steen — who is probably best known for her roles in "Homefront," "Armageddon," and "Heartland" — brought the character to life throughout the first four seasons of "NCIS" until Cassidy was killed during the episode "Grace Period." Suffering from survivor's guilt, she sacrifices herself to save Leroy Gibbs and other NCIS Special Agents, including DiNozzo and Ziva David (Cote de Pablo), when a suicide bomber attempts to disrupt a conference and kill three prominent Imams.
NCIS Special Agent Brent Langer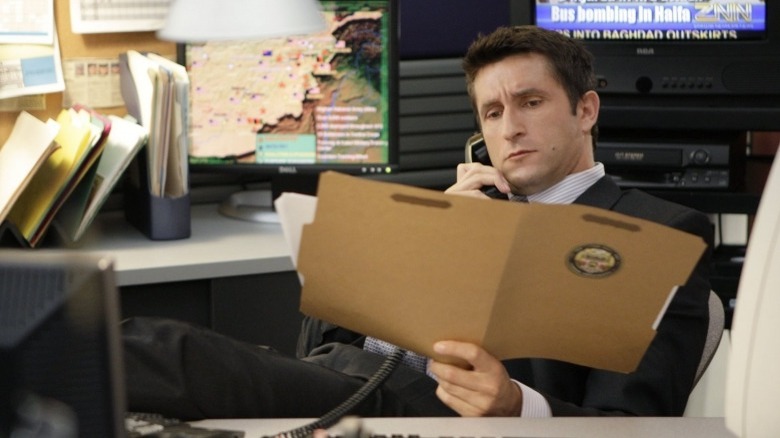 CBS
Special Agent Brent Langer is another character that didn't last particularly long on "NCIS." Making his debut in the Season 5 episode "Tribes," he would appear until "Last Man Standing" in Season 6, meeting his demise during the episode. The character was played by Jonathan LaPaglia, who has also appeared in the likes of "S.W.A.T." and Seven Days," and was a key player in the overarching mole storyline during Season 6.
In fact, it was this storyline that led to his death. Langer had come under suspicion as the potential mole leaking information and was determined to prove his innocence by uncovering the real double agent. The person responsible for killing Langer was none other than Michelle Lee (Liza Lapira), arguably one of the more popular villains in the history of "NCIS." When Langer discovered that she was the mole, she quickly killed him to keep her secret. Leroy Gibbs and the rest of the NCIS team did manage to clear his name and find some justice for him by bringing down Lee and her accomplices.
NCIS Special Agent Michelle Lee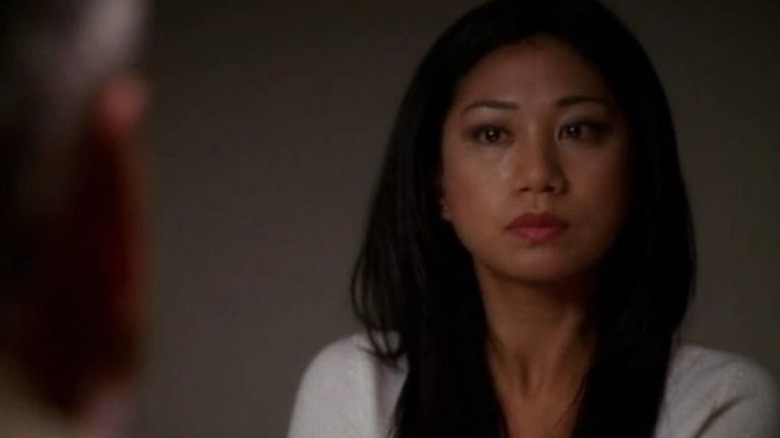 CBS
Liza Lapira's Special Agent Michelle Lee proved to be an important character in the early seasons of "NCIS." She made her very first appearance in the Season 4 opener "Shalom" and would continue to be a regular on the show up until Season 8 when she is finally killed. Working within the legal department, she had a relationship with Jimmy Palmer (Brian Dietzen) and became a more regular fixture in the series from Season 6 when she becomes part of the main team working with the rest of the NCIS group.
Lee was a mole, providing information about the working of NCIS and other government agencies to outside sources. In particular, she was transferring top secret data to a foreign power, including war plans for future operations. However, some fans developed sympathy for the character when it was eventually revealed that she was only leaking information in a misguided attempt to save her sister who had been kidnapped. After being discovered, she is shot and killed by Gibbs after her handler — known only as Weatherman — uses her as a human shield.
NCIS Special Agent Lara Macy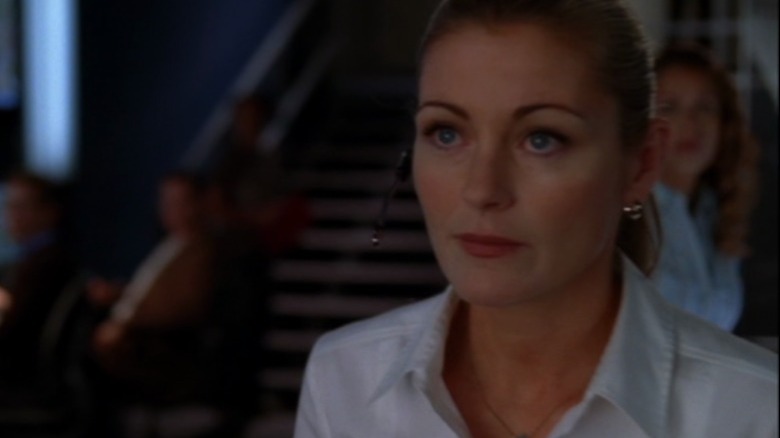 CBS
Special Agent Lara Macy is somewhat unusual as she was not actually a major regular character in "NCIS" but rather part of the main cast of spin-off series "NCIS: Los Angeles." "CSI: Crime Scene Investigation" star Louise Lombard portrayed her across both series, with Macy making occasional appearances in the main show as part of special crossover events. A former military police officer, she had hidden important evidence about the death of Pedro Hernandez (Thomas Rosales Jr.) — a Mexican drug lord who had murdered Leroy Gibbs' wife — in order to protect Gibbs.
Having left her team in Los Angeles to head up an undercover operation in the French city of Marseille, she was subsequently killed upon returning to the U.S. Her actual murder was not shown at the time but the Season 7 episode "Patriot Down" revealed that burnt and mutilated remains found by the NCIS team belonged to Macy. She had been killed by men associated with Hernandez who wanted revenge against Gibbs and those who had worked with him.
Former NIS Agent Mike Franks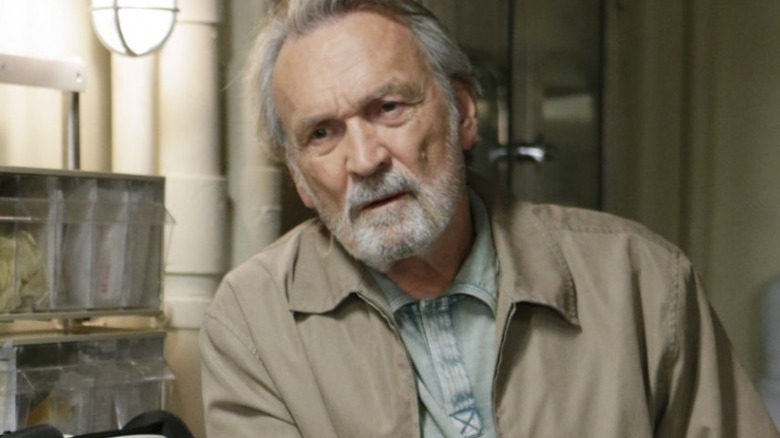 CBS
Making his debut in the show during a flashback sequence in the Season 3 episode "Hiatus," Mike Franks is a former director at the NIS. The Naval Investigative Service was something of a precursor to the NCIS and Franks had learned his trade in the earlier organization before going on to act as something of a mentor to Leroy Gibbs. He retired from active service long before the show started and moved to Mexico, largely as a result of the fact that his warnings about the danger posed by Osama bin Laden had been ignored.
Jenny Shepard recruits Franks — portrayed by Muse Watson — in Season 3 in the hopes of helping Gibbs regain his memory following a serious injury. Despite recognizing his old friend, Franks' appearance does not lead Gibbs to recover fully. He returns in the seventh and eighth seasons but is ultimately murdered by Jonas Cobb (Kerr Smith) — otherwise known as the Port-to-Port Killer — during the episode "Swan Song" while trying to arrest the suspect. However, he still appears in several episodes as part of Gibbs' imagination to offer advice to his friend.
NCIS Special Agent Gayne Levin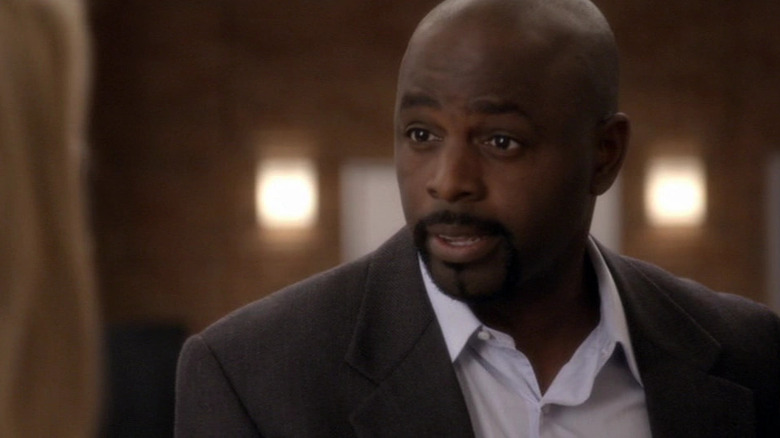 CBS
One of the most short-lived characters in "NCIS" was Special Agent Gayne Levin. He joined the show around the time of former NFL player Matt Willig, who portrayed Simon Cade. Played by Alimi Ballard, Levin worked closely with Jane Barret (Sarah Jane Morris) as part of her Major Crime Response Team. Along with Cade, the small group worked to track down the Port-to-Port Killer. Before joining NCIS, he was formerly a member of the covert black ops organization known as Phantom Eight.
Only present for three episodes of the series, Kevin was shot and killed by the Port-to-Port Killer — whose real name is Jonas Cobb — in a gunfight during the episode "Swan Song." The rest of the NCIS members investigating the criminal avenge his death in the very next episode "Pyramid." Actor Alimi Ballard is no stranger to police procedurals, having appeared extensively as an FBI agent in "Numb3rs" and as a different character in "NCIS: Los Angeles" in 2020.
NCIS Special Agent Simon Cade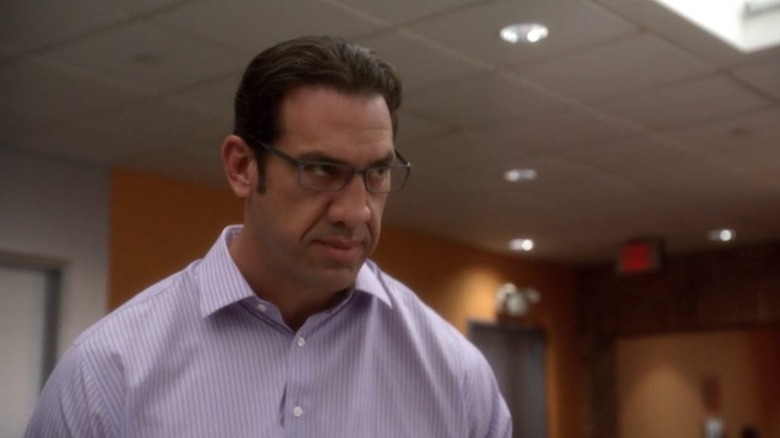 CBS
Matt Willig might seem like an unusual person to portray an NCIS Special Agent. The 6-foot-8-inch former NFL player had spent 14 years in the sport and even won a Super Bowl ring with the St. Louis Rams in 1999. In the police procedural, he is responsible for bringing the character Simon Cade to life, who had played football in his youth and was a member of Jane Barret's Major Crime Response Team investigating the serial killer Jonas Cobb. Like Gayne Levin, he was introduced near the end of Season 8 and was shot in the same gunfight that caused Levin's death. However, Cade was able to recover and returned to action in Season 9.
His return to "NCIS" was not a long one, though, with Cade killed in the very first episode of the new season. During the events of "Nature of the Beast," he is shot and killed during a meeting with Tony and Jane. "NCIS" was one of Willig's earliest major roles and he told Entertainment Weekly that he was worried about annoying fans of the show due to his character's connection with Abby, saying: "I'm paranoid. I may have to watch where I go out at night to make sure I don't get followed."
Mossad Director Eli David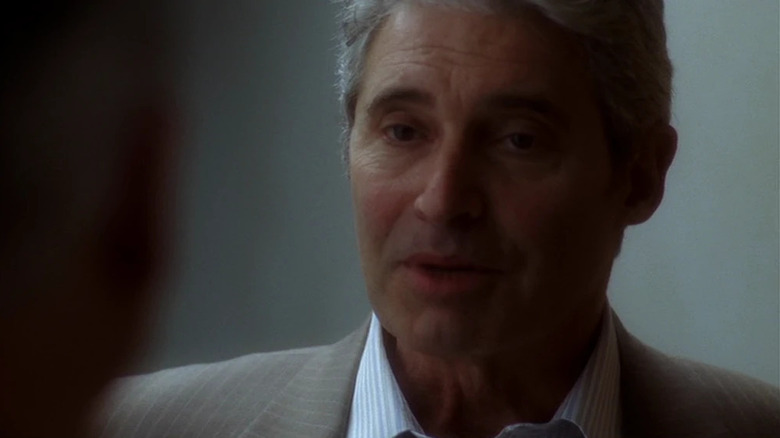 CBS
Eli David, the Mossad Director played by Michael Nouri — and also Ben Morrison as a younger version of the character — was first introduced in the Season 6 episode "Last Man Standing." As the leader of Israel's intelligence agency, he interacts with members of NCIS as they collaborate to track down terrorist threats and moles leaking information to other foreign powers. David played a major role in the series not only through his actions but also because of his influence. After all, he was the father of three other important figures in the series: Ziva David, Tali David, and Ari Haswari.
The character is shot and killed during a shootout in the Season 10 episode "Shabbat Shalom." Attending a secret meeting with Iranian ambassador Arash Kazmi (Nasser Faris) to try and find a peaceful solution to the conflict between Israel and Palestine. He is killed during the gunfire along with Jackie Vance, with his daughter Ziva pursuing the perpetrator — who then dies by suicide as a result of taking cyanide before he can be questioned.
Jackie Vance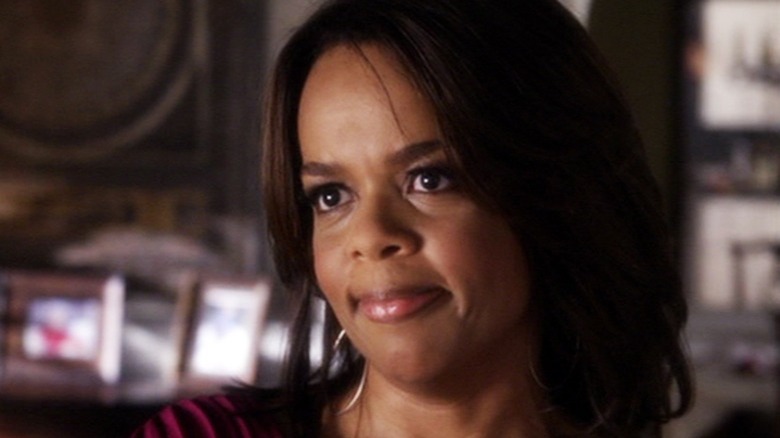 CBS
Played by Paula Newsome, Jackie Vance had a significant role in "NCIS." Although she wasn't a regular, Vance was first introduced in the Season 6 episode "Knockout" and made sporadic appearances throughout the next four seasons. She was married to NCIS Director Leon Vance and had two children in the form of Kayla Vance and Jared Vance.
Jackie Vance died during the same shootout that killed Mossad Director Eli David. She was assisting her husband in hosting the peace talks and preparing a meal for everyone present to share. She did not die immediately but was rather taken to the hospital in critical condition before succumbing to her injuries during surgery. This all happened during the episode "Shabbat Shalom," with her death coming at a critical moment that had long-lasting effects on Leon Vance and Leroy Gibbs. Newsome later went on to have a regular role in the police procedural "CSI: Vegas," appearing in more than two dozen episodes.
Secretary of the Navy Clayton Jarvis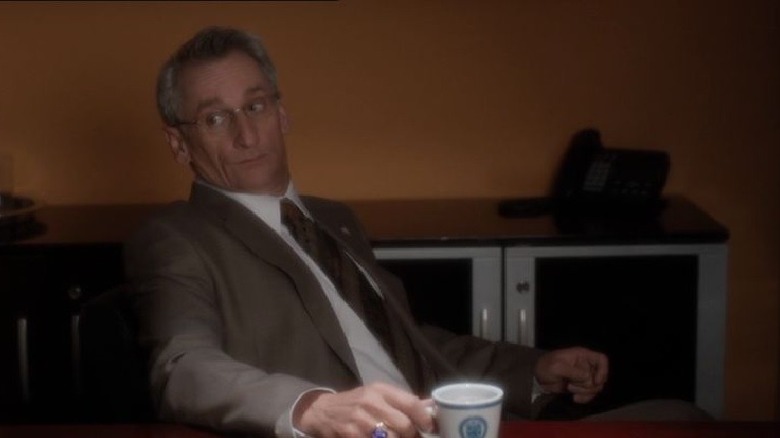 CBS
Among the many deaths in the fictional "NCIS" universe, Clayton Jarvis' stands out as he was not part of the military but rather the government as he acts as Secretary of the Navy in the United States. Actor Matt Craven plays the senior figure, who made his debut in the crime drama in the Season 8 episode "Pyramid." He is a friend of NCIS Director Leon Vance and has a major role throughout the mole storyline involving Simon Cade and Jane Barrett. Jarvis was also the man responsible for appointing Anthony DiNozzo to investigate the NCIS leaker.
Making infrequent appearances in the series following his introduction, Jarvis eventually met his end in Season 11, Episode 1. "Whiskey Tango Foxtrot" opened with a bomb detonating in Washington D.C. and killing several people, among them the Secretary of the Navy. The attack was perpetrated by a terrorist organization known as the Brotherhood of Doubt who are targeting Leroy Gibbs and his associates.
Jackson Gibbs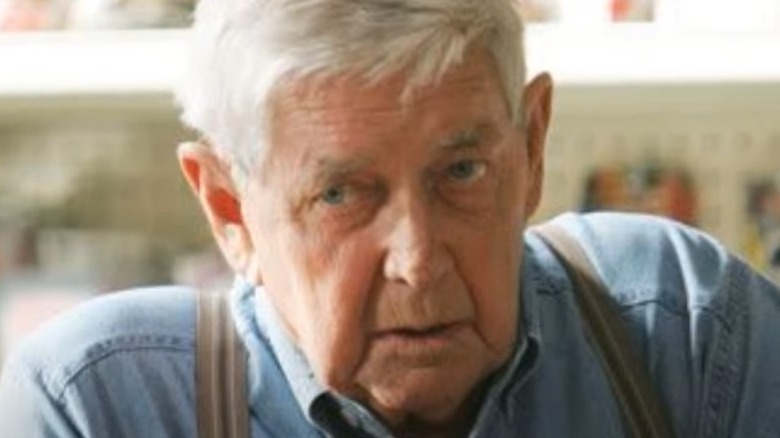 CBS
Jackson Gibbs is one of the oldest recurring characters in "NCIS" and is the father of the main protagonist Leroy Gibbs. The character is played by Ralph Waite, although producer Charles Floyd Johnson revealed in an interview with the Television Academy that the role almost went to "The Great Escape" star James Garner. Appearing in eight episodes, Gibbs made his debut in "Heartland" and continued to be mentioned by his son throughout future episodes.
Gibbs is no stranger to conflict, having fought in World War II as a pilot and then almost being killed by a member of the Reynosa cartel. Fortunately, he was able to fight off his attackers and escape without coming to harm. Despite being estranged when the show starts, both Jackson and Leroy begin to reconcile and develop a closer relationship. He dies during the Season 11 episode "Honor Thy Father," having had a serious stroke at home. Leroy, LJ Moore (Billy Dee Williams), and many NCIS team members attend his funeral as a mark of honor.
Diane Sterling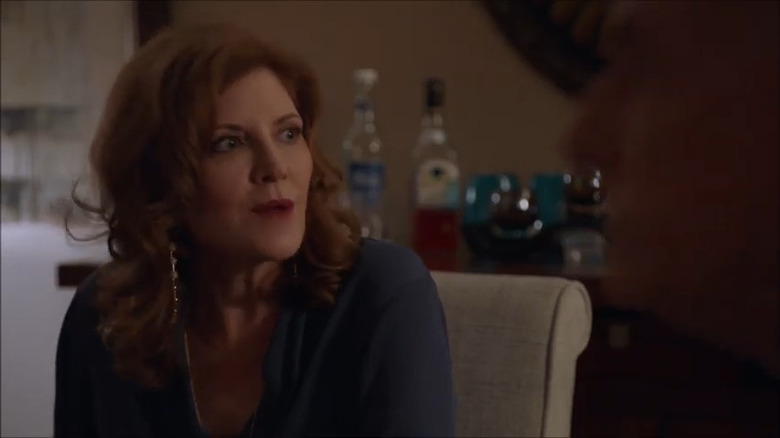 CBS
Diane Sterling — played by "Mad Men" actor Melinda McGraw — is in a unique position within the "NCIS" universe due to the fact that she has close connections with a number of important characters. Most notably, she is the ex-wife of series protagonist Leroy Sterling but she had also been married to FBI Special Agent Tobias Fornell — with whom she has a child called Emily — and Homeland Security Agent Victor Sterling. Viewers first get a chance to see Diane in "Devil's Triangle" during Season 9 when it is revealed she had previously worked for the IRS.
In later seasons, Sterling returns to the IRS, this time as a criminal investigator. Yet, her new career comes to an end in the Season 12 episode "Check." Sterling visits Gibbs at a crime scene and is shot and killed in a very similar way to how Special Agent Caitlin Todd had been murdered in Season 2. This is part of a spate of copycat killings that the NCIS investigates.
NCIS Special Agent Ned Dorneget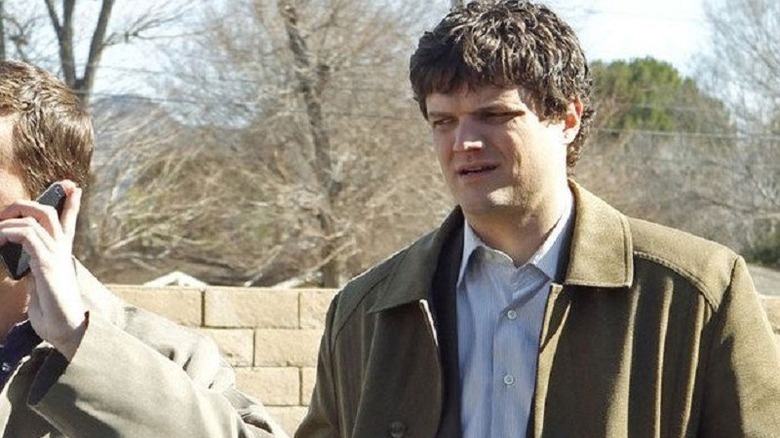 CBS
Ned Dorneget joins Leroy Gibbs' NCIS team as a probationary agent, meaning that he hasn't yet reached the status of a full Special Agent within the organization. Because of this, he is often not involved in fieldwork and instead is put in charge of the evidence locker. Portrayed by actor Matt L. Jones, the character is first seen on screen in the Season 9 episode "Sins of the Father" but does not become properly involved in a case until seven episodes later in "Need to Know." After spending a season away from the team, he returns in Season 12 having been promoted to NCIS Special Agent as an operative within the group's Cyber Operations Division.
Just one episode later, during the events of "The Lost Boys," Dorneget is killed during a terrorist attack orchestrated by Daniel Budd. Dying a hero, he helps many people escape a Cairo hotel before his death due to an explosion. His death triggers Joanna Teague — a CIA agent and his mother — to join forces with the NCIS to find justice for her son by tracking down those who carried out the attack.
Former NCIS Director Thomas Morrow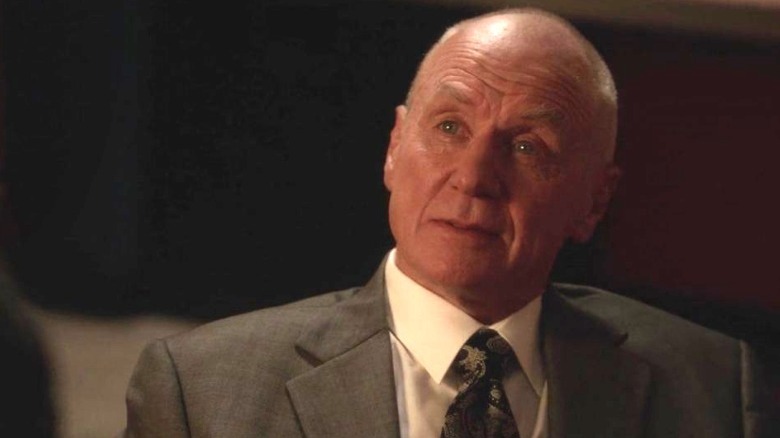 CBS
NCIS Director Thomas Morrow is first introduced to viewers during the two "JAG" episodes that acted as a backdoor pilot for "NCIS." As the director, he has overall responsibility for the operations of the entire NCIS division and is the superior that all the other Special Agents report to. Alan Dale played the character throughout his entire run on the show — although Morrow stepped back from his role to take up a position within the Department of Homeland Security. A former Rear Admiral in the Navy, he returns to the show in Season 10 following a long absence, reprising his Homeland Security role in the episode "Chasing Ghosts."
The former NCIS Director was almost killed during an attack in the Season 11 episode "Whiskey Tango Foxtrot," when a bomb planted by the Brotherhood of Doubt explodes and kills Secretary of the Navy Clayton Jarvis. Two episodes later, in "Return to Sender," the NCIS discovers Morrow's corpse, which has been shot in the head by a sniper rifle. Jacob Scott is initially blamed for the death but it becomes clear in later episodes that it was actually a former CIA agent known as Trent Kort who pulled the trigger.
Qasim Naasir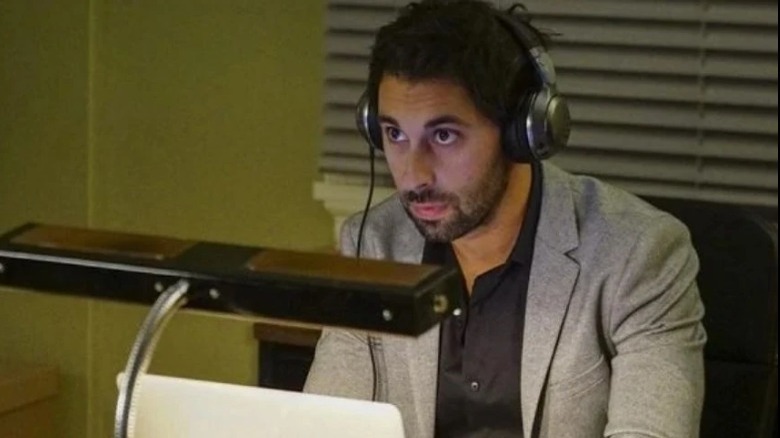 CBS
Qasim Naasir — portrayed by Rafi Silver — is a federal agent who works with NCIS as a translator. He makes his debut in the show during the Season 12 episode "Lost in Translation," when he becomes a suspect in a case as the brother of terrorist Rasheed Naasir. He appeared in a number of episodes throughout the next few seasons and developed a close bond with Eleanor Bishop, with the two eventually starting to date.
Qasim is killed during the events of "Willoughby" after being caught up in an attack by Kai Chen, a terrorist that NCIS has been investigating. His death left Bishop devastated and determined to bring Chen down by any means necessary, prompting questions about whether she will go too far to get her revenge from her fellow agents. The character appears one last time during a flashback sequence in "A Many Splendored Thing," when it is revealed he had proposed to Bishop and she was planning on saying yes to him on the night that he died.
Shin Bet Officer Adam Eshel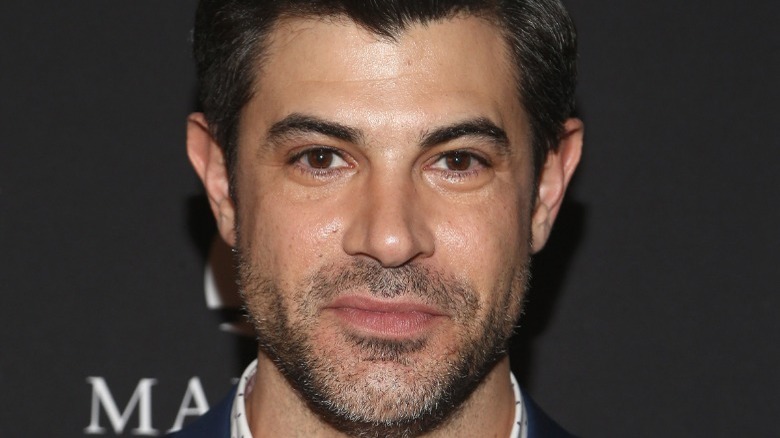 Tommaso Boddi/Getty Images
Damon Dayoub's character Adam Eshel is a figure that is first seen in the Season 10 episode "Berlin." His appearance makes sense as the team is investigating the death of a Mossad agent and Eshel works for Shin Bet, Israel's own internal secret security service. Ziva David contacts him for information and he becomes a close ally of hers. Due to the fact that he knows David well, he is able to assist the NCIS team somewhat when they are trying to track her down during Season 11.
Despite only making sporadic appearances in "NCIS," he had a significant part to play in several key events before finally meeting his end in Season 17. The episode "The North Pole" sees Eshel being captured and tortured by allies of a terrorist known as Sahar who is trying to find the location of Ziva David. The character dies shortly after being found by David and Leroy Gibbs but passes on vital information about the identity of Sahar.
Emily Fornell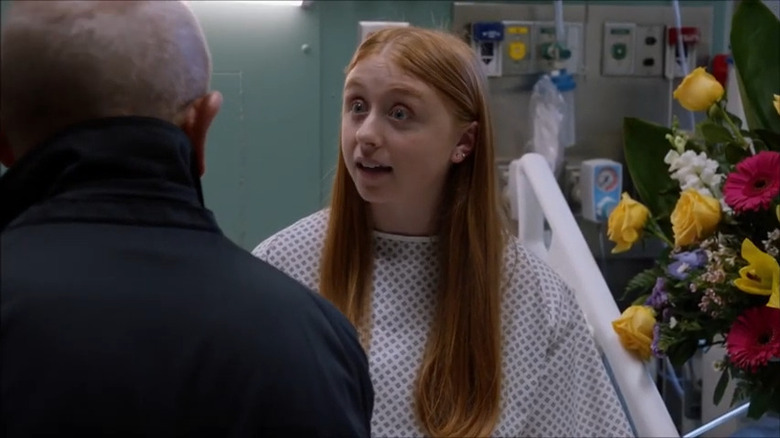 CBS
Emily Fornell is one of the youngest recurring characters in "NCIS." She is the daughter of FBI Special Agent Tobias Fornell and Diane Sterling, and she also shares a close bond with Leroy Gibbs. First mentioned in Season 4, she marks her first physical appearance in the series during the episode "Escaped," where she is played by Payton Spencer. The young actor would reprise the role for "Angel of Death" in the same series before she was replaced by an older Juliette Angelo on the character's return in Season 11.
Having experienced the death of her mother and the near death of her father — who was attacked by Jacob Scott and left in critical condition in the hospital — she turns to drugs to help deal with the pain. Although she is able to get clean, by Season 18 she has relapsed and dies of an overdose in the episode "Winter Chill" after taking opiates.
If you or anyone you know needs help with addiction issues, help is available. Visit the Substance Abuse and Mental Health Services Administration website or contact SAMHSA's National Helpline at 1-800-662-HELP (4357).
Breena Palmer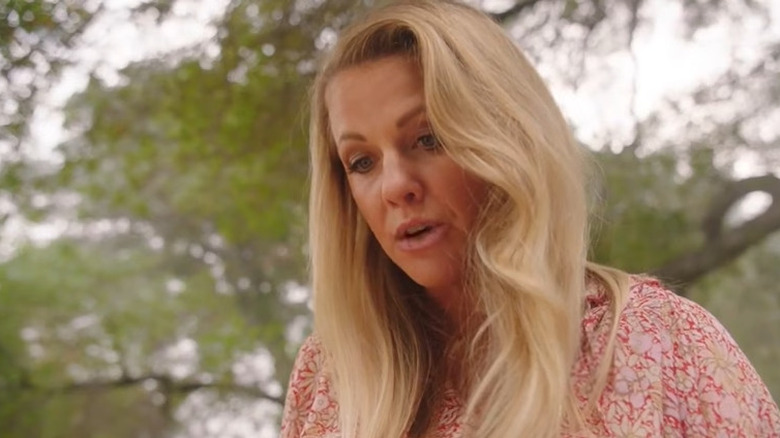 CBS
Although Breen Palmer (Michelle Pierce) was never part of the main cast of "NCIS," she did appear in seven episodes of the police procedural. Viewers were introduced to the character in the Season 7 episode "Mother's Day" when the rest of the NCIS team meet her as the girlfriend of James Palmer. A mortician, she is related to several other characters seen on the show, including Ed Slater, Stevie Slater, and Victoria Elizabeth Palmer.
Palmer's death is unique in that her death was not depicted in "NCIS" due to any sort of violence. Instead, the character died as a result of being infected with COVID-19. According to the writers of the show, they wanted to use the death of the character to help drive new storylines forward and act as a way of adding more depth to medical examiner James Palmer as he deals with life as a single parent while grieving (via ET).