Ted Lasso Season 3 Theory: Rebecca Saved Nate's Career
Apple TV+
"Ted Lasso" Season 3 finds Nate "The Great" Shelley (Nick Mohammed) at his most powerful and most toxic. The season's premiere installment follows Nate as he exercises his authority as the new head coach of West Ham United by being rude and demeaning to just about everyone around him except his boss, Rupert Mannion (Anthony Head). Rupert is, of course, the philandering ex-husband of Rebecca Welton (Hannah Waddingham), the owner of AFC Richmond and boss of Nate's former mentor and superior, Ted Lasso (Jason Sudeikis).
While "Ted Lasso" Season 3 already seems intensely focused on further building up Nate and Ted's one-sided rivalry as well, the season's second episode gives Rebecca a chance to face off in her own way with Rupert. The episode sees Rebecca compete with Rupert to convince Zava (Maximilian Osinski), a legendary but arrogant football player, to come to AFC Richmond instead of West Ham United. Fortunately for her, Rebecca succeeds and, in doing so, she greatly increases AFC Richmond's chances of one day beating her ex-husband's football club.
That said, there are some "Ted Lasso" fans who believe Rebecca may have unknowingly helped Nate by convincing Zava to join AFC Richmond. As u/randomnate explained in a recent Reddit post, "Nate is incredibly insecure and the one tool in his toolbox for overcoming that is cruelty toward anyone he feels is non-threatening enough to make a viable target. That seems like it would be 100% destined to fail disastrously if he tried it on Zava."
In the Reddit post's comment section, other "Ted Lasso" fans were quick to explain why they agree with their fellow viewer's theory about Rebecca, Nate, and Zava.
Would Nate have been able to coach Zava?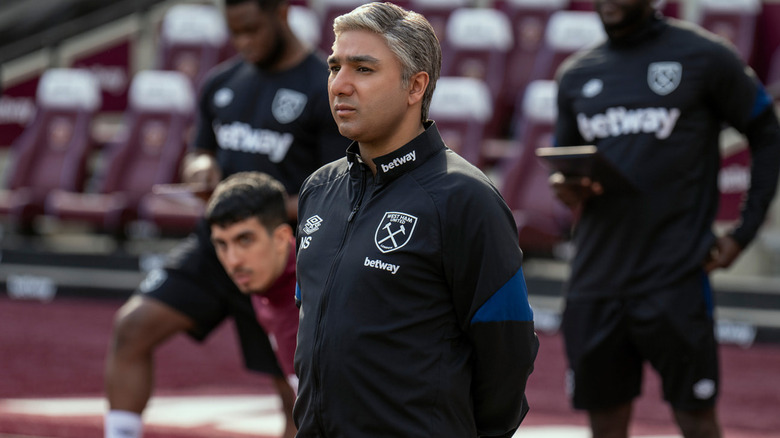 Apple TV+
It's worth noting that "Ted Lasso" fans don't know right now how well Zava's stay at AFC Richmond will go. As the aforementioned Redditor notes, though, Zava's egotistical personality not only would have likely been intimidating to Nate but probably would have also greatly messed up his toxic methods for controlling his players. For that reason, as well as a few others, u/randomnate argues, "I actually think Rebecca just did Nate a massive favor by mind-gaming Zava into spurning West Ham."
In response, u/queenmagdi wrote, "I agree, I also think maybe Nate wouldn't have bullied Zava the way he does the other players. We know he is respectful towards anyone he views as bigger/more powerful than him and Zava certainly has that social currency on him." Meanwhile, in the same Reddit thread, u/Maverick_1882 echoed their fellow fans' thoughts, writing, "I think Nate would have sunk to the background with Zava on the team."
For his part, while he hasn't offered too many details about Zava's future on the show, actor Maximilian Osinski has opened up about what appealed to him about the character. In specific, during an interview with Vanity Fair, Osinski said he was happy to discover that Zava wasn't written as just a one-dimensional character. "I was really happy that it wasn't just a one-note cocky diva," Osinski admitted. "The question mark about him is you don't know if he's going to kiss you or kick you in the balls."
Taking Osinski's latter comment into account, it seems safe to say that it may have really been a lucky stroke of fate for Nate that Zava, a formidable but truly unpredictable football player, ended up going to AFC Richmond.