Katee Sackhoff Has An Excellent Live-Action Batman Villain Pitch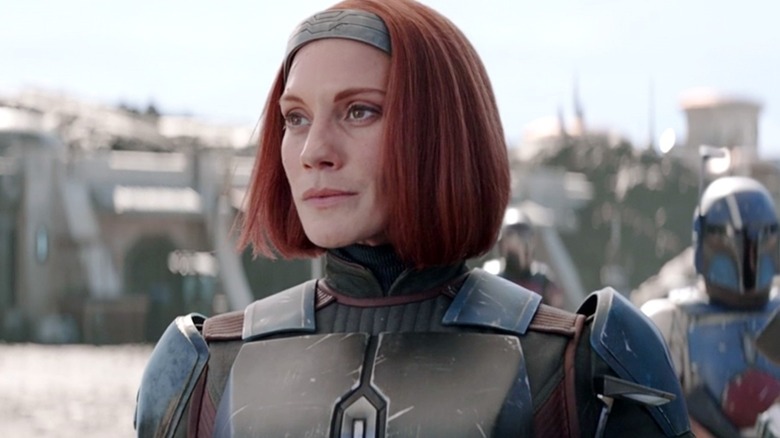 Disney+
Katee Sackhoff is regarded by many fans as a sci-fi legend thanks to her notable roles in some of the most iconic projects the genre has to offer. Her turn as Captain Starbuck on "Battlestar Galactica" may have put her on that path, but it was definitely her time in another galaxy far, far away that certified her status. For many, Sackhoff is best known for portraying the character Bo-Katan Kryze in "The Mandalorian." However, she was playing Bo-Katan before the live-action Disney+ series. Sackhoff first voiced the character in 2017 for the animated show "Star Wars: Rebels" and followed that up with more appearances in "Star Wars: The Clone Wars."
At this point, Sackhoff seems to know Bo-Katan pretty well, even once addressing the character's dark past. But for another potential project, the actor wouldn't mind getting into the green skin of one of Batman's most popular villains. In addition, she's already got the perfect director in mind. Sackhoff told Comic Book, "I can't quite say that I would sell my firstborn because she's quite special to me [laughs]. But I would like s*** twice and die to play Poison Ivy... And to work with Mike Flanagan again. He is such a genius and so collaborative."
Sackhoff continued to bring up her work with Flanagan on the 2013 supernatural thriller "Oculus," describing her experience with him as positively collaborative. Flanagan would bring some refreshing spookiness to a "Batman" project with his pedigree of horror films. And as for Sackhoff, she's already got the experience of playing Poison Ivy.
Katee Sackhoff already has some stellar experience with DC Comics projects
With Bo-Katan, Katee Sackhoff has a proven record of portraying a character for an animated project, then successfully bringing them into the world of live action. If she ever got her wish for a Poison Ivy film, it'd be a neat case of a two-peat. In "Batman: The Long Halloween," Sackhoff voiced Poison Ivy. The two-part animated film is based on the critically acclaimed comic of the same name and features Ivy managing to bring Bruce Wayne under her influence. It doesn't last too long, as Catwoman eventually intervenes.
Sackhoff didn't just cause some trouble for the Caped Crusader. She's also spent some time in Central City wreaking havoc for the Scarlet Speedster as well. In the CW's "The Flash," she played crime lord Leslie Joycon aka Amunet Black. Sackhoff first appeared on the show in Season 4 and hung around for a few more seasons. Clearly, when it comes to DC Comics, Sackhoff has a knack for playing villains well. And imaging a Mike Flanagan "Batman" project with Ivy's monstrous plants isn't too bad of an idea. Maybe if James Gunn's DC Studios is looking for an Ivy-related project, Sackhoff's pitch should get some serious consideration.