What's The Opening Song In Yellowjackets Season 2 Episode 5?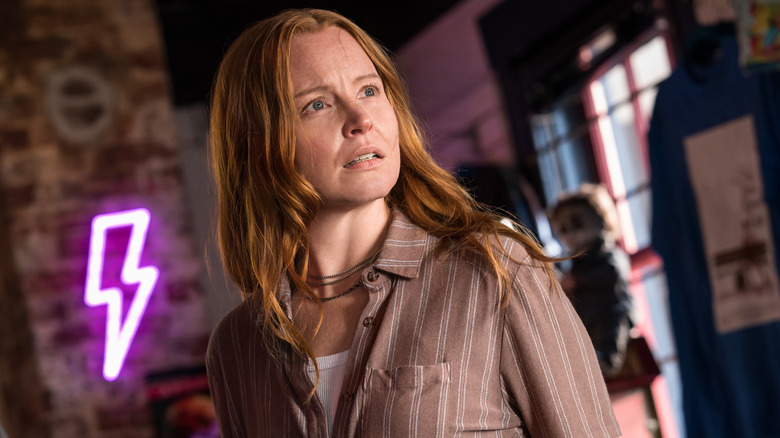 Kailey Schwerman/SHOWTIME
Contains spoilers for "Yellowjackets" Season 2, Episode 5 – "Two Truths and a Lie"
"Yellowjackets" fans have been waiting for a full season and a half to find out how Vanessa "Van" Palmer (Lauren Ambrose) is doing as an adult. "Two Truths and a Lie" supplies that answer handily. When we're first introduced to Van's adult world in "Two Truths and a Lie," her morning routine is underscored by an appropriately '90s tune performed by a famed one-hit wonder. That's "What's Up?" by 4 Non Blondes you hear as she rejects a donut, rewinds some VHS tapes, and opens her store for the day.
Her personal relationships since breaking up with Taissa Turner (Tawny Cypress) some time after the team returns to civilization have been scattershot. Her difficult connection with her mom never recovers after Van's return to society, but the woman lives with her as her cancer battle comes to a bitter end. Van herself is unwell, still struggling with PTSD and other side effects from the crash. The painkillers she's taking were once her mom's, and they are apparently heavy duty, according to Taissa.
It seems that she's running a nostalgia-related variety store that rents out VHS tapes and players, among other collectibles, miles away from where much of the surviving team has settled down. It's an occupation emblematic of her life — she's searching for comfort in nostalgia, selling it, while trying to forge a life and future for herself.
4 Non Blondes are more than a one-hit wonder
4 Non Blondes may be best known for their only top 20 hit, but the album it sprang from, "Bigger, Better, Faster, More!", spent 59 weeks on the Billboard Top 200. Though they released three more music videos, nothing else on the record has a cultural cachet as strong as "What's Up?" The band broke up in 1995 when lead singer and songwriter Linda Perry left the group. She has since expressed dissatisfaction with the record that made her famous. The band's inner turmoil effectively ended their attempt at making a second album, which never materialized. 
Linda Perry went on to a solo career, also becoming a successful songwriter and music producer who's written hits for Pink, Gwen Stefani and Celine Dion. She also starred in "Make or Break: The Linda Perry Project." Perry wasn't entirely done with 4 Non Blondes either: They reunited in 2014 for a benefit for the Los Angeles Gay and Lesbian Center.
"What's Up?" of course, has experienced something of a second life thanks to the internet; the video reached a billion views on YouTube in 2021, and a parody version of the tune became a major part of the infamous He-Man Sings meme, which first hit the internet in 2005. One version of the video, which features He-Man and Skeletor singing the tune with the help of some edited footage from "He-Man and the Masters of the Universe," has several million hits in its own right. That's the kind of nostalgia overload that Van herself might appreciate.