Law & Order: SVU Fans Are Split Over Rollins And Carisi's Relationship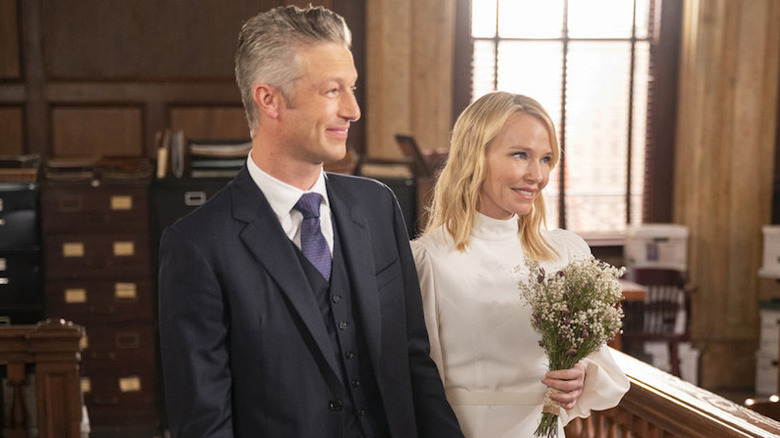 Scott Gries/NBC
If "Law & Order: SVU" fans have to wait decades for Elliot Stabler (Christopher Meloni) and Olivia Benson (Mariska Hargitay) to finally admit their feelings for one another, the least the series can do is throw them a bone. In between throwing criminals in jail and delicately toeing the line of police brutality that goes too far, the relationships are what keep the characters together. And since Stabler and Benson aren't officially a couple, others have earned a place in fans' hearts. Amanda Rollins (Kelli Giddish) and Sonny Carisi (Peter Scanavino) are also a slow-burn couple that fans on Reddit can't get enough of.
"Rewatching seasons, I love Carisi and how much he cares for Rollins the whole time, no matter what," u/National-Gap-4290 posted. Many fans hopped on board the train, noting how the chemistry between the characters was clear almost from moment one.
"I also think back to the season 17 episode 'Sheltered Outcasts' where Carisi is undercover in the sex offender group home," u/mscbja noted. "It's clear in that episode that Rollins has started to care about him as well. It's really a great slow burn love story.... that I really miss seeing on the show." U/jmpinstl agreed that watching the relationship develop over time is the couple's strength. But even though the two ultimately make it work, some fans have some quibbles about how it all ended.
Fans weren't won over by their storybook ending
Virginia Sherwood/NBC
Veteran viewers of crime procedurals know more than anyone the unfortunate reality of casting shakeups. Paget Brewster has been upfront about her "Criminal Minds" firing. Even though she was brought back eventually, she was one of the lucky ones. Kelli Giddish left "Law & Order: SVU," meaning that her onscreen relationship with acting partner Peter Scanavino would have to be resolved. Many fans were happy that the couple eventually married, but that didn't stop Redditors from seeing the bigger picture.
"I'm so glad they got married, but the two minute wedding (without even seeing a proposal or even conversation about it) was super rushed. You would think about 24 years they would want something new, and two married main characters provides that," u/IndigoButterfl6 posted. U/Danvsluth24 was quick to agree, stating that the series squandered a golden opportunity to explore a marriage between the two characters. As quick as the wedding was, their decision to get married in the first place had next to no build-up. Unfortunately, this may have been due to Giddish leaving the series. Variety reported that neither Giddish nor showrunner David Graziano pushed for the abrupt exit. There is no telling how Giddish's exit affected the plot but the consensus remains it was a disservice to Rollins' final storyline.
U/bubblebobblegirl put it best, concluding, "100% it was rushed, especially considering up until this season they were moving at a snails pace. It was fan service and we deserved better."