1923's Helen Mirren Learned A Different Skill At Taylor Sheridan's Cowboy Camp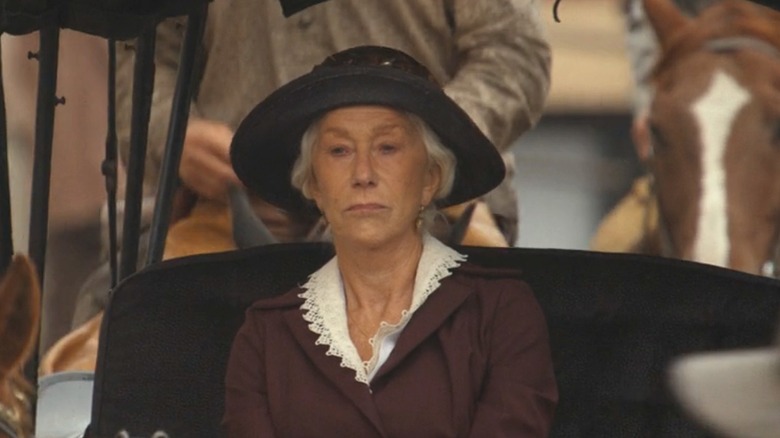 Paramount+
To play a character in Taylor Sheridan's "1923" require a certain amount of skills. Featuring sweeping landscapes from Africa to Montana, the actors must know a thing or two about that historical point in time. This means that actors like Helen Mirren, Harrison Ford, and Brandon Sklenar must be up to the challenge, and series creator Sheridan has a solution — the infamous Cowboy Camp. Cowboy Camp is where actors on shows in the "Yellowstone" franchise go to learn or brush up on their skills, but it looks like Mirren learned a completely different skill other than horse riding.
During an interview with Deadline, Mirren was asked if she went to the aforementioned training, and she replied, "I did go to Cowboy Camp. I said at the beginning that I don't ride. I mean, I've been on the back of a horse many times, but I'm not a rider. I've never really learned properly how to ride. So Taylor had the great idea of putting me in a buggy, so I did have to learn how to drive a buggy, which was really great experience. That was my Cowboy Camp."
Driving a horse and buggy is considered easier than horseback riding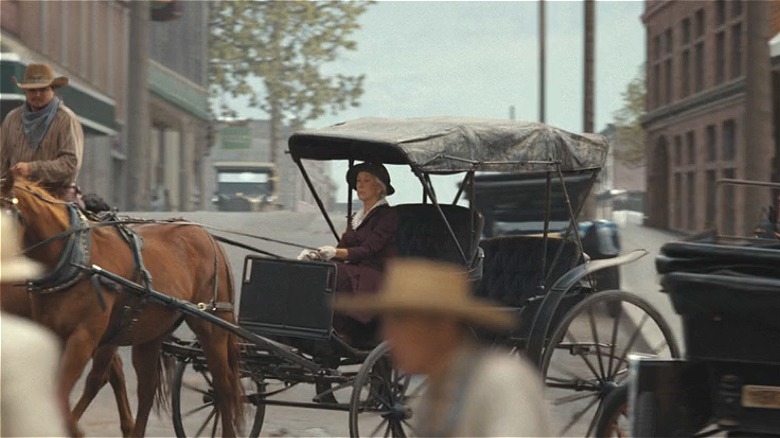 Paramount+
Luckily, Helen Mirren was immediately able to put those buggy-riding skills to the test, and she is featured in many scenes driving a horse and buggy in "1923," namely to check the mail or to be awkwardly stopped by those that seek to see the Dutton Ranch greatly diminished. Interestingly enough, horse and buggy combinations are typically considered much easier than simply riding a horse, which makes them perfect for those that might struggle with horse riding.
Besides those appearing in "1923," other actors that popped up in "1883" and "Yellowstone" are also quite familiar with Cowboy Camp. Speaking with the Hollywood Reporter, Luke Grimes explained why the training received at Cowboy Camp is so important: "So it's not only helpful for production, but it's also become very fun at this point. We're four years into trying to learn this stuff and you get the bug after a little while. So hats off to Paramount and all the people who let us do these cowboy camps and help us learn. At the end of the day, it really does add something onscreen when you can see an actor actually ride their horse." One thing is for certain, though, and that is Cowboy Camp seems to pay off dividends when it comes to on-screen skills for those in "1923," "1883," and "Yellowstone."