The Wonder: Florence Pugh Says The Bleak Looking Food Was Actually Really Good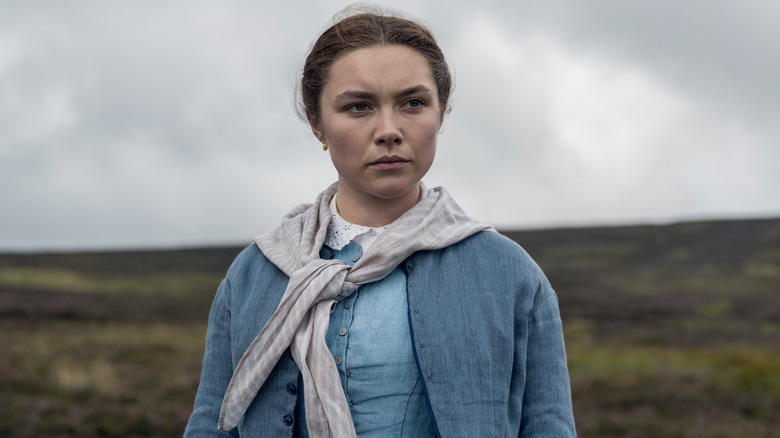 Aidan Monaghan/Netflix
Of all the themes in Netflix's harrowing and gut-wrenching psychological drama "The Wonder," food and starvation are key. The film takes place, after all, in the aftermath of the Great Famine in Ireland, and nurse Lib Wright (Florence Pugh) is there to watch over the health of a young fasting girl named Anna O'Donnell (Kíla Lord Cassidy). It makes sense, then, that the food we see on camera during the film doesn't look to be the most appetizing. 
So it's surprising then that, at least according to Pugh, the food was actually quite delicious. Making an appearance on the popular YouTube series Hot Ones, Pugh was asked about those moldy, awful-looking, sometimes pre-chewed vittles.
"Well, that was the point. It was supposed to look gnarly and it was supposed to look like there was no nutritional value in it whatsoever," said Pugh. "It was actually kind of really tasty food. It was this vegan food prep company that would put black dye and green dye and gray dye into all the foods. And it was so tasty, I'd be eating like these bowls of gray food."
Pugh in fact said that the food was so tasty, and that there would be so much left of it at the end of some days, that she would take it home with her in a plastic container and stick it in the fridge for a snack later. "And so when people would come round the house, like 'Why do you have gray food in Tupperware.' I'd say 'No no no, just try it, it's really delicious,'" she explained.
Pugh loves scenes where the actor gets to actually eat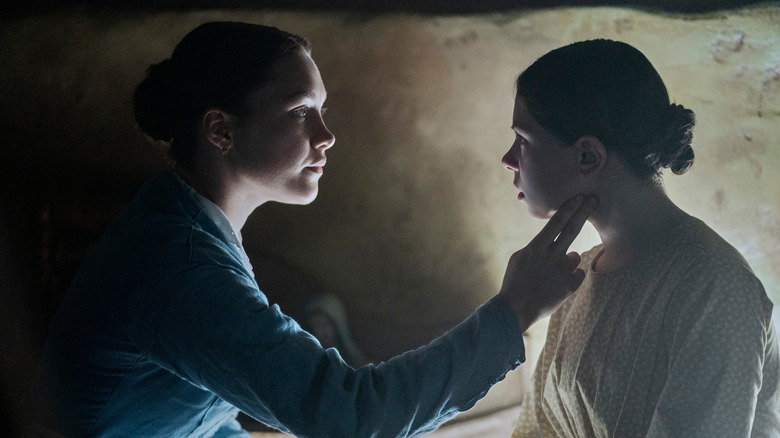 Aidan Monaghan/Netflix
Florence Pugh also complimented "The Wonder" director Sebastián Lelio for giving her the opportunity to actually eat the food while filming. "I think eating on camera is so cool. Especially when you actually get to eat and swallow," she said. "Because most of the time when you're shooting things, they're all like 'Don't eat it, don't touch it,' you know, 'This is going to be a long day, make sure you just nibble,'" Pugh explained. Being an actor, it sounds like Pugh is able to tell when another actor is essentially moving their food around the plate in a scene and not actually eating anything.
Asked about a scene in the Marvel TV series "Hawkeye" in which Pugh's character Yelena Belova chows down on macaroni and cheese for ten minutes straight, Pugh responded that there was no movie magic involved at all. The scene in question was her idea, in fact, and the mac and cheese was real. So was the sriracha on the table. "And so every single take I'm just shoveling in mouthfuls of sriracha," she said. "I had a fantastic day, it was great. They came and they asked my lunch order. I said 'Are you kidding?'"