May 2018 Trailers That'll Blow You Away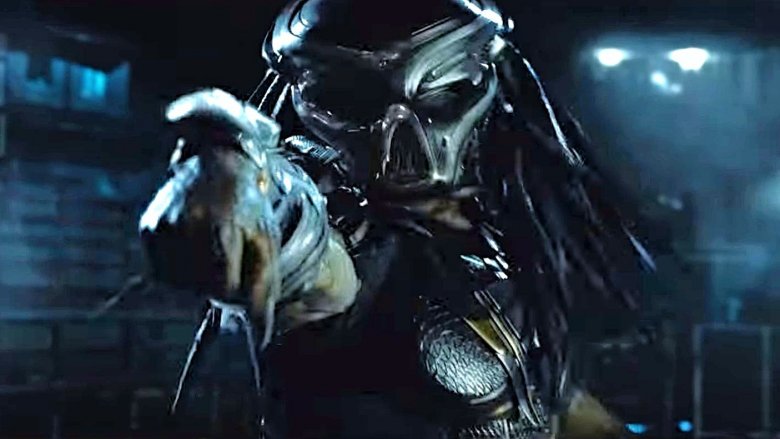 Summer's almost here, which means blockbuster season is starting to kick into gear — and that means the big studios are running out of time to build up the hype for their new movies. We're getting more teasers than ever, promising an exciting few months ahead. May saw new trailers for upcoming superhero films, hard-rocking biopics, and heart-pounding horror flicks — and everything in between.
What's on the horizon? We've seen new trailers for Dwayne Johnson's upcoming action thriller Skyscraper, the all-new Mission: Impossible movie (with more insane stunts by Tom Cruise, per usual), and the upcoming Predator reboot, to name a few.
In fact, we're already getting trailers for movies coming out as far away as November, so grab hold of your popcorn and hold on tight — this is going to be a wild ride. Here are all the trailers released in May 2018 that are sure to blow you away.
Upgrade — June 1
Each new trailer for Upgrade raises the stakes, making this look like one of the most unique surprises of 2018. Logan Marshall-Green stars as Grey Trace, a technophobe in the near future who's implanted with a computer chip that turns him into a supercharged killing machine. With his newfound skills, Trace goes on a mission of revenge to find his wife's killers.
With Leigh Whannell, creator of horror franchises Saw and Insidious, pulling writing and directing duties on Upgrade, you can count on a ton of violence and a few scary moments, but apparently it's also an action comedy. Early critics screenings have come out largely positive, with the general consensus being that Upgrade is a fun, action-packed, and supremely violent movie — perfect for kicking off the summer blockbuster season.
The latest trailer certainly looks like a lot of fun. There's a guy with a gun in his hand, some comedic moments, and a whole lot of hyper-kinetic action. Upgrade hits theaters on June 1.
Sicario: Day of the Soldado — June 29
Josh Brolin and Benicio del Toro are back in the latest trailer for Sicario: Day of the Soldado, reprising their roles from 2015's surprise gangland hit. This time, they're working to exacerbate the cartel war in Mexico, using every means at their disposal to escalate the violence and murders. Judging by the trailer, it's bound to be everything that made the first one great and then some.
The only thing that gives us pause is the fact that the original's director, Denis Villeneuve, and director of photography, Roger Deakins, have bowed out of the sequel. But not much pause — the new director, Stefano Sollima, made a name for himself with gritty, violent titles like Suburra and the TV series Gomorrah, which should be a perfect fit for the grim aesthetic of Soldado's world.
Sicario: Day of the Soldado is set to premiere in theaters on June 29. Don't miss it!
Escape Plan 2 — June 29
There won't be a theatrical release for Escape Plan 2, but that doesn't mean it's skimping on the action — or the star power. Sylvester Stallone returns as Ray Breslin, who was wrongly imprisoned in the first one (leading to the, you know, escape plan). This time, he's putting himself behind bars on purpose so he can break out a prisoner holding onto some sensitive information. It's a race against time to find the valuable prisoner before assassins can take him out, and then it's a race against more time to get out of the prison alive.
Stallone will have to fight, plan, and scheme for his life to make it through this one, and fans are no doubt eager to see how he does it this time. Dave Bautista joins the crew, and 50 Cent is returning as well. You can check it out when Escape Plan 2 hits Blu-ray and on-demand on June 29.
Ant-Man and the Wasp — July 6
More than perhaps any other Marvel property, Ant-Man thrives on its fantastic visuals, and the latest trailer for Ant-Man and the Wasp promises so much size-swapping it'll make your head spin — in a good way. From giant Ant-Man riding a truck like a kid on a Radio Flyer to a van fight with Wasp shrinking and growing in the blink of an eye, this sequel is clearly going all out with the crime-fighting duo's physical abilities.
Most exciting, though, is the introduction of the film's villain, Ghost. Originally introduced as an enemy of Iron Man, Ghost is an anti-corporate anarchist who uses a high-tech suit to pass through solid matter. A lot like the Ghosts in The Matrix, in fact. Combined with Ant-Man and the Wasp's fluid size transitions, that extra element is bound to lead to some insane fight sequences. Look for Ant-Man and the Wasp in theaters on July 6.
Bleeding Steel — July 6
Jackie Chan is back in action with this summer's Bleeding Steel, a sci-fi wonderland populated by fancy headgear, colorful lights, and skintight leather. Okay, so the trailer leaves a lot to be desired, but it showcases some interesting concepts and, of course, Jackie Chan kicking people. So many people. He also runs sideways on buildings and sashays around in curtains.
How does this all come together? Well, according to the official description, the movie is about this: "While tracking down a deranged, mecha-enhanced villain, Lin discovers that a geneticist's lost bio-chemical invention has been surgically implanted into his missing daughter."
That's the kind of sentence that makes you wonder how many words they invented for it, but the point to remember is Jackie Chan. Fortunately, Bleeding Steel is going straight to video on demand, and there are probably worse ways to spend an evening at home. Look for it on July 6.
Skyscraper — July 13
In case you still weren't sure what Skyscraper is about, the latest trailer lays it out pretty succinctly. Former FBI agent Will Sawyer lost his leg in an explosion, and now he examines buildings for a living to see if they have any security flaws. Spoiler alert: This one has one. While he's in China consulting for the world's new tallest building, terrorists attack the building and frame him for the job. Since his family's inside, he has to escape the police and then climb a giant crane and make a death-defying leap over thin air to get inside. Don't worry, he makes it.
Unfortunately, the terrorists need him to give them what they came for, so they kidnap his family. Will he save them, stop the terrorists, and make it out alive? That's the only mystery left, so who knows — maybe not! That's what you call 140 stories of sheer adventure.
The Death of Superman — July 24
Say what you want about the DCEU, but DC runs the game on animated films. Under the Red Hood, The Flashpoint Paradox, and Crisis on Two Earths are the Citizen Kanes of cartoons punching each other, and if you disagree, well...that's okay. These are just opinions.
But if your opinion isn't completely wrong, then you can't deny that The Death of Superman looks fantastic. This adaptation of the 1992-1993 crossover event sees Superman facing off against the bloodthirsty monster Doomsday in an epic fight that may just see the end of the Kryptonian superhero.
And if you're thinking, "Haven't I seen this cartoon before?" you're absolutely right: DC's 2007 animated film Superman: Doomsday was a lackluster attempt to combine all three parts of the comic arc into one film, resulting in an uneven mishmash that few people really liked. The upcoming Death of Superman is slated to be the first in a two-parter, allowing more of the story to unfold onscreen, with the second part, Reign of the Supermen, arriving sometime in 2019. Fingers crossed the story gets some justice this time around.
Mission: Impossible - Fallout — July 27
The second that spy music comes blasting out of your speakers, you know you're in for a good time. Despite multiple sequels and more directors than Solo: A Star Wars Story, the Mission: Impossible franchise has never failed to disappoint (well, since the second one, at least). In the latest trailer for Mission: Impossible – Fallout, we learn that, once again, the government doesn't trust Ethan Hunt to get an important job done, because they've never seen the other movies.
Forced to go rogue, Hunt and his loyal team have to track down a nuclear weapon while staying two steps ahead of the CIA and their superspy August Walker, played by Henry Cavill with a real mustache. The stakes are just as high as ever, the stunts are just as real, and the mission is just as impossible. Check out Mission: Impossible – Fallout when it lands in theaters on July 27.
Mile 22 — August 3
Starring Mark Wahlberg and The Raid's Iko Uwais, Mile 22 follows a special forces operative who's tasked with protecting a police officer who knows the location of nine pounds of missing radioactive bomb material. They need to get him to a plane so he can escape to the U.S., but they're beset on all sides by criminals who want the guy dead. The trailer builds up the initial premise without giving too many details away, instead focusing on Wahlberg's gunslinging skills and Uwais' insane martial arts.
Mile 22 is the latest film from Peter Berg, director of Lone Survivor, Patriots Day, and Friday Night Lights, so it's definitely in good hands, and his ongoing working relationship with Wahlberg is bound to pay off here with a bang. The high-stakes action thrill ride is set to hit theaters on August 3, so keep your eyes peeled — and whet your appetite for adventure with this trailer.
The HappyTime Murders — August 17
If the Muppets were in a gangland drama written by Sacha Baron Cohen and directed by Seth Rogen, it might look a lot like The HappyTime Murders — a raunchy, profanity-laden comedy about a world where puppets and humans live together. When someone (or...somepuppet) starts murdering a bunch of famous puppets, two detectives try to solve the case and embark on a journey through the seedy underbelly of puppetville.
What's actually surprising about this is that it was directed by Brian Henson, son of the Jim Henson and the same man who previously directed such family fare as The Muppet Christmas Carol and Muppet Treasure Island. And if you caught the trailer's joke about how the movie is "No Sesame. All Street," you'll know why the company behind Sesame Street is suing the filmmakers.
All that being said, The HappyTime Murders looks like a good, dirty time, with a premise that we haven't seen since Who Framed Roger Rabbit or Peter Jackson's Meet the Feebles.
Down a Dark Hall — August 17
Uma Thurman is front and center in the new trailer for Down a Dark Hall as headmarm of a creepy boarding school for girls where something sinister may be lurking at night.
Based on a novel by Lois Duncan, who also wrote the bestseller I Know What You Did Last Summer, Down a Dark Hall follows troubled young Kit Gordy (AnnaSophia Robb) who's transferred to Blackwood Boarding School for being a bad girl and finds herself face-to-face with a supernatural threat. The trailer is heavy on the atmosphere, introducing a faceless cloaked man, creepy occult rituals, and non sequitur quotes from the movie that imply there are definitely sinister happenings going down.
Down a Dark Hall is directed by Rodrigo Cortes, who also helmed 2010's Buried with Ryan Reynolds and 2012's Red Lights, starring Cillian Murphy, Sigourney Weaver, and Robert DeNiro. Look for it on August 17.
Papillon — August 24
If you've never seen 1973's Papillon, starring Steve McQueen and Dustin Hoffman, or read the 1969 book, you're in for a treat with the upcoming film of the same name. The story of a man who's wrongly convicted of murder and sentenced to life in a brutal prison in French Guiana, Papillon focuses on his harrowing escape from captivity and his adventures in the tropics after he gets out.
Starring Charlie Hunnam as Papillon — named after the butterfly tattoo on his chest — and Rami Malek as his scrawny prison buddy/fellow escapee Louis Dega, Papillon looks like it hits all the right beats for a remake. It has adventure, high-stakes prison escaping, and a love story holding it all together. Only time will tell if it features the same heart-stopping brutality and emotional impact, but we'll be able to find out when Papillon sails into theaters on August 24.
City of Lies — September 7
There's definitely a lot to take in from the first trailer for City of Lies, which introduces a pretty unique concept. Twenty years after the murders of Tupac Shakur and Biggie Smalls, a journalist tracks down the detective who was in charge of the case — Russell Poole, played by Johnny Depp. As he digs deeper, he uncovers a twisted conspiracy involving the LAPD and the local gangs, and he's quick to learn that when you open a scar that's been closed for 20 years, blood is bound to flow.
Johnny Depp is in top form as the jaded detective, bringing welcome memories of his more serious roles like Black Mass and Public Enemies, but it's Forest Whitaker who really shines in the trailer as journalist Jack Jackson. He's bringing all the intensity he can to the role, and from the looks of it, he'll be the clear standout in the film. Check out City of Lies when it hits theaters on September 7.
The Predator — September 14
Shane Black's Predator film finally released its first teaser, dropping the extraterrestrial hunter right in the suburbs of Middle America. The trailer begins with a young boy playing with some kind of alien transmitter device, apparently calling the Predator to Earth. Then we're introduced to Boyd Holbrook's character, a soldier (ex-soldier?) who saw the alien when it crashed on the planet.
There's action aplenty throughout the trailer, with set pieces that include a middle school, a highway, and some location in the mountains. The teaser doesn't give away many plot details, leaving the big surprises for the film itself (or maybe just future trailers). The Predator was written by Shane Black and Fred Dekker, who previously teamed up for 1987's The Monster Squad, and it's directed by Black — who himself had a small part in the original Predator. We'll have to wait and see where Black decides to go with the film, but it should be a fun ride, if nothing else.
Mowgli — October 19
Sure, we just saw a high-profile live-action version of The Jungle Book in 2016, but it never went in a direction quite like this. Don't expect any ditties about the Bear Necessities in Mowgli, which promises a darker take on the young boy's jungle upbringing. Motion capture legend Andy Serkis directs the film and voices Baloo. Christian Bale, Benedict Cumberbatch, and Cate Blanchett also lend their voices to Bagheera, Shere Khan, and Kaa, respectively.
Do we really need another Jungle Book? Maybe not, but it's not exactly a new trend. Versions of the story have been hitting the screen since the '40s, long before Disney ever tried their hand at the tale. And in case you forgot, the '90s had more Jungle Book stories than you could shake a flaming branch at.
How Serkis' Mowgli will pan out remains to be seen, but we'll all be able to find out when it hits theaters on October 19.
Bohemian Rhapsody — November 2
Mr. Robot finally finds somebody to love in the first trailer for Bohemian Rhapsody, a biopic about the rock band Queen. Rami Malek is transformed as frontman Freddie Mercury in the trailer, sporting the rocker's legendary mustache and all his on-stage swagger. Gwilym Lee, Ben Hardy, and Joseph Mazzello also show up in the trailer as guitarist Brian May, drummer Roger Taylor, and bassist John Deacon, respectively.
Bohemian Rhapsody traces the band's formation, their rise to fame, and one of their final performances at the 1985 Live Aid concert. Mike Myers is also slated to appear in the film, along with Game of Thrones' Aidan Gillen. Production on the biopic has been notoriously troubled, with original director Bryan Singer getting the boot in December 2017 after reports of him clashing with Rami Malek. Dexter Fletcher was brought in to finish the film and oversee post-production. Hopefully the onscreen drama doesn't suffer due to the behind-the-scenes drama.
Robin Hood — November 21
With all the style of Kingsman and none of the cinematographers, it'd be easy to call the upcoming Robin Hood film a knockoff of the non-stop-insanity style of action films that's so popular these days. But hey — if you get an action movie where you can actually see the action, everybody wins. Filled with slo-mo arrow fights and exploding horse-drawn carts (you have to shoot 'em in the gas tank), Robin Hood definitely looks like a cheesily overblown take on the story, but there's no denying that it's a feast for the eyes.
Starring Taron Egerton, Jamie Foxx, Jamie Dornan, and Ben Mendelsohn, Robin Hood will follow the familiar tale — disgusted with the corrupt government, super archer Robin makes it his mission to steal from the rich and give to the poor. He also falls in love with Eve Hewson's Maid Marian. Look for it in theaters on November 21.
The Sisters Brothers — Fall 2018
It's a fact: The world needs more good Westerns, and it looks like The Sisters Brothers is set to deliver. For starts, it has an amazing cast. John C. Reilly and Joaquin Phoenix star as the eponymous brothers, with Jake Gyllenhaal, Riz Ahmed, and Rutger Hauer co-starring. The story follows the infamous hitmen the Sisters brothers who are hired to track down a gold prospector who stole from a local crime boss, kicking off a darkly comic adventure in the old West.
The trailer promises a hilarious journey anchored by the chemistry between Phoenix and Reilly, who play the skilled yet dysfunctional brothers. With so much talent onboard, there's no doubt that The Sisters Brothers will definitely be a movie worth watching.
The film is based on a book of the same name by Patrick deWitt, and you can find it in theaters sometime in fall 2018.