Keanu Reeves Gave The John Wick 4 Stunt Crew The Perfect Gifts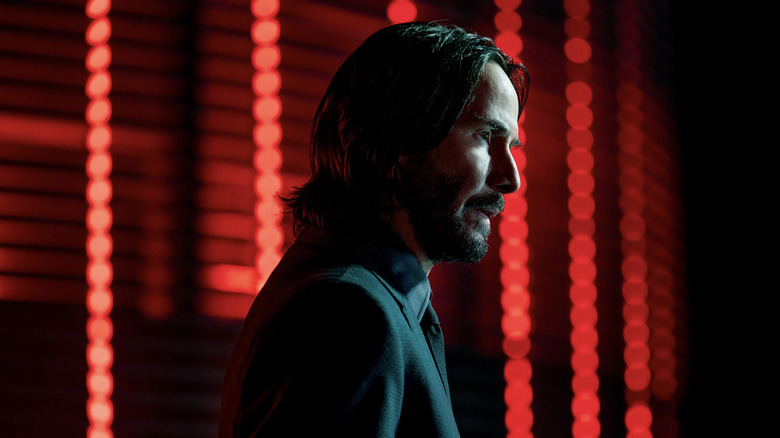 Lionsgate
Tales of Keanu Reeves' generosity have become legend in Hollywood. He's known for donating millions of dollars to cancer charities (often anonymously), inspired by the cancer survival story of his sister, Kim. Among other acts of kindness, he's bought homes for family members, bought Harley-Davidson motorcycles for the stunt crew working on "The Matrix Reloaded," and gave a crew member on the set of one of his movies $20,000 to help him out during a time of financial difficulty.
The actor's generous acts didn't stop at the door when he stepped back into John Wicks' well-polished shoes for the blockbuster that blew us all away at this week's box office, "John Wick: Chapter 4." When the film wrapped shooting, per the New York Times, Reeves gave every single stuntman working on the crew a customized shirt personalized with the number of times the character they were doubling for died onscreen. 
Apparently, many of the actors' totals ran beyond 20, because the film used its stunt people multiple times in a single sequence, which resulted in a lot of repeated deaths for the crew to act out. Reeves himself also performed at least one piece of stuntwork himself — his character's fierce fight up the steps of the Sacré-Coeur Basilic. But the t-shirts weren't all.
Reeve's kind gesture is just like him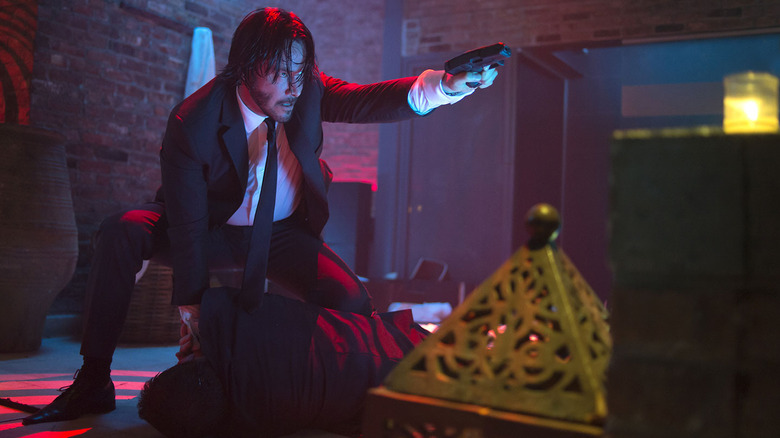 Lionsgate
Those weren't the only gifts Keanu Reeves gave to his fellow "John Wick: Chapter 4" crewmen; People Magazine reports the stuntmen were given Rolex Submariner watches by the actor during a Parisian dinner after the film wrapped as well. Stuntman Jeremy Marinas shared images of his watch on his Instagram story, which were reshared on Watchmania, an Instagram account dedicated to luxury watches. Marinas' watch shows the personalization "The John Wick Five," followed by the words "Jeremy Thank You Keanu JW4 2021." 
It's quite the generous gesture, and Reeves does not stint when it comes to paying tribute to his co-workers. Recently, he paid for hotel accommodations and a private jet trip to the "Matrix: Resurrections" premiere for tons of people close to him and the production, per The Hollywood Reporter. 
And when his multi-time co-star Sandra Bullock informed him that she'd never tried champagne or chocolate when they were filming "Speed" together, he showed up on her doorstep with both, per Esquire Magazine. They and a friend of Bullock's who happened to be over then dug in, and Bullock painted his fingernails for him. That's what you call a true blue friend.