The Hunger Games Inspired Sam Claflin To Prove His Critics Wrong
Before the "Hunger Games" franchise came to the big screen, it was a trilogy of novels written by Suzanne Collins, with millions of copies sold worldwide.
When the second entry in the film series, titled "The Hunger Games: Catching Fire," was announced, readers of the books were especially excited to see who would play Finnick Odair, a fan-favorite character who gets introduced in the second book and becomes a crucial character in the series as a whole. The role eventually went to Sam Claflin, who portrayed Finnick in "Catching Fire" and the next two films in the series, "The Hunger Games: Mockingjay – Part 1" and "The Hunger Games: Mockingjay – Part 2."
In a 2017 interview with The Daily Beast, Claflin spoke about the reaction to his casting as Finnick Odair. He said that he was surprised to be cast, as he had been aware of who was on fans' wishlist to be cast for the role. He was especially aware that he was nobody's first choice — or really anyone's distant choice for the role either.
But far from discouraging him, this gave Claflin an added push to appease the naysayers. "The reaction was so negative at the beginning," Claflin said. "But that kind of turned into determination for me, to prove people wrong and prove to myself that I could do it."
Sam Claflin saw something special in the character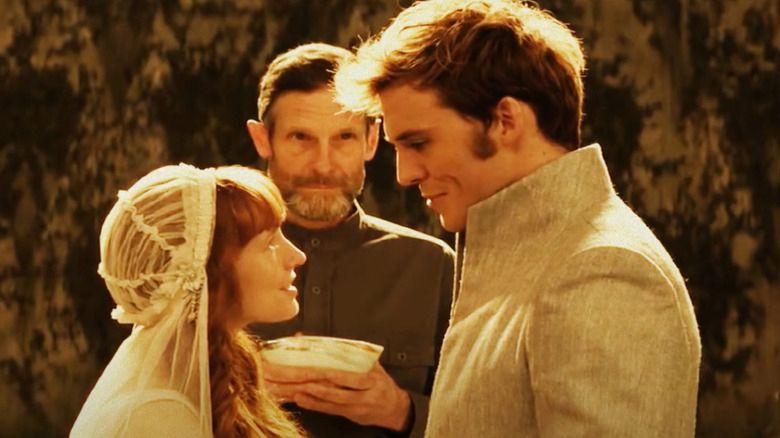 Lionsgate
In the same interview, Sam Claflin added that he himself didn't expect to get the role of Finnick Odair before he was cast.
Claflin noted that he was one of the first people to audition for the role, but was far from the only one, as the role itself was highly coveted. He said that he stepped out of his first audition to see another unnamed performer who looked like "the perfect man." As soon as he spotted this person in the waiting room, Claflin was sure he'd never get the role.
When he did get the role, however, he read the books and noticed that author Suzanne Collins had written at length about Finnick's absurdly handsome looks, which made Claflin question once again why he'd been cast. However, in analyzing the character as he'd been written, Claflin said that he understood something about Finnick that he hadn't heard much about.
"So many people read the books and take away the fact that he's an arrogant guy," Claflin said, adding that he saw beyond that, seeing Finnick's pain underneath his "charming, confident exterior." The trauma from the deaths of people he'd loved was clearly weighing on Finnick, making him an "insecure, lost soul." Claflin tapped into this for his portrayal of Finnick in the films, ultimately sweeping fans off their feet.