The Walking Dead's Jeffrey Dean Morgan Couldn't Walk Away From The Series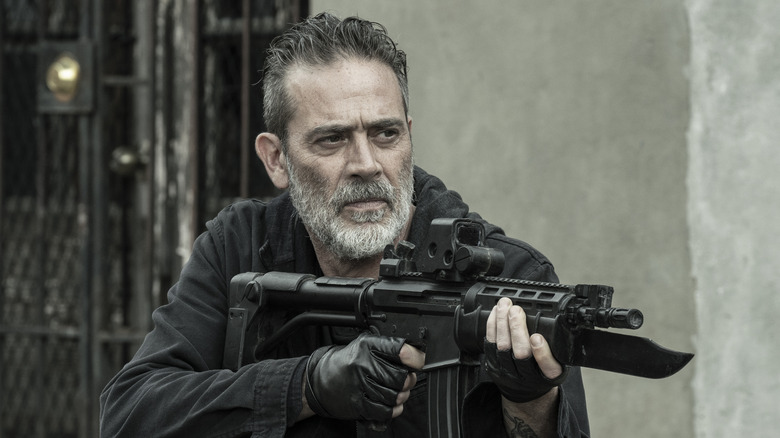 Jace Downs/AMC
Of all the psychotic warlords and sadistic murderers encountered throughout "The Walking Dead," there is perhaps no villain as iconic as Negan Smith (Jeffrey Dean Morgan), the former leader of the Saviors, who first crossed paths with the survivors led by Rick Grimes (Andrew Lincoln) during Season 6. Despite the fact that Negan's first appearance saw him executing fan-favorites Glenn Rhee (Steven Yeun) and Abraham Ford (Michael Cudlitz), the character was lauded by critics and fans alike; due in no small part to the terrifying performance of Jeffrey Dean Morgan.
Negan would eventually be defeated by Rick's group and subsequently come to repent his past actions, becoming something of an antihero throughout the later seasons and even apologizing to Maggie Rhee (Lauren Cohan) for what he did to her family. Negan has become so integral to "The Walking Dead" that he's now set to star in his own spinoff series — something that Morgan himself was originally opposed to, before realizing he wasn't ready to let the character go that easily.
"I think that 'The Walking Dead' ending and walking away from it would've been a noble thing for us all to do," explained Morgan in a 2022 interview with Entertainment Weekly. "But the story was so good and so worth telling that it simply came down to, I couldn't say no. And I felt invigorated and wanted to continue it." Morgan's comments make it clear that, just as the fans have grown attached to his character, he too has grown attached to the character and to "The Walking Dead" itself, and he just has to see what the future holds for Negan.
Morgan was ready to move on before Dead City was proposed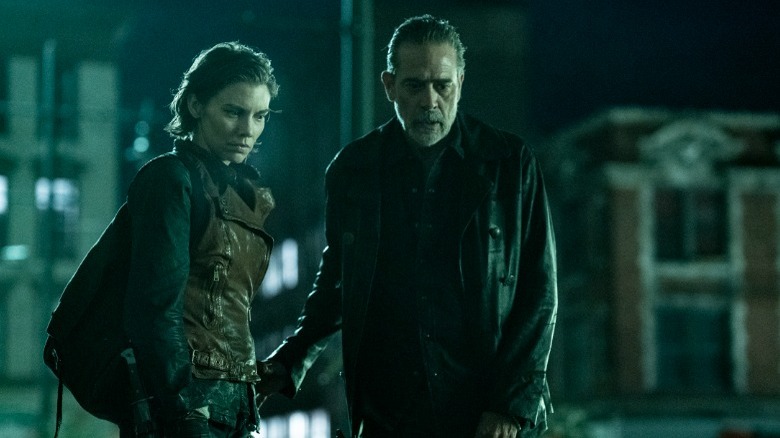 Peter Kramer/AMC
Jeffrey Dean Morgan's decision to continue with "The Walking Dead" franchise came down to his involvement with the upcoming spinoff "Dead City," which is centered around Negan Smith and Maggie Rhee as they traverse the post-apocalyptic hellscape of New York City.
That premise alone might be enough to draw most "Walking Dead" fans in (considering the tumultuous history between those two characters), and certainly seems like it drew in Morgan, whose previous comments make it clear he was ready to move on from the franchise before this story was proposed. On top of that, we now know that "Dead City" will focus on the duo's efforts to save Maggie's son Hershel (played by Kien Michael Spiller in the original series) after his abduction, which can be seen in the recently released teaser for the show.
In any case, there's plenty to be excited about when it comes to "The Walking Dead: Dead City," and fan expectations will no doubt soar through the roof after hearing how this new story single-handedly managed to reinvigorate Jeffrey Dean Morgan's passion for the series, making it painfully obvious that he couldn't walk away until he followed through with Negan's journey.