Sons Of Anarchy: Ron Perlman Debunked Rumors Of On-Set Tension With Jimmy Smits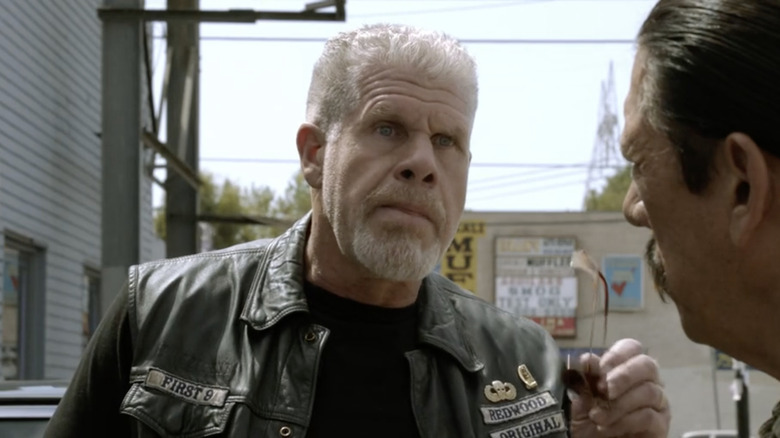 FX
Something never smelled quite right about the flatulent rumor involving a spat between Jimmy Smits and Ron Perlman on the set of "Sons of Anarchy," and the man that played Clay Morrow set the record straight on whether or not Nero Padilla's farts were too much to handle.
Ron Perlman's run as Clay Morrow involved a lot of violent encounters with several individuals on both sides of the law, and fans witnessed the character go through several rivalries with an assortment of the show's personalities to the point where he was essentially on his own before he finally received the reaper treatment. Despite showing a pattern of behavior that proves he has trouble playing nice, all of the bad blood the persona had with others remained entirely onscreen. When it came to on-set encounters, any drama that was being whispered about behind the scenes ended up being disproved by the actor, like when he made it known there were no ill feelings about his "Sons of Anarchy" departure.
But there was another incident that was brought up when a fan claimed during an AMA on Reddit that there was a widespread rumor that Perlman didn't get along with Jimmy Smits because the former "NYPD Blue" star was being very gassy during their scenes together. Perlman quickly debunked such nonsense, responding, "The only validity to that rumor is that it's made up. I love Jimmy." Perlman appears to be very fond of Smits, so much so that no amount of human-produced methane could cause any discourse. And some might not realize that Perlman actually had a surprising effect on Smits while filming the FX crime drama.
Jimmy Smits was comforted by Perlman's presence on set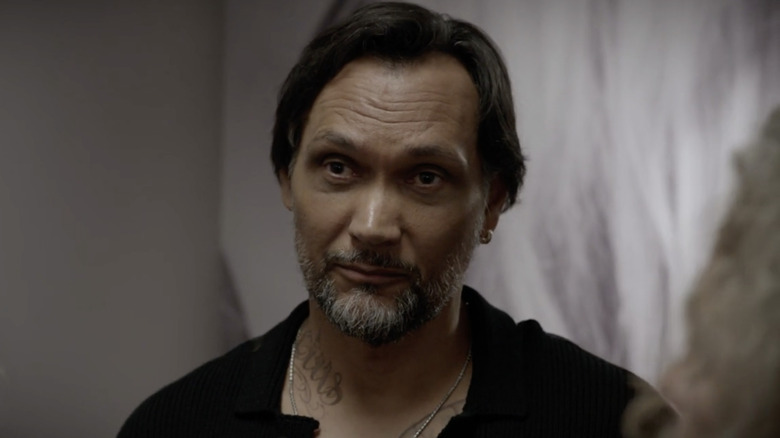 FX
While Nero Padilla and Clay Morrow certainly did not have the friendliest relationship when the parties crossed paths on the show, the two have a pretty solid history offscreen. In fact, Smits took his talents to the FX series because of a mutual acquaintance named Paris Barclay, an individual who served as an executive producer on "NYPD Blue" and a director on "Sons of Anarchy." With Smits being a prominent player in the police procedural, he felt right at home working with Barclay once again, and the only other person that made him feel at ease was Perlman. "The only person besides Paris that I have a comfort level with is Ron Perlman, that I worked with on a couple of movies in the past. Ron is a really cool guy," Smits said in an interview with DailyActor.com. He added, "There was a comfort level there because of Paris and Ron, and I'm very happy that it all — it's all worked out the way it has."
Before "Sons of Anarchy," Perlman and Smits shared the spotlight in two movies, the 1994 western comedy "The Cisco Kid" and the 2000 boxing drama "Price of Glory." Their time working together on these endeavors eventually set them up for success on "Sons of Anarchy," and despite any rumblings of breaking wind-related beef between the two seem to be false, and in the end, nothing stinks about their relationship, both on and off set.