AHS' Jessica Lange Laughed Hysterically At Kathy Bates When They Met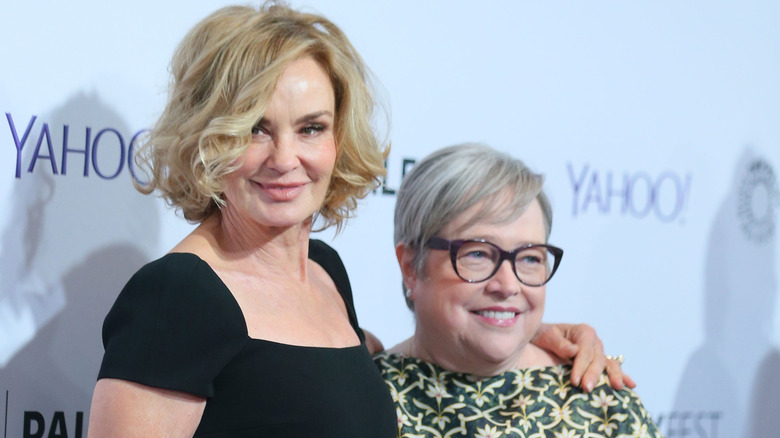 Mark Davis/Getty Images
The legendary Jessica Lange remains to this day one of the most prolific actors in all of Hollywood, with a career spanning five decades and encapsulating some of the most iconic films and television series of all time, including 1976's "King Kong" and the Sydney Pollack classic "Tootsie." These days, she is also well known as one of the recurring stars of "American Horror Story," first joining the series in Season 1 ("Murder House") and playing a variety of characters throughout its subsequent eight seasons, finally exiting the series after "Apocalypse."
Considering the immense prestige that Jessica Lange brought along to the set of this wild horror anthology series, there's no question that her other actors must have been a bit daunted working alongside her — particularly co-star Kathy Bates, who vividly remembers her first embarrassing encounter with the legendary actor. "I did a movie with her years and years and years ago, and I was so nervous to work with her and so enamored of her," said Bates in an interview with Television Academy. "I remember walking up to her and saying 'So are you Hope Lange's daughter?' and she said 'No' and started laughing hysterically at me."
Bates said the experience was incredibly embarrassing at the time, though she is still proud to call Jessica Lange her friend all these years later. "We have a good sense of humor," Bates said. "I never let her get away with her s***."
The cast of AHS had nothing but praise for Jessica Lange
As mortified as she must've been upon first meeting Jessica Lange, it's clear that Lange and Kathy Bates have since gone on to form a beautiful friendship, as Bates went on to describe how much she loved working alongside Lange on "American Horror Story."
"I love her a lot, and I loved, loved working with her," Bates explained. "I love doing scenes with her you know ... I just couldn't wait to get out there." Kathy Bates wasn't the only "American Horror Story" alum to sing Jessica Lange's praises during this interview, as her co-star Sarah Paulson fondly recalled Lange's presence on set, describing how she brought a whole new level of intuition to her performance that Paulson had never encountered before.
Paulson also admitted that, at the time of this interview, she had been working alongside Lange more than any other actor in her entire career, and reiterated how much she admired Lange's work throughout all their time together. These comments make it clear that Jessica Lange is both revered and loved by her castmates on "American Horror Story" — even Kathy Bates, in spite of their mortifying first encounter.