The Mandalorian Fans Are Loving Bo-Katan's Character Arc In Season 3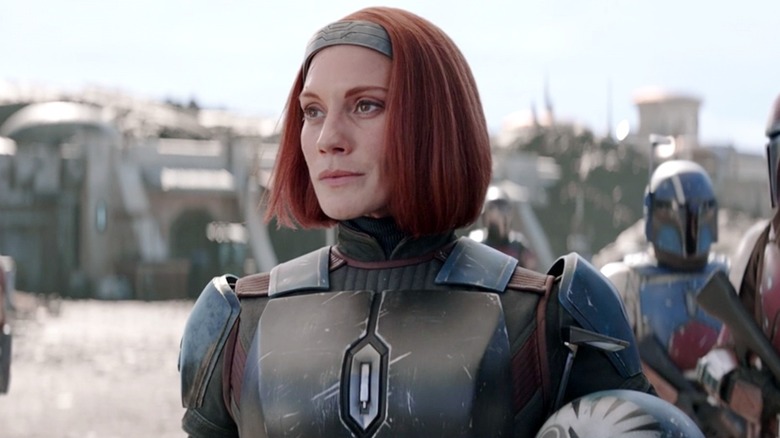 Lucasfilm/Disney+
Contains spoilers for The Mandalorian Season 3, Episode 5 — "The Pirate"
We're over halfway through Season 3 of "The Mandalorian" and the stakes are starting to rise for all of our heroes in a number of exciting ways. Episode 5, aptly titled "The Pirate," featured plenty of explosive sequences as the miscreants attacked Nevarro before being driven off by the freshly united clan of Mandalorians. After their rousing victory, The Armorer (Emily Swallow) singled out Bo-Katan (Katee Sackhoff) and revealed her destiny as the uniter of the Mandalorians, who "walks both worlds" of their culture. 
Fans are loving Bo-Katan's redemption arc after she failed to win the Dark Saber and retake Mandalore last season. This left her on a hollow throne until she rescued Din Djarin (aka Mando, played by Pedro Pascal) and encountered the mystical Mythosaur. That rare interaction foreshadows her glorious future and viewers are enthusiastically looking forward to it. On Reddit, u/russketeer34 commented, "I'm loving this focus on Bo's arc this season." This received an abundance of upvotes which shows other fans feel the same about Bo-Katan in the spotlight. 
Another user, u/TheGoverness1998, replied by saying how much they're rooting for Bo-Katan and that this storyline is the right path for her character. Fellow fans agreed and made the insight a top comment, showing their shared perspective about the ambitious Mandalorian and her riveting new mission.
Viewers are very excited for Bo-Katan's future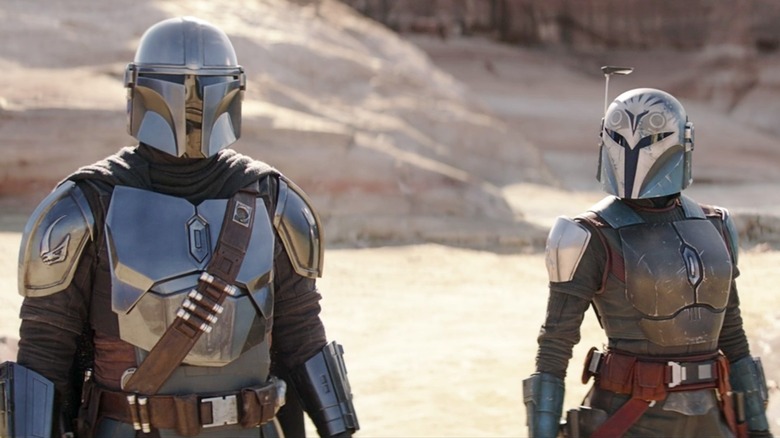 Lucasfilm/Disney+
Season 3 of "The Mandalorian" pulled off one of the best misdirects yet by focusing on the titular character before sharply pivoting and centering on Bo-Katan instead. While fans are divided by Mando's lack of screen time that started with Chapter 19, others are enjoying the refreshing change of pace. In particular, viewers seemingly can't get enough of The Armorer and Bo's scenes together — like u/Feywhelp who wrote, "Man I am loving every interaction with Bo and the Armorer." This was followed up by Redditor u/kboy101222 who theorized that the two already know each other from their past.
Fans of the animated series "Star Wars: The Clone Wars" are overjoyed by Bo's glorious comeback. Reddit user u/Exmerus shared, "I'm a Bo-Katan simp since The Clone Wars and she is finally getting what she deserves." However, some were a bit confused by Bo taking off her helmet, though an illuminating insight shined through with u/russketeer34 chiming in again: "Focusing this season on Mandalore and their cultures and beliefs and how they can evolve was such a good decision. I'm really enjoying seeing this journey that Bo and the other Mandalorians are on." By allowing flexibility within their rigid practices, the Mandalorians can finally include other tribes with different customs, which gives Bo her prominent position. 
Viewers also picked up on the foreshadowing scenes, like u/Zealousideal-One-884 who was captivated by the thrilling ending that hints at Moff Gideon's (Giancarlo Esposito) return. Another fan, u/deviantdeaf, was immersed in the developing Mandalorian plot line and even recalled The Armorer's prophecy from "The Book of Boba Fett" — "the Mythosaur shall rise to herald a new age of Mandalore." These point to an intriguing destiny for Bo that fans can't wait to see unfold.