Pixar's Elemental Trailer Has Fans Obsessing Over Its Bright Animation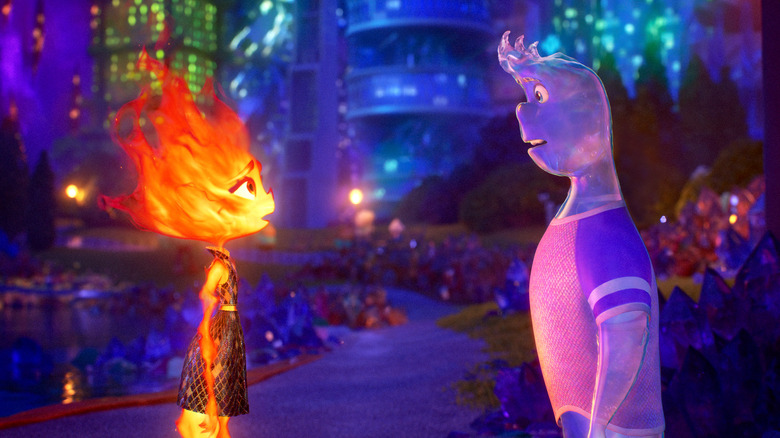 Walt Disney Studios Motion Pictures
Some might say that love often works best when mutual and shared interests unite people. In contrast, others might say that opposites attract and can make great relationships because they offer complimentary viewpoints and thought processes. Checking out the trailer for Pixar's "Elemental," one can see a gorgeous and vibrant world populated by individuals inspired by the classical elements of earth, fire, wind, and water. Of course, the trailer establishes that the elements should never mix, but that doesn't exactly mesh well with Ember (Leah Lewis) and Wade (Mamoudou Athie), an elemental of fire and water, respectively.
As citizens of Element City, Ember and Wade are part of a diverse culture that allows all of these elements to exist in one city, and their influence can be seen in the wild and fantastic architecture of the dense population center. Although Pixar is known for bright and color-saturated worlds with movies like "Coco," "Inside Out," "Up," and the "Toy Story" franchise, it seems as if some fans are absolutely loving the kaleidoscopic vibe of the "Elemental" trailer. The top-rated comment on YouTube from Vailskium highlights some of the consensuses, and they wrote, "It feels like an explosion of color in every shot."
Viewers are in love with the color, animation, and effects for Elemental
However, the comment was far from the only one that heaped copious amounts of praise on the art direction for Pixar's "Elemental." User WHY WONT YOU SING is hopeful about what "Elemental" aims to accomplish, and they stated, "I'm honestly surprised that the message seems to be more like 'Do what you want to do, get out of your elements/comfort zone.' Water seems to be the troublesome one while other elements stays in their lanes. Having Wade give Ember the chance to explore her own surrounding and feelings sounds pretty cool. I also like how experimental and bouncy the animation is. High hopes for this movie."
User Littledoggy17 was also a big fan, and they said that they love the animations, noting that they look spectacular and that they can't wait for this movie to finally come out. User Zakkattack added that they weren't all that impressed by the original teaser trailer for "Elemental." Still, they have experienced a complete change of opinion and now feel like "Elemental" looks way better and way more interesting than they had first thought. User Davis Stevens announced that they were exceptionally excited about the movie, and they focused on the animation team's efforts to make the incredible water effects. User Looks by Naheemah probably summed many of these comments by writing, "This is so cute and imaginative. Love the animation style." Now audiences just have to wait for "Elemental" to finally release so that they can enjoy the full-length movie and its eye-popping colors and animation.