The Mandalorian: Paz Vizsla Is Finally Growing On Fans After Chapter 21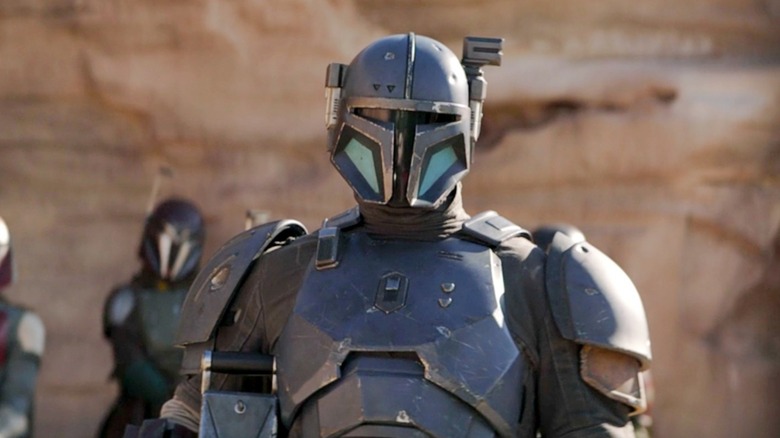 Disney+
Contains spoilers for "The Mandalorian" Season 3 Episode 5, "The Pirate"
Besides Din Djarin (Pedro Pascal), Bo-Katan (Katee Sackhoff), and The Armorer (Emily Swallow), there is one other Mandalorian that tends to stick out among his peers – Paz Vizsla (Tait Fletcher). Armed with a heavy weapon, Paz's imposing frame is only outweighed by his devotion to the Way of the Mandalore, which causes him to challenge Din for ownership of the Darksaber in "The Book of Boba Fett." However, now that Season 3 of "The Mandalorian" is pushing ahead, audiences have been treated to much more Paz, and have seen the hidden covert of Mandalorians, as well as Bo-Katan and Din, help rescue Paz's son Ragnar (Wesley Kimmel) from the clutches of a ravenous aerial beast.
Chapter 21, titled "The Pirate," starts with Nevarro under attack by Pirate King Gorian Shard (Nonso Anozie), which causes High Magistrate Greef Karga (Carl Weathers) to request aid from Captain Carson Teva (Paul Sun-Hyung Lee) and the New Republic. Unfortunately, Nevarro isn't part of the New Republic, so the request is denied, but Captain Teva decides to seek out the Mandalorians for help instead. This opens up a discussion among the Mandalorians about their course of action, and it is here where some viewers finally found themselves warming up to Paz. Starting a conversation on Reddit, u/Bard_of_Storms wrote, "I admit, Paz Vizsla is growing on me. Giving half a speech against the idea to go to Navaro just so he could explain why it's still worth doing was great."
Fans loved Paz's speech to his fellow Mandalorians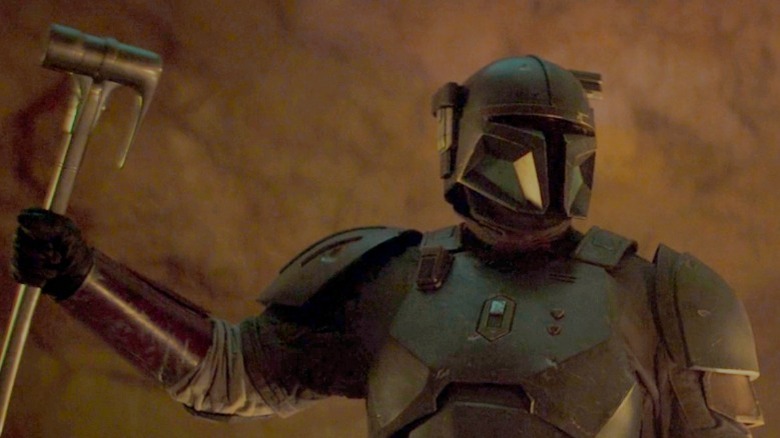 Disney+
Of course, others were also caught off guard by Paz Vizsla's speech to the other Mandalorians, which initially seemed like he was arguing against coming to Nevarro's rescue. Continuing the discussion, u/Trippystayslit jokingly replied, "I can't lie he got me in the first half. I was like 'you *******! Why would you go against Din!'" Paz's Mandalorian address also shocked u/dirtyswede27, who said that they started talking to themselves the instant Paz began to speak and thought Paz would offer a contrarian point, but by the end of the scene, Paz had them fist-pumping in the air.
u/muzicme4u was also a big fan of this "Mandalorian" moment and stated, "I had some goosebumps here because we really dont know Paz Vizsla here and what if he does go against Mando even if he saved his kid. But the 2nd half of the speech i had a wave of relief and probably more goosebumps." u/wretched92425 repeated this sentiment and wrote, "That whole scene just made me love the big oaf. The solidarity that the all the mandos have together just hits me right in the feels in the best of ways. Really hoping Paz and Dinn get on even better from here on out." Sentiments were similar about Paz on Twitter, where @basvision_bas thanked Dave Filoni and Jon Favreau for giving them the Paz they wanted since Season 1, and @giselleb1234, who shared a series of images from Paz's speech and said that Paz is an authentic Mandalorian for his actions in Chapter 21. These comments highlight that viewers of "The Mandalorian" are definitely shifting their perception of Paz, much like how Paz has shifted his opinion on Din.