The Harry Potter Scenes That Required Daniel Radcliffe To Wear A Brace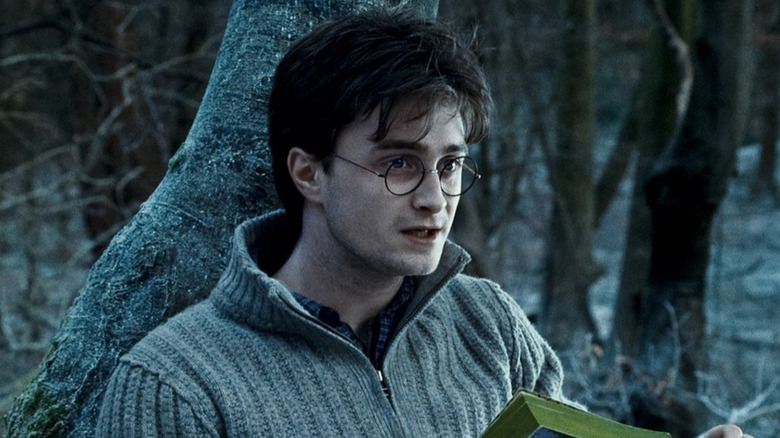 Warner Bros. Pictures
Hedwig is one of the most iconic parts of the "Harry Potter" movies. The snowy owl is a character in her own right, with feelings that Harry often delights in interpreting. She even has an entire theme named after her. That said, the owls who played her didn't always make things easy for their on-screen scene partner, Daniel Radcliffe.
The actor revealed on "The Ellen DeGeneres Show" that he had to wear an arm brace in certain scenes with Hedwig. As a young child, he couldn't always carry heavy owls on his arm for extended periods of time, so he had to engage in a bit of movie magic himself. Referring to a shot of himself holding Hedwig in "Harry Potter and the Sorcerer's Stone," Radcliffe explained to host Ellen DeGeneres, "I think in that scene, under my cloak ... My arm got so tired, they made a brace which kept my arm there ... so I didn't have to do anything." However, this wasn't the first time that Radcliffe had revealed something surprising about Hedwig.
Radcliffe once said that he preferred Broadway over Hedwig
During his many years filming the "Harry Potter" movies, Daniel Radcliffe worked with seven different owl actors, some of whom were merely stunt doubles (the franchise also used CGI for many Hedwig-related action sequences). But this doesn't mean that Radcliffe developed a magical, transcendental connection with his on-screen owl buddies.
In 2014, the actor even admitted that he would choose Broadway musical "Hedwig and the Angry Inch" over Hedwig. However, he also mentioned that the question was difficult to answer, suggesting that he would at least consider the possibility of adding the owl to his menagerie.
In fairness, Radcliffe may have been thinking about the difficulties of caring for such a large bird and all the noise that a hypothetical Hedwig would make in her cage at night. On the other hand, snowy owls are quiet in real life, but that's neither here nor there.