Why Jay/Matt From Yellowjackets Looks So Familiar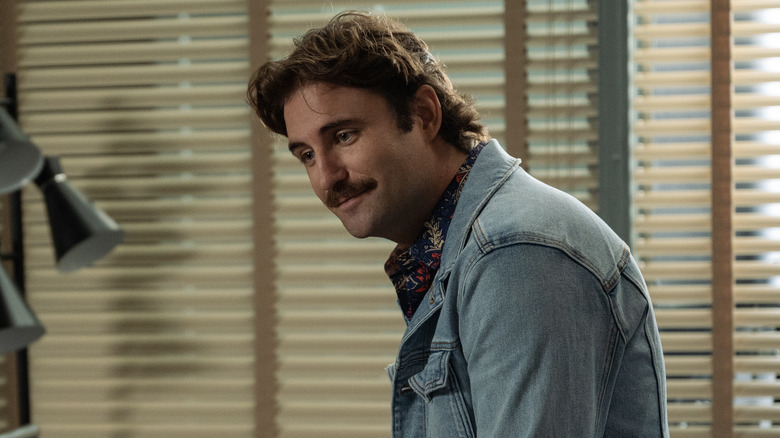 Kailey Schwerman/SHOWTIME
Things frequently aren't as they seem on Showtime's dark hit series "Yellowjackets," and with new characters entering in Season 2, it's good to stay on your toes about who these people really are. Case in point: the guy who introduces himself to Callie (Sarah Desjardins) as Jay, only for viewers to quickly discover that not only is his name really Matt, but he's a cop.
Investigating Callie's mother Shauna (Melanie Lynskey) for the Season 1 murder of Adam (Peter Gadiot), Jay/Matt is definitely shady at best — after all, he's trying to solve a potential murder case by basically dating the teenage daughter of a suspect. But he's a fascinating addition to the cast, marking yet another instance of the adult versions of the Yellowjackets trying to find ways to wriggle out of whatever trouble they've caused without facing consequences. So why does Jay/Matt look so familiar? Well, the actor's name is John Paul Reynolds, and he's been a fixture in television comedy for the past several years. After smaller roles on projects like "The Characters," "Master of None," and "High Maintenance," Reynolds got a huge opportunity thanks to one of Netflix's all-time biggest hits.
John Paul Reynolds got a big break thanks to Stranger Things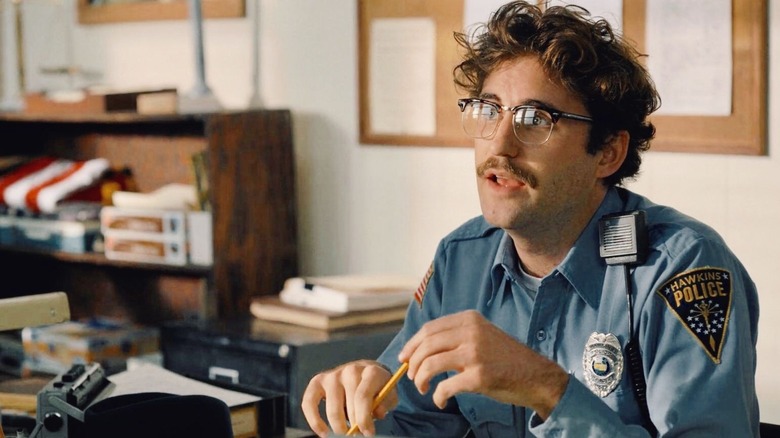 Netflix
Reynolds doesn't have the biggest role in "Stranger Things" — Netflix's smash hit about the supernaturally plagued town of Hawkins, Indiana — but he's been a constant presence on the series since its inception. As Officer Phil Callahan, Reynolds is often in the background behind bigger characters like Police Chief Jim Hopper (David Harbour), but he's there nonetheless.
Appearing in sixteen episodes as of this writing, Reynolds is always on hand when the Hawkins police department has to investigate something unsettling and creepy, like the disappearance of Will Byers (Noah Schnapp) in Season 1 or the wildly disturbing death of Chrissy Cunningham (Grace Van Dien) in Season 3. Helping to interrogate suspects — like he later does on "Yellowjackets" — Callahan's a small yet vital part of the Hawkins P.D., and it feels pretty likely that he'll keep appearing in "Stranger Things" going forward, considering that nothing horrifying has happened to him. Yet.
Search Party is Reynolds' biggest role to date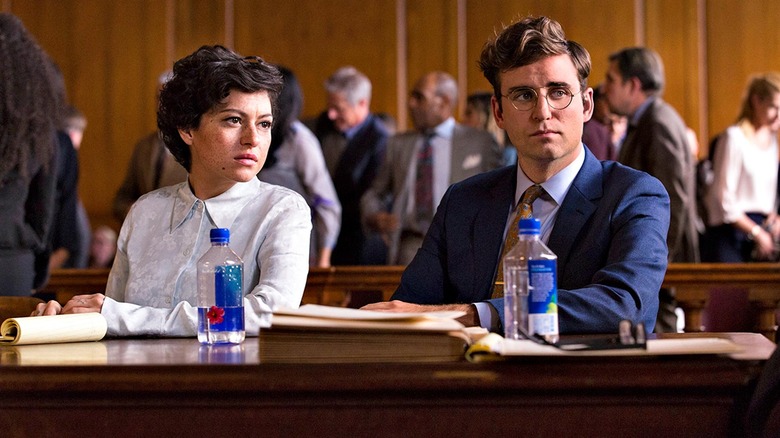 HBO Max
In 2016, Reynolds joined the main cast of "Search Party" alongside Alia Shawkat, Meredith Hagner, and John Early. Though the show starts out as, literally, a search party led by Shawkat's Dory, the criminally underrated, genre-bending series ultimately evolves into something much stranger, involving more kidnappings, murders, and Dory's eventual role as a cult leader.
Throughout the series, Reynolds plays Dory's boyfriend Drew, a meek and submissive partner to Dory's big personality. Often dragged along into sensational events by Dory along with Portia and Elliott (Hagner and Early), Reynolds' portrayal of Drew is that of a put-upon partner who sometimes gets exasperated with his headstrong girlfriend... even if he ultimately gets involved in her later schemes. Overall, "Search Party" earned strong reviews, especially for its central performances, and Reynolds was clearly a big part of the show's success before it came to a close in 2022.
Four Weddings and a Funeral marked a lead romantic role for Reynolds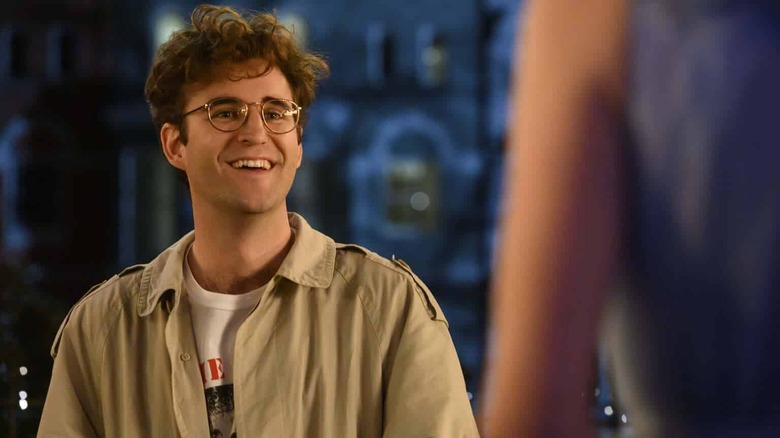 Aside from a few episodes of the anthology series "Miracle Workers," Reynolds' next big television role came in 2019 — a few years before "Search Party" ended — thanks to Mindy Kaling's and Charlie Grandy's television reboot of "Four Weddings and a Funeral." Based on the Richard Curtis film, the Hulu original miniseries ran for one season, and though it didn't receive overwhelming love from critics, it was still an enormous opportunity for Reynolds and his career.
Reynolds plays Caleb Duffy, who goes by his last name and joins his fellow American friends to attend a posh wedding in London. Alongside Maya ("Game of Thrones" star Nathalie Emmanuel), Ainsley (Rebecca Rittenhouse), and Kash (Nikesh Patel), Duffy navigates the ups and downs of his love life — especially his unrequited love for Maya, for whom he's pined over for a decade. "Four Weddings and a Funeral" might not have been Reynolds' most beloved project to date, but it proved the actor has what it takes to be a rom-com lead.
Reynolds played a small yet pivotal role on Sex Lives of College Girls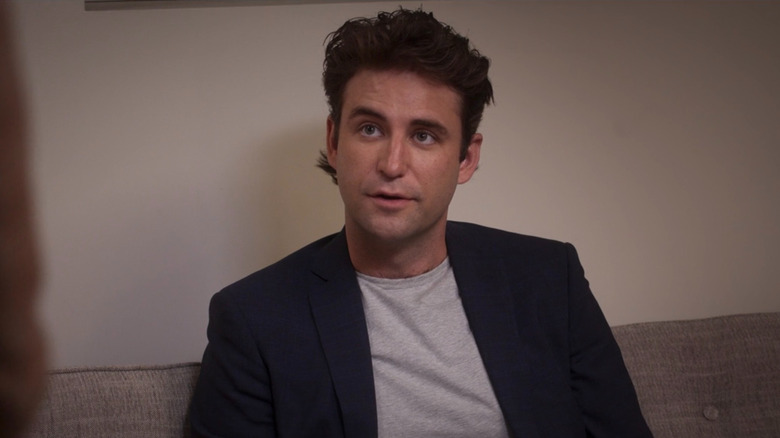 HBO Max
In 2022, Reynolds appeared in the second season of HBO's hit series "The Sex Lives of College Girls" — also created by Mindy Kaling — and though he only appears in one episode, his presence is a huge catalyst for one of the season's huge throughlines. An aspiring comedy writer, Bela (Amrit Kaur) is desperate to forge a budding career for herself throughout college but keeps hitting roadblock after roadblock thanks to the male-dominated comedy field. When she meets Reynolds' character Dan O'Connell, a late-night host and stand-up comedian seemingly modeled after real-life figures like Conan O'Brien and Jon Stewart (but younger and, ultimately, a little creepier). Dan and Bela end up sleeping together after her boyfriend Eric (Mekki Leeper) tries to get Dan's attention over her, and eventually, the couple breaks up over it.
Kaling's ascent to comedy superstardom as a young girl of Indian descent is pretty clearly reflected in Bela, even as she makes completely disastrous choices like hooking up with Dan. That said, Reynolds' one-episode arc completely changes the game for Bela and Eric for the rest of the season.