Yellowjackets Season 2 Review: Living Up To The Buzz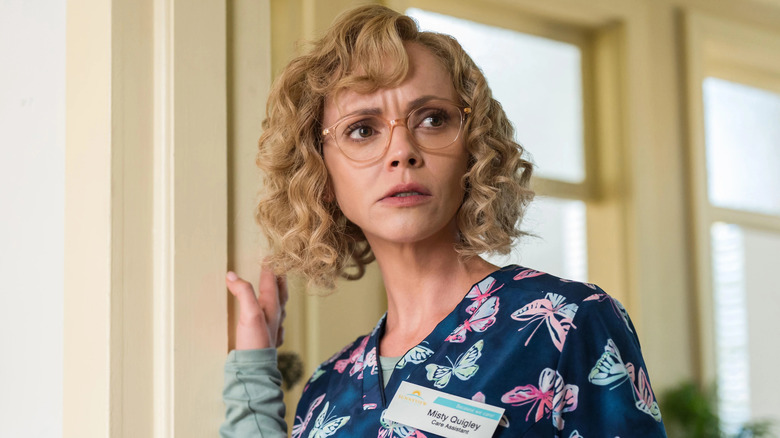 Showtime
EDITORS' RATING :
10 / 10
"Yellowjackets" started last year as one of the most talked-about shows on television, thanks to a wonderfully addictive premise, a great cast, and a plot that invited "Lost"-level speculation from a constantly swelling fanbase. Looking back at those first 10 episodes a year later, they still pack all the compelling craft and buzzworthy plotting that made the show such a word-of-mouth sensation, but as we approach the much-anticipated second season, the question isn't whether the show worked in the first place; it's whether lightning can strike twice.
Like Season 1, Season 2 of the Showtime hit from creators Ashley Lyle and Bart Nickerson is a hook-laden blend of survival horror and psychological drama, packed with great actors on both sides of its timeline, and full of moments that will get fans talking the moment they air. These are all things we expected, but the looming question was always whether or not "Yellowjackets" could build on the blend of pulpy and profound that so propelled the first season, giving us new mysteries along with answers to the old ones, and matching our anticipation with a new sense of ambition. Well, we haven't seen the full season yet, but if the six episodes the network provided to critics ahead of Season 2's premiere are any indication, "Yellowjackets" has not just met those expectations, but surpassed them. This is still one of the most addictive, gripping, and darkly funny shows on TV, and this time it's even bigger and bolder.
Back to the woods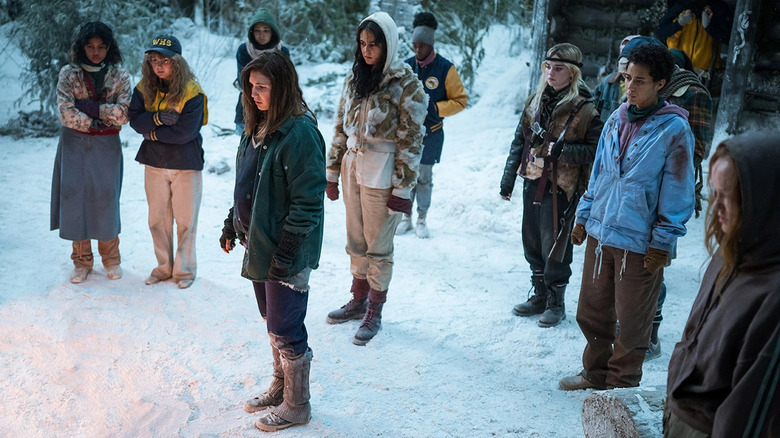 Showtime
"Yellowjackets" Season 2 once again divides its time more-or-less evenly between the events of the 1990s — when the Yellowjackets soccer team was stranded in the Canadian wilderness in the wake of a plane crash — and the present day, where the surviving members of the team grapple with their own problems and the trauma they still carry from their time in the woods. We pick up on the girls in the woods in the midst of an increasingly harsh winter, as Shauna (Sophie Nelisse) deals with both the death of her best friend last season and the increasingly imminent arrival of the baby she's carrying, while the rest of the girls have problems of their own. Taissa (Jasmin Savoy Brown) and Van (Liv Hewson) are still working to curb Tai's increasingly strange sleepwalking bouts, while Natalie (Sophie Thatcher) and Travis (Kevin Alves) keep ranging out in search of food, and Misty (Sammi Hanratty) does her best to endear herself to the group again after last season's mushroom...incident.
The largest narrative tension, though, hangs over Lottie (Courtney Eaton) and her increasing sway over the group, as seemingly supernatural visions and instincts turn her into a kind of ringleader and faith healer, even if not everyone on the team is on board. Lottie's own torn feelings about this, and the divisions sewn within the group, drive much of the story in these early episodes, even as more mysterious things start to happen in the woods, things that aren't just centered on Lottie.
In Season 2, Lottie's adult self (Simone Kessell) also makes herself known in the present day, revealing herself to Nat (Juliette Lewis) after last season's mysterious kidnapping, and catching viewers up on what she's gone through, where she's been, and how what happened in the woods continues to inform her life and her gifts. This time around, we also get to meet the adult version of Van (Lauren Ambrose), who re-emerges at a key moment for one of the other survivors and adds her own memories and sense of self to the present-day story. But it's not all new stuff we're dealing with here. The show still has to reckon with Shauna's (Melanie Lynskey) attempts to cover up the murder of her ex-lover, Misty's (Christina Ricci) ongoing meddling in the mysteries of everyone's lives, and Taissa's (Tawny Cypress) re-emerging sleepwalking, which threatens to rip her family apart forever. Oh, and we still don't know for sure what that symbol means, how it got there, or where it will take things next.
That's quite a lot to process, but for even casual viewers of the show, "Yellowjackets" never feels overwhelming in its return. Lyle, Nickerson, and their writing team have such a firm, confident grasp on these characters and this world that it's hard ever to feel lost, even when the characters themselves are flying blind. The show leaps right into its new storylines while never losing touch with its old ones, and it all feels remarkably, stunningly smooth. It's firing on all cylinders right out of the gate and still leaves you wanting more with each passing episode.
New season, new ambition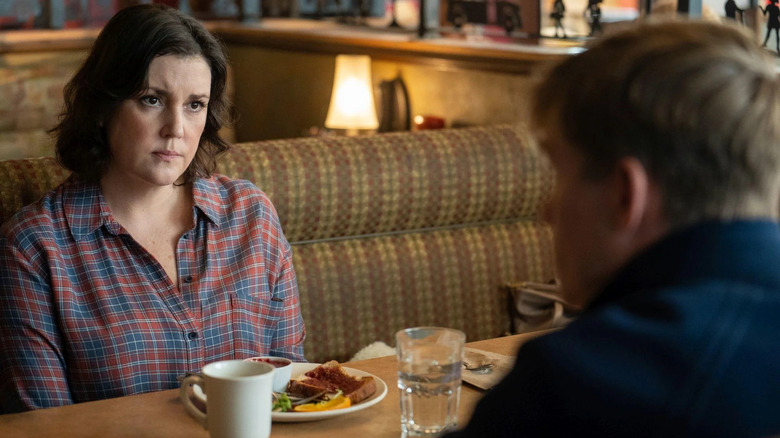 Showtime
What's stunning about the new season, even beyond its like-it-never-left energy, is the sheer ambition poured into the story this time around. Season 1 was certainly ambitious in its own right, but it's clear from these episodes that Lyle and Nickerson were not content to rest on those laurels and coast on those vibes. The vibes are still there, but as we learn more about how things went so wrong in the wilderness all those years ago, we also dig deeper into the psyches of each of these characters, and the show starts to play with certain formal tricks that expand the reach of the narrative. Dream sequences, visions, and moments of metaphysical fine-tuning stretch out the horizons of the show while never feeling out of place, and there's a certain fearlessness to the ability "Yellowjackets" has to go hard into genre territory while never leaning away from the emotional core of its characters. It's once again simultaneously over-the-top and intensely relatable, but on an even grander scale.
And that sense of scaling up and grandness is matched by the cast, who surpasses Season 1's excellence with even more haunting, hilarious, and heavy performances this time. Lynskey once again proves she's among TV's most valuable players right now, delving into Shauna's internal savagery, while Ricci still steals every scene she's in with Misty's perky darkness. Kessell, Ambrose, and Elijah Wood as one of Misty's amateur sleuth buddies are all great additions to the cast. Still, the biggest leap up in the present-day players might be Sarah Desjardins as Shauna's daughter Callie, who has to walk some increasingly fine and dangerous lines this season and makes it all look easy.
Back in the past, the ensemble of Yellowjackets continues to shine, as Nelisse, Hanratty, Brown, Hewson, Thatcher, and Eaton provide a crackling, powerful core to the survival thriller section of the show. Eaton in particular is a standout this time, as we dig deeper into Lottie's motives and mysteries, and she says so much with her eyes that you often feel like she doesn't need dialogue to convey the immense psychic weight she's carrying. It's an ensemble piece through and through, but a key component of this season is helping us understand why Lottie rose to a certain stature within the group, and Eaton bears that responsibility with power and grace.
Throw in continued excellence in direction, writing, production design, and of course perhaps the best music supervision on TV right now, and "Yellowjackets" Season 2 becomes one of the most thrilling rides you're likely to take on the small screen this year. One of TV's best shows just got even better, and it still feels like it's only the beginning.
"Yellowjackets" returns for Season 2 on March 26 on Showtime; the show premieres on streaming two days prior to its TV debut.