The Uncomfortable SOA Scene That Theo Rossi Gets Embarrassed Talking About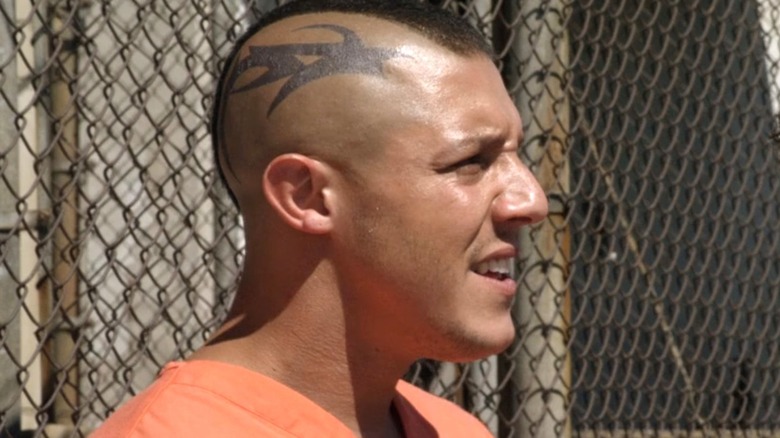 FX
Juice Ortiz (Theo Rossi) tends to find himself in more uncomfortable predicaments than his SAMCRO brothers. From having to keep his finger in the behind of wounded True IRA member Cameron Hayes (Jamie McShane) to wandering the streets of Charming in a diaper, poor Juice is often seen doing things that none of these other guys would ever consider. Still, these scenes are nothing compared to the one that Rossi deemed the most embarrassing to film.
During a cast Q&A, Rossi admitted that Juice's prison scene with Dion (Michael Bentt) in Season 2, Episode 7 ("Gilead") was the most cringe-worthy for him to shoot throughout his years on "Sons of Anarchy." As his co-stars chuckled, Rossi said, "He [Bentt] was definitely a method actor and he was very into it. I actually get embarrassed talking about it." He added, "It was very uncomfortable."
In this episode, Juice is used as "Juice bait" to seduce Dion, a former member of the Black Guerrilla Family. The BGF's leader, Russell Divine (Ronald William Lawrence), promises to protect SAMCRO behind bars if they can deliver this traitor. Juice is tasked with luring Dion to the empty infirmary under the ruse that they're going to enjoy a sexual encounter. Just in the nick of time, BGF members swarm in and attack Dion, allowing Juice to run free.
Sadly, Juice finds himself in a similar situation later in the series, but this time, it's not a ruse and no one is coming to his rescue.
Juice's time in prison isn't so humorous in later seasons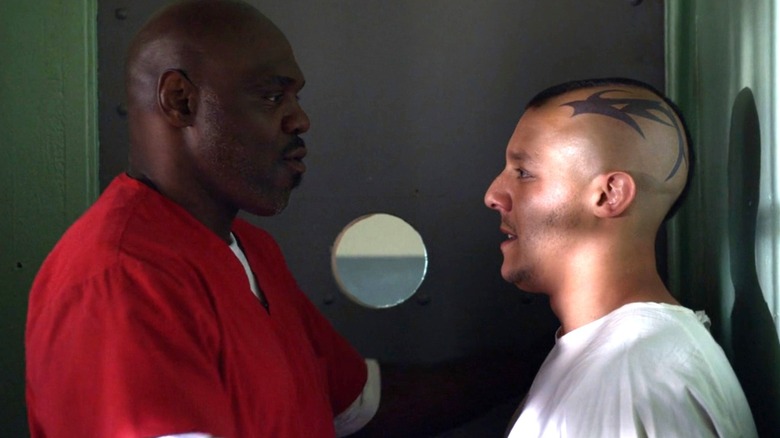 FX
Throughout "Sons of Anarchy," Juice experiences quite a downward spiral. This all comes to a head in the final season, when, back in prison, he's sexually assaulted by not only members of the Triads, but also inmate Ron Tully (Marilyn Manson), a member of the Aryan Brotherhood. And, because Juice kept quiet about Gemma Teller Morrow (Katey Sagal) killing Tara Knowles (Maggie Siff) for so long, Jax Teller (Charlie Hunnam) isn't stepping in anytime soon to save his old buddy.
While the scene with Dion has some early Juice humor to it, there's nothing funny about these later incidents, which truly shows the dark trajectory of the character. On Reddit, u/TeamStark31 said, "I think Juice's fate affected me more than anyone else's. He was such a funny, fun-loving guy in Season 1, and you could just see him get more and more crushed with each season."
Some fans took issue with Jax for not stopping the prison violence, despite Juice's betrayal. U/BertramtheBad said, "I get that Jax is pissed at Juice, but not even caring he's a sex toy for the Aryan Brotherhood? That's ice cold. Poor Juicey."
If you or anyone you know has been a victim of sexual assault, help is available. Visit the Rape, Abuse & Incest National Network website or contact RAINN's National Helpline at 1-800-656-HOPE (4673).