Shameless Isn't The First Time Steve Howey And Shanola Hampton Worked Together
Over 10 seasons of Showtime's hit series "Shameless," Kevin (Steve Howey) and Veronica (Shanola Hampton) have made some choices which fans hate, just like their neighbors and friends the Gallaghers have. They even go through a brief separation during Season 5 when they struggle as new parents, but they remain passionately in love throughout the show. 
Where Fiona (Emmy Rossum) and Lip (Jeremy Allen White) struggle in stable relationships, Veronica and Kevin try new things, yet their foundation remains solid. Howey even mentioned to the Chicago Tribune that Kevin isn't booksmart, but he still puts his heart into his partner and family. 
"His safety net, his sounding board, his everything is Veronica," Howey said. "There is no Kev without the V." The actor also credits Hampton for his success in the role, claiming, "She's made me a better actor, actually  — out of all the people I've worked with. I'm a better scene partner because of her."
This is not the first time the two have worked together. In fact, the pair were both on the show "Reba" before they appeared on "Shameless."
Shanola Hampton was on an episode of Reba with Howey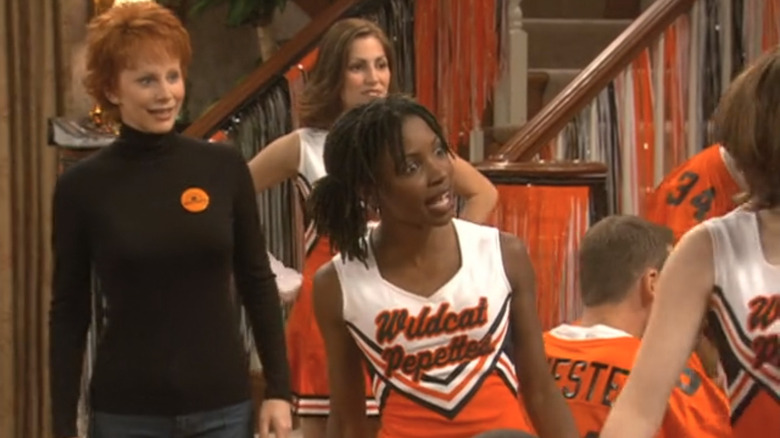 UPN Network
Before he joined "Shameless," Steve Howey was a regular on the UPN sitcom "Reba" as Van Montgomery, Cheyenne's (JoAnn Garcia) husband. His future co-star Shanola Hampton, meanwhile, guest-starred on the Season 1 episode "The Steaks Are High" as teen cheerleader Marci. This was also her second on-screen appearance ever.
After "Reba" ended in 2007, Howey was looking for another television role when he heard about "Shameless" from casting director John Levy. Just before he met with Showtime, he encountered Hampton, also waiting to audition for Veronica. 
"That's where I met Shanola – -Shanola and I had worked together when she guest starred on Reba (in 2001 or 2002), so that was pretty cool," Howey said to Hey Beauty Mag.
Eventually, their fun reunion would help create one of the best, most enduring couples in recent TV history. Hampton shares this sentiment. 
"Way after this show is over, we'll be on a rocking chair going, 'Remember when we were on that show, 'Shameless?" Hampton said to Cosmopolitan. "I would work with him for the rest of my life."