Young Sheldon's Creative Team Didn't Let The Pressure Of 100th Episode Influence The Story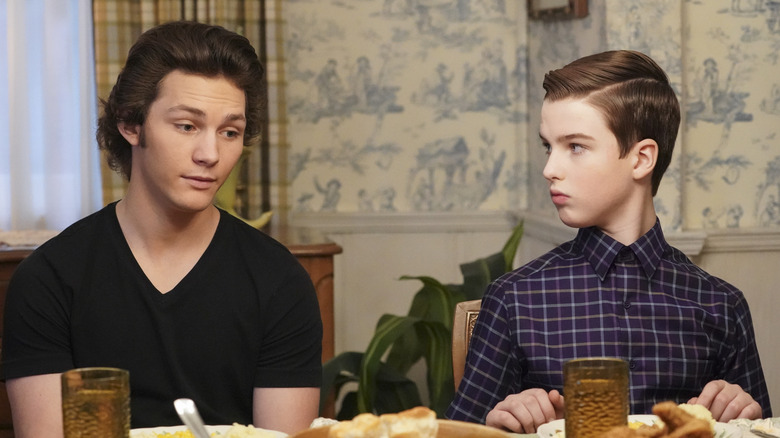 Bill Inoshita/Warner Bros. Entertainment
The 100-episode mark has traditionally been an important one in television, marking the point where most shows become eligible for syndication and a long-lasting paycheck for the cast and creative team. Some TV producers and writers fall into the nostalgia trap when planning these milestone episodes by rolling out a show filled with retrospective clips, while others take the opportunity to cast their gaze forward.
"The Big Bang Theory" did both in its 100th chapter, rolling back time to Penny (Kaley Cuoco) and Leonard's (Johnny Galecki) breakup to see what an alternate timeline might look like for the two stars. For its companion series, "Young Sheldon," co-creators Steve Molaro and Chuck Lorre took a different approach: they looked toward the future, while also giving the episode a push from pure comedy to dramedy territory by having Sheldon's older brother Georgie (Montana Jordan) impregnate his girlfriend Mandy (Emily Osment). 
Molaro told TV Line that he and Lorre "were a little hesitant to try and intentionally make a quote-unquote special episode. I don't think viewers at home are terribly aware of the number. It's just a number."
Young Sheldon took advantage of its actors' advancing ages
The 100th episode of "Young Sheldon" also saw the return of Sheldon's fellow child genius Paige (Mckenna Grace), but left the audience with a cliffhanger regarding the future of Georgie and Mandy. Steve Molaro admitted to TV Line that he and Chuck Lorre may have made a mistake delving into the past with the 100th episode of "The Big Bang Theory." But he added that the ages of the main characters in "Young Sheldon" when it hit 100 episodes in Season 5 gave them the leeway to create more complex storylines. 
He noted that the actors who played the three Cooper siblings were between eight and 14 years old when the pilot aired. Their advancing ages gave writers the freedom to tell more adult stories and were key to the decision to end the 100th entry with the focus on Georgie's situation.
The maturation of the main characters (and the actors who play them), along with George Sr.'s (Lance Barber) impending death, might mean the end of "Young Sheldon" is coming soon, perhaps rendering any decisions regarding a potential 200th episode completely irrelevant.