Chicago Fire Fans Settle The Brettsey Vs. Dawsey Debate
The only thing hotter than the blazing structures on NBC's "Chicago Fire" is, you guessed it, the hook ups. The truth is, the romantic pairings on this long-running One Chicago franchise are just as big a draw for Chi-Hards as all the many conflagrations and other assorted emergencies requiring the life-saving skills of the heroic Firehouse 51 first responders.
And among all the high-temperature pairings keeping fans intrigued on the series, few can match the incendiary heat one particular firefighter and the two women in his life. That firefighter is Captain Matt Casey (Jesse Spencer) and his primary love interests: former paramedic and firefighter Gabby Dawson (Monica Raymund) in the show's early seasons, and in later years, paramedic Sylvie Brett (Kara Killmer). 
But for fans of the series, it seems that the love-match of Casey and Brett just has bit more magic going on. The truth is, overall fan sentiment might be best summed up by "Chicago Fire" viewer u/SudioC, who responded to a question about this particular love triangle on the show's subreddit by saying, "Dawson didn't care about anyone other than Dawson. Her reactions to any little bump was way over the top. Team Brettsey." That said, how did other fans of the show feel about Dawsey vs. Brettsey?
Chicago Fire watchers seem to have major thing for Brettsey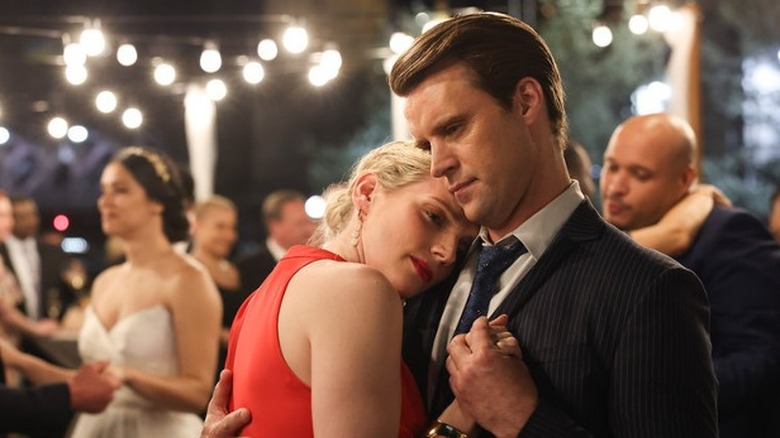 Adrian S. Burrows Sr./NBC
Posting recently on the "Chicago Fire" subreddit mentioned above, OP u/Illustrious_Crow_191 asked, "I want to know: are there more Brettsey or more Dawsey fans?" Fans of the show were more than happy to jump into the fray, with a clear majority voting for the Casey-Brett combo. Redditor u/nighwatch_05 simply declared their allegiance to Matt and Sylvie by stating, "I love Brettsey." 
For the OP, however, they were apparently fine with both Casey and Brett, but just not as a couple, writing, "I love them individually but def not together." Meanwhile, u/HyalinSilkie said that initially they thought Brettsey would make for a bland relationship and that this was how the two played out in the early going, before adding, " But you know what?! Matt deserves some sweet vanilla in his hectic life ... I thought they're cute and wholesome and they deserved a drama-free relationship."
"Chicago Fire" fan u/wonder_girl said that even though they were a Dawsey supporter to begin with, later on they "liked that Matt and Sylvie had a built foundation of friendship before they started dating." But they then went on to give both Brett and Dawson a shout out, saying that Casey was "lucky to be loved by two badass women!"