Ryan Bingham Explains The Yellowstone S4 Scene That Shows The Power Of Music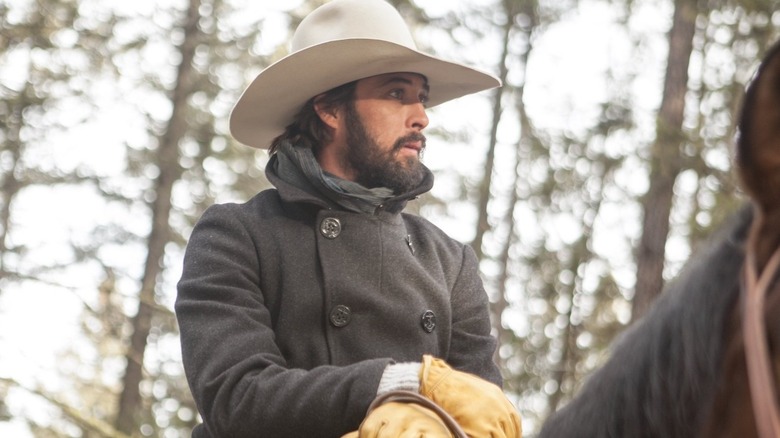 Paramount Network
"Yellowstone" is a series well-populated by characters one might refer to as "divisive." But few characters on the smash hit series fit the bill quite as well as the Yellowstone Dutton Ranch's crooning cowboy Walker. Played with cocksure swagger by real-life singer-songwriter Ryan Bingham, the mononymous roustabout joined the bunkhouse gang halfway through the show's first season fresh out of prison and looking to keep out of trouble. Unfortunately, he found his way to the Dutton Ranch, where trouble is an everyday occurrence.
Walker has since become a vital member of the bunkhouse crew, though he's certainly made his share of trouble along the way. And he's often turned to song to take the edge off the day-to-day ranch life drama. During a Season 4 episode, he even used a particularly sad song to trigger a rare outpouring of emotion from the savage "Yellowstone" beast that is Beth Dutton (Kelly Reilly).
Said scene finds Beth requesting a sad song to help her cry, and Walker indeed helps the fiery Dutton femme shed the requested tears. As Bingham told Taste of Country, the song he played (a maudlin sort of dirge titled "Hallelujah") more than fit the bill. "It was a fairly heavy scene," he said, going on to add it felt like the power of the song was actually keying the drama and not vice versa. He further stated of the scene's inherent emotion, "Sometimes it feels like it's something that's getting channeled through me."
Bingham says people tend to bring a lot of baggage to the song Walker played for Beth in the barn
"Hallelujah" is as sad a song as you'll find in Ryan Bingham's back catalogue, telling of a dead man's soul drifting into the ether in the wake of his untimely murder. The song first appeared on the singer's 2010 album, "Junky Star," and has become a staple of Bingham's live set since. As Bingham told Taste of Country, it's a song that tends to elicit sincere emotion from fans, who bring their own baggage to the soulful lament.
"I've performed that song I don't know how many times all across that country and other parts of the world," Bingham said, "and I've looked down and I've seen the whole front row or at least several people in the front row in tears crying, feeling their emotions and seeing what they're going through." As Bingham savvily stated, "I think it was a similar thing with Beth in the barn there — how these songs can kind of resonate with people and people can identify with them and whatever she was going through." 
For his part, Bingham claims he wasn't trying to do too much in the scene, letting the power of the song — and Kelly Reilly's performance — do the heavy lifting. "I think I was just really trying to hold that space with her, for her character to express that," he noted. That sort of intuition is about as much as anyone could ask of an actor or a scene partner. And it led to one of the more memorable musical flourishes on a show that's reveled often in such moments.