Tom And Shiv's Succession Story Is Far From Over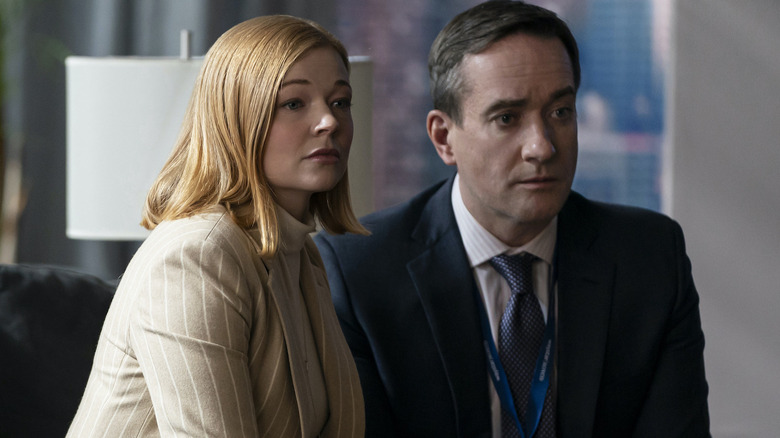 Macall B. Polay/HBO
The Season 4 premiere of "Succession" was built on wins and losses —no one understood that more than Shiv (Sarah Snook). In the course of one episode she, along with brothers Roman (Kieran Culkin) and Kendall (Jeremy Strong), found themselves owners of Pierce Global Media. Such a victory came with a price though as she and Tom (Matthew Macfayden) finally admitted their marriage was over. The couple's last act of lying together on the bed, too tired to go forward, served as a perfectly crafted end to something long since expired. Nevertheless, there might be hope for the beleaguered couple.
The official "Succession" podcast provided a few hints during its recap of the premiere. On hand was executive producer Frank Rich, his comments about Tom and Shiv show there's something more beyond that pivotal scene. "This is the beginning of a protracted conversation with these two characters," he said at around the 25-minute mark. "I don't want to say anything more, but this is not the end of Tom and Shiv's story here."
Tom and Shiv's motivations were very different in that important scene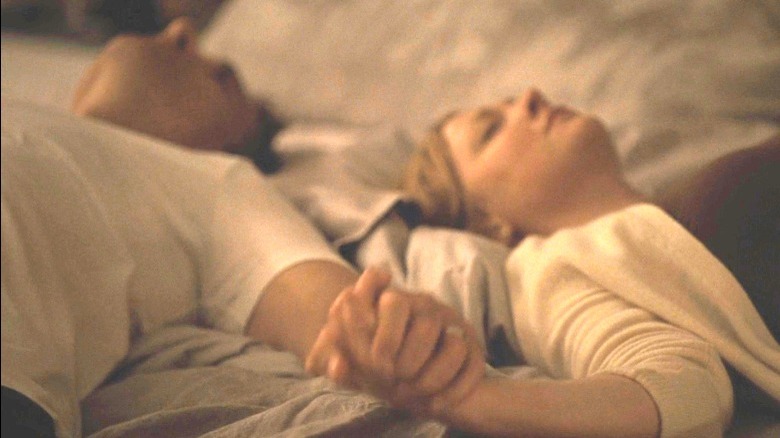 HBO
The stars who portray this somewhat powerless couple have their own thoughts about the storyline. Matthew Macfadyen found himself struck by Tom's approach to the breakup. It's a point that is emphasized by the premiere episode's scene between the pair — who meet face-to-face for the first time in Season 4. "What Tom really wants is to talk about what happened," the actor told The Hollywood Reporter. For Macfadyen, his character didn't get the chance to finally address his Season 3 decision to help Logan instead of Shiv. "He didn't have the chance to explain his reasons to Shiv, or to have the chance to tell her that there wasn't anything he did that she wouldn't have done," he said. The fact Shiv chose to block any discussion left Macfadyen sad about the moment.
Sarah Snook had her own take on Shiv's motivations during the scene. After a day of acquiring PGM for billions more than Logan's anchored figure, the strong-willed Roy offspring found herself confronted with a failing relationship. Instead of talking to Tom, Shiv puts up a front and distances herself from him until she tiredly lays down. The actress broke down the moment in a behind-the-scenes video (via The Wrap). "I think it's too sensitive for her to admit that someone played her," Snook said. The actress also mentioned Shiv's escape from any signs of vulnerability, something that has been a character hallmark since season 1.