Aaron Paul Had The Best Reaction To This Farfetched Breaking Bad X TWD Theory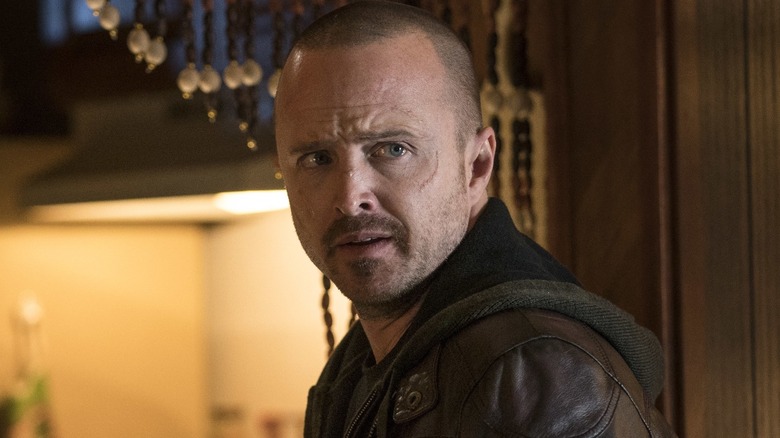 Ben Rothstein/Netflix
For as long as there have been communities around films and television shows, there have been wild fan theories. Given their massive fanbases, AMC hits "Breaking Bad" and "The Walking Dead" have very much become the basis for numerous theories over the years. One of the most well-known actually ties the two together, with fans positing that Walter White's (Bryan Cranston) blue crystal methamphetamine is behind the zombie outbreak seen on "The Walking Dead." This is supported by the fact that the latter show features a blink-and-you'll-miss-it appearance from the drug early in its run.
Suffice to say, over the years, this fan theory has picked up a lot of steam — so much that even "Breaking Bad" staple Aaron Paul, who played Jesse Pinkman on the program, has heard about it. His reaction to it was nothing short of hilarious. "Listen, man, 'Breaking Bad' is based in reality, okay? 'Walking Dead' is not," Paul said during an interview with Vanity Fair, where he read the fan theory aloud with a confused look on his face. While he admits that neither show is filled with real-world events, he doesn't seem to buy that they're connected because of the science-fiction nature of "TWD."
Meanwhile, as Aaron Paul hilariously shoots down the theory that "Breaking Bad" and "The Walking Dead" are set in the same universe, his co-star Bryan Cranston has taken the time to address a similar fan theory that has made the rounds online.
Is Breaking Bad a Malcolm in the Middle prequel?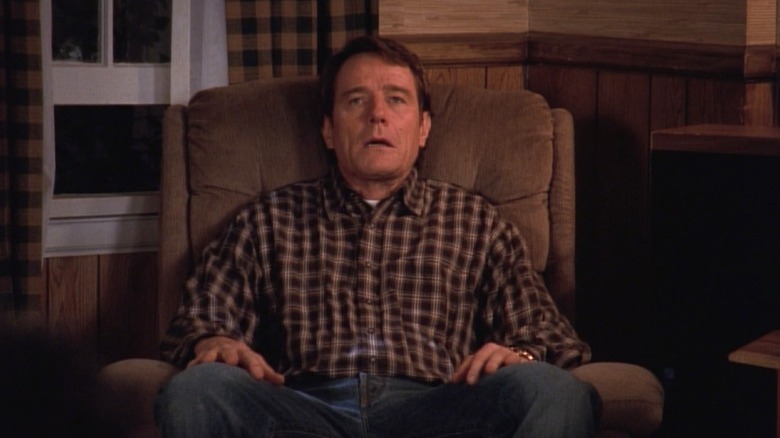 Fox
Yes, there is a theory out there that somehow, someway, "Breaking Bad" is a prequel to the sitcom "Malcolm in the Middle." The belief is that Bryan Cranston's Walter White didn't actually die at the end of "Breaking Bad," rather he ran off to begin a new life as Hal Wilkerson: the father on "Malcolm in the Middle" who Cranston played for the series' entire seven-season run. It's certainly a far-fetched theory (and one that doesn't make the most sense considering the events of Netflix's "El Camino: A Breaking Bad Movie"), but that hasn't stopped it from gaining traction.
Much like the "Breaking Bad"-"Walking Dead" theory made it to Aaron Paul, the "Breaking Bad"-"Malcolm in the Middle" theory reached Bryan Cranston. During an appearance on "The Tonight Show with Jimmy Fallon," he shut the theory down, though he also admitted that he finds it fun. "I think it's fun. I don't know. No, Walter White is definitely dead. He's dead, he's dead, he's dead," he said (via The Independent). With that, don't expect Hal to suddenly reveal his criminal past should that "Malcolm in the Middle" revival become a reality.
Fan theories are a great way to get more out of one's favorite films and TV shows, and, in some cases, they do come true. However, for these two "Breaking Bad" examples, that's definitely not the case.