Jar Jar Binks Actor Ahmed Best Responds To The Love From The Mandalorian Fans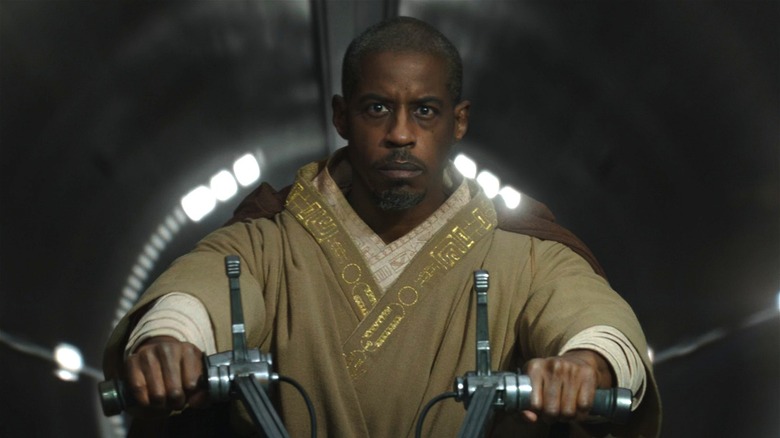 Lucasfilm/Disney+
Contains spoilers for "The Mandalorian" Season 3, Episode 4 — "Chapter 20: The Foundling"
Now that's what we call a redemption arc.
Ahmed Best made his bones in the "Star Wars" universe by voicing and physically acting out the part of the infamous Jar Jar Binks in a mocap suit during the series' prequel trilogy. Some segments of the fandom were not kind to him, to say the least, and the racism heaped on Best at the time caused him to contemplate ending his life. But Best continues to endure, and fans worldwide have been raving about his appearance on "The Mandalorian." Portraying Kelleran Beq, the brave Jedi who fearlessly risks his life to save Grogu's during the infamous bloodletting of Order 66, he shows calm under pressure and gets to do a bunch of cool things. Watching him wield a lightsaber and take part in a daring race through the sky isn't only a feast for the eyes, it's one for the heart.
Also heart-gladdening? On the official "Star Wars" Twitter on March 27, Best expressed his thanks to the audience. "Star Wars fans on social media, thank you so much. For everybody who ever rocked with me, I'm more of a fan than I am a person in these movies and I have always been and always will be."
If you or anyone you know is having suicidal thoughts, please call the National Suicide Prevention Lifeline​ by dialing 988 or by calling 1-800-273-TALK (8255)​.
Best admits he's a big fan of the franchise, too
Ahmed Best added that he's not just proud to be an actor in the franchise, he's truly a fan of "Star Wars" and enjoys following the "Star Wars" universe as it grows and changes just as much as anyone. "I get just as excited when every new Star Wars thing drops. When people show up onstage in [Star Wars] Celebration. I'm more of a Star Wars news junkie than anything else." It's definitely a triumphant return from an actor whose comeback is well deserved and has been building for quite some time, even though Best expressed hesitation about joining "The Mandalorian." 
How long has Best's return to the universe been brewing? This wasn't the first time "Star Wars" fans got to see Kelleran Beq in the flesh. Best also portrayed the character in the 2020 "Star Wars" game show for kids titled "Jedi Temple Challenge." In it, Beq is introduced as a Padawan supervisor who helps guide trainee Jedi through their paces. His nickname in the game? The Sabered Hand. Is it any wonder he'd be so invested in Grogu's health and well-being?