John Wick 4 Director Chad Stahelski Reveals The Movie's Alternate Ending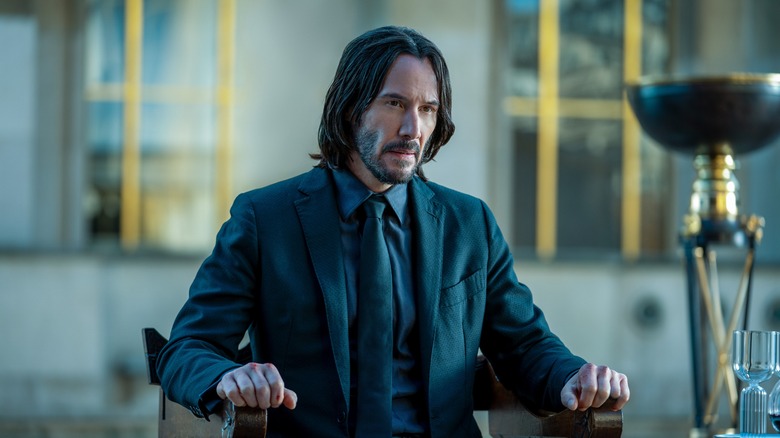 Murray Close/Lionsgate
Contains spoilers from "John Wick: Chapter 4"
Director Chad Stahelski is starting to peel back the curtain on things that didn't make the final cut of "John Wick: Chapter 4," including a fully fleshed-out post-credits scene. In it, Akira (Rina Sawayama) prepares to exact revenge on Caine (Donnie Yen), the assassin sent by High Table member Marquis de Gramont (Bill Skarsgård) to kill John Wick (Keanu Reeves). Earlier in the film, Akira vowed to kill Caine after he murdered her father and the manager of The Continental Hotel in Osaka, Japan, Shimazu (Hiroyuki Sanada).
Instead of showing Akira attack Caine in the post-credits scene, the action cuts to black. Stahelski told Collider it was best to keep the audience guessing about Caine's fate, especially since the last scene prior to the credits already signaled Wick's apparent death.
"There's a real scene that goes along, like Donnie coming up. You think he's got it, and then Rina goes and gets him, and then there's this whole death scene with Donnie Yen dying," Stahelski said. "We had a whole thing where you actually see the demise, but we watched it, and I kind of felt like, 'Well, that's not as cool as not knowing.' Like, does Rina go down that road? You know, we have John Wick and his demise, and we're like, 'Well, let's open the door to the new John.' Like, 'Who's the new ...' and we're like, 'Akira.'"
Stahelski credits his editor for creating the post-credits mystery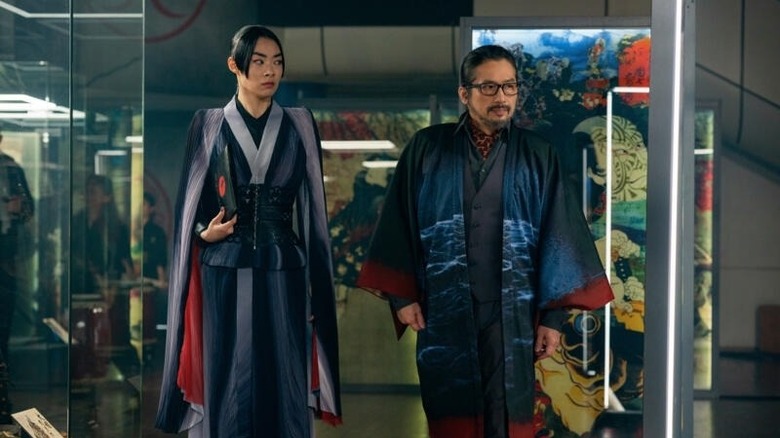 Murray Close/Lionsgate
Acknowledging how Akira has the motivation to exact revenge on Caine after he killed her father, "John Wick: Chapter 4" director Chad Stahelski explained why he still wasn't completely satisfied by the outcome of the original post-credits scene.
"We had this whole scene, and we're like, 'Well, that doesn't really say what we want.' It was a little too much, and we didn't think it was really nailing it," Stahelski said. "My editor, Nathan Orloff, had a nice idea and was like, 'What if we don't see it? What if you leave the audience to that? What's the choice?' Rina has a choice. She opens the knife, but does she actually ... hit Caine with it? And we're like, 'That's awesome. Let's just try it.'"
Stahelski previously credited Orloff for tightening up the final runtime to 2 hours and 49 minutes from its original 3 hours and 45 minutes, a runtime that put "Avengers: Endgame" to shame. Orloff eliminated, among other things, material that expanded the backgrounds of some supporting characters. Now, it appears that Orloff's trimming of the post-credits scenes was among those other cuts.