John Wick 4's First Runtime Puts Avengers: Endgame To Shame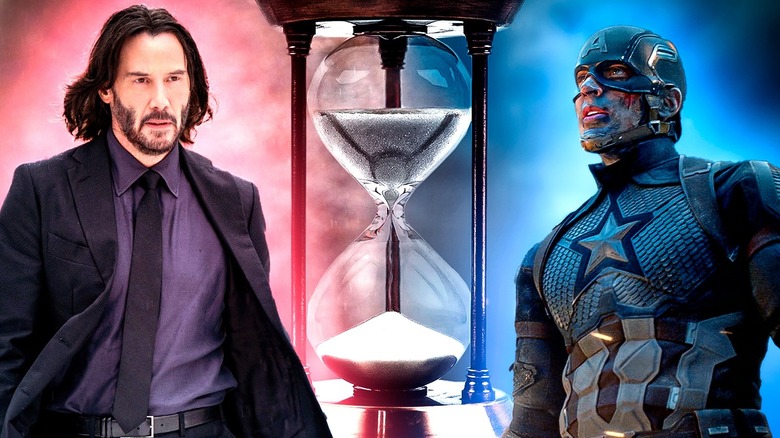 Murray Close/Lionsgate, Disney Marvel
When the "John Wick" movie saga began in 2014, the Keanu Reeves star vehicle rolled in at a lean 1 hour and 41 minutes. But as the film franchise has grown in popularity so have the run times of each subsequent chapter, to the point where the original cut of "John Wick: Chapter 4" blew far past the epic, 3 hours and 1-minute runtime of the Marvel Cinematic Universe 2019 blockbuster "Avengers: Endgame." Clearly, the success of franchise films generally results in more story time. "The Avengers" in 2012, for example, was 2 hours and 23 minutes long.
The version of "John Wick: Chapter 4" that fans will see in theaters this Friday, March 24, clocks in at a healthy 2 hours and 49 minutes — an extended runtime that fans will likely revel in because it simply gives more time for more bad guys to get dead around John Wick. But, as director Chad Stahelski revealed in an interview with IndieWire, the original cut of "John Wick: Chapter 4" was almost an hour longer. "Our first cut was three hours and 45 minutes, and it felt like three hours and 45 minutes," Stahelski said. "We were like, 'Oh, we're so screwed.'"
Knowing the expansive runtime of his latest "John Wick" film was untenable, Stahelski and his editor, Nathan Orloff, were tasked with finding a way of trimming the film down to its current runtime.
The first cut of John Wick 4 focused more on its supporting characters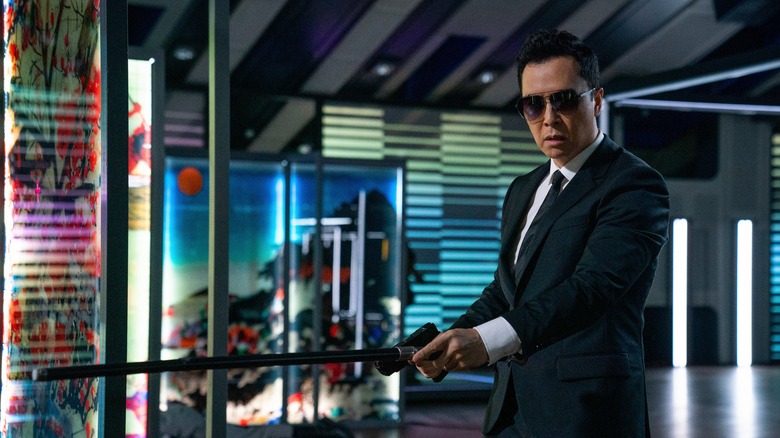 Murray Close/Lionsgate
"John Wick," of course, originated as a revenge thriller, where the eponymous former hitman (Keanu Reeves) was drawn back into the life when thieves stole his car and killed a puppy gifted to Wick by his late wife, Helen (Bridget Moynahan). As the body count in the film series grew, so did the runtime of each sequel, with "John Wick: Chapter 2" coming in at 2 hours and 2 minutes, while "John Wick: Chapter 3 — Parabellum" grew only slightly to 2 hours and 10 minutes.
Of course, new characters have been introduced with each new "John Wick" film, especially when Wick was declared "Excommunicado" and became the target of assassins after killing a crime boss on the grounds of the Continental Hotel — a violation of the rules of the High Table crime organization. Among the new players in "Chapter 4" are Wick's former friend-turned-foe Caine (Donnie Yen), assassin Mr. Nobody (Shamier Anderson), Shimazu (Hiroyuki Sanada), who runs the Continental Hotel in Osaka, Japan, and his daughter, Akira (Rina Sawayama).
As such, the director's ensemble of new characters meant Stahelski needed more time to flesh them out, which, he told IndieWire, contributed to "Chapter 4's" original runtime of 3 hours, 45 minutes. Ultimately, though, the film's editor Nathan Orloff, realized that all roads in the film needed to lead back to Wick, and making the edits did the trick. "I wanted to make sure that he was still the center of the universe, that everything always led back to him even though we were cutting away from him," Orloff said.
However, the editor's work was not done.
John Wick 4's editor also sliced out 'repeated' ideas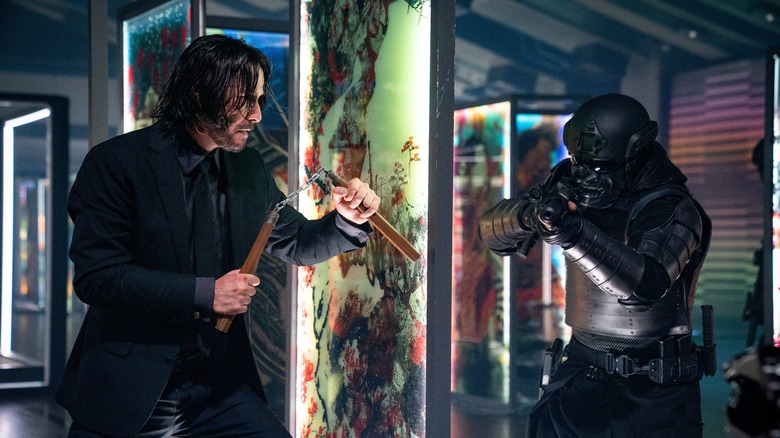 Murray Close/Lionsgate
In the same interview, Orloff said one of the keys to whittling down the film's runtime from 3 hours and 45 minutes was to slice out any repeated ideas in the film. "You just compress, compress, compress," Orloff said. "I went through a pass where anytime someone repeated an idea they had already expressed, I cut it out. No repeated ideas. It's a very linear story, so there wasn't a ton of reconstruction or rearrangement we could do. It was just a matter of sifting out what we didn't need."
Cutting the film's runtime wasn't something Orloff and Stahelski took lightly. When the film's final runtime was revealed to the public, Stahelski said he went to painstaking lengths of watching the film at least 200 times, so he claims, to make sure the length was perfect. "I don't ever feel like, 'F***, just end this thing already. I can't watch it again.' You know what I mean?" Stahelski told Collider of finding the magic number of 2 hours and 49 minutes — 13 minutes shy of the infamous runtime of "Avengers: End Game."
"John Wick: Chapter 4" opens in theaters Friday, March 24.