Chicago Fire's Taylor Kinney Got Slapped By Lady Gaga The First Time They Met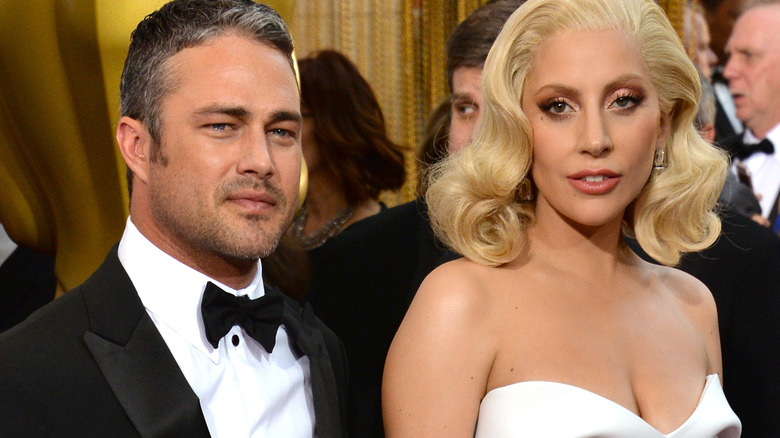 Featureflash Photo Agency/Shutterstock
Today, Taylor Kinney is perhaps best known for his leading role on NBC's "Chicago Fire" as Lieutenant Kelly Severide. Starting just prior to his "Chicago Fire" stint and continuing through his early years on the show, however, Kinney's principal claim to fame in plenty of bystanders' eyes was his long-term relationship with Lady Gaga. So serious were the "Chicago Fire" star and generational pop singer that they became engaged in 2015, though they ultimately broke off their engagement the following year.
During the time they were together, Lady Gaga would occasionally visit the "Chicago Fire" set to support Kinney, suggesting that they maintained a plenty healthy relationship. The first time they met, however is another story — according to Kinney, Gaga was so unreceptive to his initial advance that she slapped him.
Kinney's first encounter with Gaga was as an actor in the music video for her single "Yoü and I" in 2011. "I remember I went up, and we're rolling, and I kissed her. She didn't expect it. They cut, and she slapped me," Kinney said on an episode of "Watch What Happens Live with Andy Cohen." "Then it was just awkward. The next take, I just did it again. And then she didn't slap me. She didn't slap me then."
While Kinney and Gaga may have eventually separated, their approximately five year relationship is testament to the fact that their awkward meeting, at least, wasn't enough to derail what seems to have ended up becoming genuine chemistry.
Working on her music video together, Taylor Kinney and Lady Gaga quickly overcame the slap
As Taylor Kinney explains at the start of his interview with Andy Cohen, when he showed up to the set of the "Yoü and I" music video, its producer or producers approached him with detailed instructions for his role. He preferred, however, to approach this performance in his own manner, hence the unscripted kiss. For what it's worth, Kinney and Lady Gaga do indeed kiss in the final version of the music video, so those involved seem to have agreed that it was ultimately warranted.
Of course, Kinney's relationship with Gaga also appears to be evidence that, while Gaga may have slapped him when he kissed her the first time, the decision worked out in the end. "We had a good time," Kinney continued in his "Watch What Happens Live" interview. "I think there was chemistry. I remember it was a late shoot. We were shooting till four, five in the morning, something like that. And we exchanged information, a few weeks went by, and we kept in touch. That's that."
Gaga's slap, then, now stands as an amusing anecdote in the larger story of what was almost a major celebrity marriage.