Succession Theory: Season 4 Will End With Logan's Downfall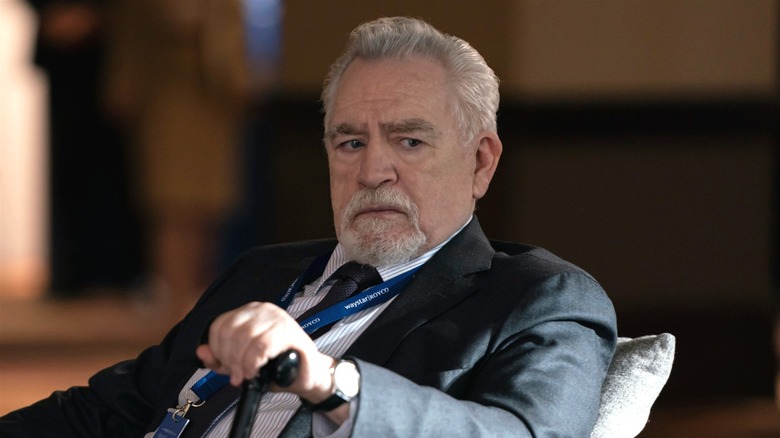 Macall B. Polay/HBO
Contains spoilers for Succession Season 4, Episode 1 — "The Munsters"
"Succession" returns to HBO for its last season, which will finally reveal the fate of the influential Roy family. More importantly, it will also show us who succeeds the media titan Logan Roy (Brian Cox) and takes over the fictitious company, Waystar Royco. Season 4 opens in a similar way as the pilot episode with a grand celebration of Logan's birthday. This detail indicates that the grumpy mogul is another year older which may suggest his inevitable downfall.
Fans have picked up on this as well and are theorizing on Twitter and Reddit about the very end of the series. It's unanimous across the board that Logan will probably die, though the company's future leaves fans divided. They seem to be evenly split on the conflicting sides in this expensive war, with the Roy kids — Kendall (Jeremy Strong), Roman (Kieran Culkin), and Shiv (Sarah Snook) — as one projected winner, and Tom (Matthew Macfadyen) and Greg (Nicholas Braun) as the other possibility. 
After Logan's reflective scene in the diner, his imminent death seems very likely. He contemplates what comes next with one of his trusted security guards, leaving us mulling over the possibilities of Logan's probable demise.
Fans believe the Roy kids will overthrow their father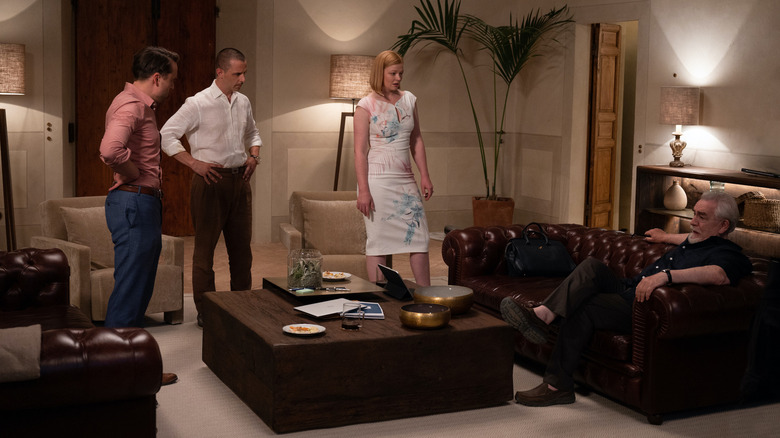 Graeme Hunter/HBO
Even with their ridiculous bidding antics that showcase their arrogance, it's very likely Logan's own kids will push him out of the company. This could then result in another fatal health complication, which will end their tyrannical father's life. That would even call back to the very first episode of "Succession," where they refused to sign Logan's contract and he had a massive brain aneurysm in response.
Many fans seem to think this is the way the show will go on the way to its conclusion. On Twitter, @JAIDENLlKESTUFF wrote, "Kendall, Shiv, and Roman are going to end Logan, Tom and Greg trust that," followed by a fitting mic-drop gif. Another viewer, @AlishaaGupta89, has a darker end in mind, with Kendall killing his father and continuing the cycle of abuse. Others feel the encroaching darkness looming over Logan, like Redditor u/jonsnowKITN, who commented, "Logan finally facing his morality. The end seems near." They also dived into the specifics of the episode, particularly the haunting conversation between Shiv and Tom, which prompted another user to comment on the Roy kids' shared smile of satisfaction. 
Meanwhile, u/thatcfguy noted, "Also, idk [I don't know] but the three smiling after Logan's call was something. Will cherish that moment since it will inevitably go somewhere bad." Undoubtedly, the smirking Roy kids have plenty of more tricks up their sleeves to finally take their dastardly father out. 
Others feel Tom and Greg will come out on top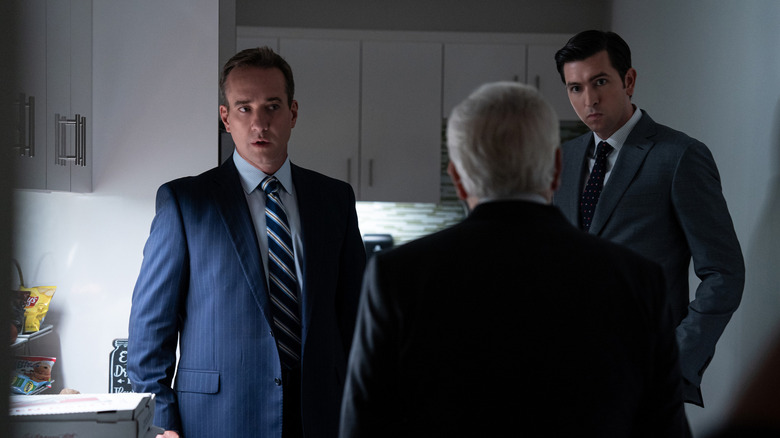 Macall B. Polay/HBO
While many fans are placing their bets on the Roy kids coming out on top, other fans think the end of "Succession" will have a more surprising turn, with Tom taking the throne at the end. This would ultimately reward his undying loyalty to Logan and even make up for his vicious betrayal of Shiv at the end of Season 3. That also benefits Greg tremendously, who has been stuck to Tom's side since the beginning, and who even recently dubbed the two "The Disgusting Brothers."
The unconventional ending would be perfect for "Succession," with Logan continuing his untouchable winning streak by naming Tom his successor. It would also leave his foolish kids floundering on their own, resulting in a delicious sight to witness. Fans have echoed this sentiment on Twitter, including @jonnbridges, who thinks the squirrelly underdog Greg will reap the bountiful rewards. This wild theory would drive home the overarching theme of the series, with absolute power corrupting the ignorant cousin absolutely.
While we have to wait a few more weeks to find out who wins for sure, fans seem to agree that the final season will inevitably see the death of the towering patriarch Logan Roy.