Succession Theory: The S4 Poster Suggests Tom Wambsgans Takes The Throne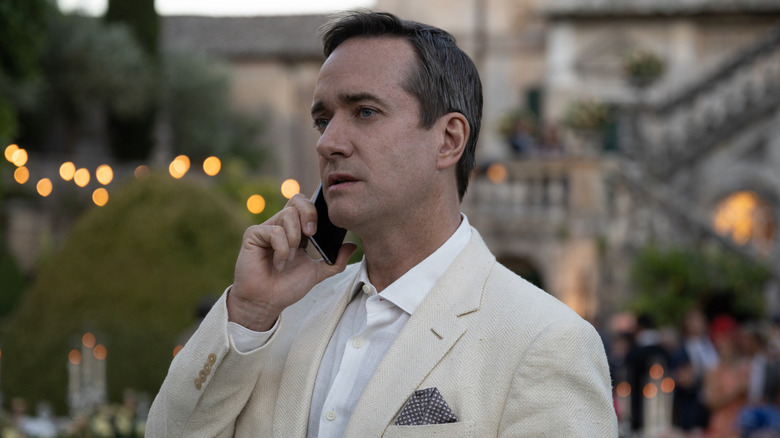 Graeme Hunter/HBO
"Succession" Season 4 marks the end of an era as the Roy family takes their final bow on HBO. Numerous questions linger over the last season, but the main one on everyone's minds is: who will fulfill the show's premise and succeed the media mogul Logan Roy (Brian Cox)? According to Sarah Snook (Shiv Roy), the promotional poster may have some hidden Easter eggs that give us a better idea of who will end up on top.
Season 3 of "Succession" ended on a bittersweet cliffhanger with Tom Wambsgans (Matthew Macfadyen) betraying his wife Shiv in favor of the formidable Logan. This helps him win over his father-in-law at the perfect time, as his own kids are forming schemes to force him out of Waystar RoyCo. This sets up Season 4 with the family even more divided than ever as they fight for the coveted empire.
Snook's comments have us peering over every last detail in the new image, and we think we may have finally cracked the code. Based on a signature focal point, it's safe to assume Tom's actions at the end of Season 3 will eventually secure him the position of CEO.
There's more than a few clues in the Season 4 poster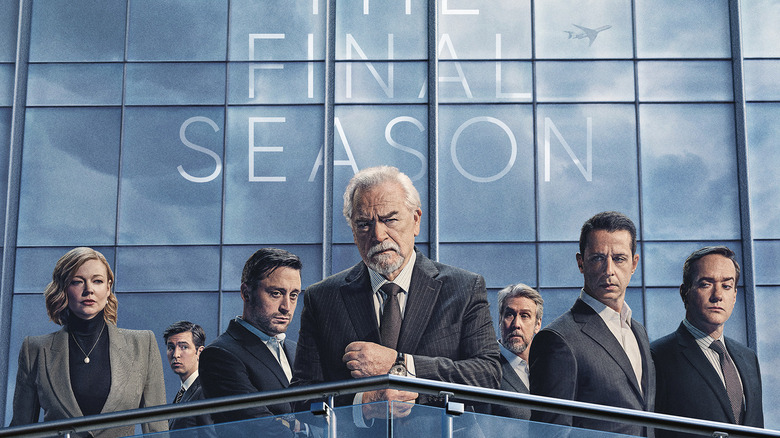 Courtesy of HBO
While it may seem like a pretty straightforward image of the towering Roy family, a few details can be pulled out of this poster. There's the jet plane reflected above in the glass of the skyscraper, while we also have the shifty characters meticulously arranged. On Logan's wrist, he seems to be adjusting his watch, which may be the Easter egg Sarah Snook was referring to. 
In the very first episode of "Succession," after agonizingly thinking it over, Tom gifts Logan a very expensive watch for his birthday. He jokes, "It's incredibly accurate. Every time you look at it, it tells you exactly how rich you are." While this buffoonish act didn't impress Logan at the time, his movement on the poster may be a callback to this moment. Though it's not the same watch, the focus might indicate that Logan has finally come to respect and even admire Tom's self-made status, especially over his own entitled children. 
There are also several instances throughout the series that show Logan has a soft side for Tom. Following his bold move in the Season 2 finale, where he stole the chicken right off the titan's plate, Logan has mostly spared Tom from his vicious mean streak. This is even shown in moments of Logan's sickness, like in Season 3, Episode 5, "Retired Janitors of Idaho," when Tom helps the elderly man in the restroom. Logan fondly calls him "son," even though he's not entirely lucid. This is a far cry from the humiliating "Boar on the Floor" antics in Season 2, Episode 3, which signals Tom's much brighter future. 
The fate of two major characters are up still in the air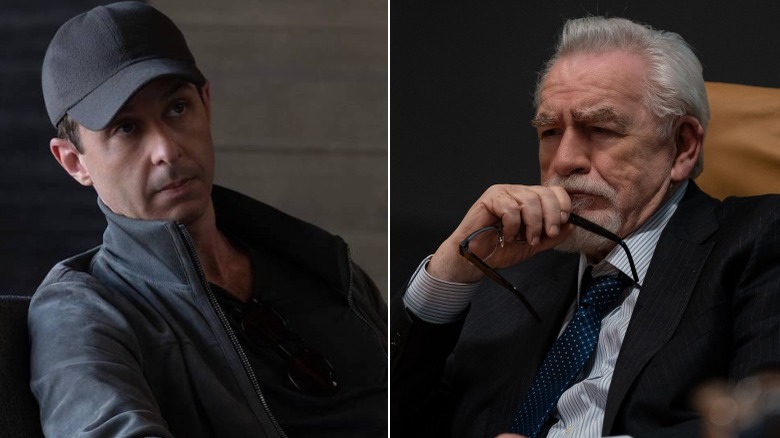 Macall B. Polay/Claudette Barius/HBO
"Succession" has frequently alluded to the death of two major characters over the series' run: Logan and Kendall Roy (Jeremy Strong). We open the series with Logan's brain aneurysm at the end of the pilot (titled "Celebration"), highlighting the plane's presence in the Season 4 poster. This could be a reference to the harrowing event, and it's likely his health problems will catch up with him, prompting him to finally name our predicted successor.
As for the eldest troubled Roy, Kendall's fate was essentially sealed when his reckless actions led to the death of a young man in Season 1, Episode 10, "Nobody Is Ever Missing." He's unable to shake the guilt he feels, which leads to his unnerving contemplation of suicide over the series. In the Season 3 finale, he has an emotional breakdown and confesses to his siblings as they try their best to cheer him up. However, after Logan names someone else over him as the future of Waystar RoyCo, Kendall could make an irreversible decision.
The poster also insinuates as much, with Kendall looking both over the edge and at his father. The first episode alludes to Kendall's death when Gerri (J. Smith-Cameron) jokingly tells him not to jump after learning about the company's massive debt. Later, in Season 2, Episode 4, "Safe Room," Logan has glass panels installed on top of the skyscraper to prevent Kendall from taking his life. We don't see those panels in the poster leaving the possibility wide open for Kendall. In a wild and dramatic move, he could even take his father with him and become the killer he always wanted him to be.
If you or anyone you know is having suicidal thoughts, please call the National Suicide Prevention Lifeline​ by dialing 988 or by calling 1-800-273-TALK (8255)​.