Jennifer Aniston Reveals Which Friends Character Adam Sandler Wanted To Be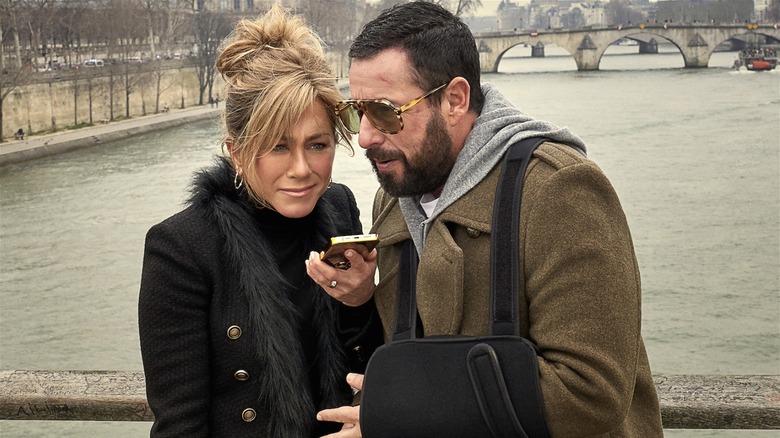 Scott Yamano/Netflix
Not many actors in Hollywood can claim legit superstar status, and even fewer can add the coveted qualifier "cross-generational" to that superstar title. But Adam Sandler and Jennifer Aniston are arguably two long-time Tinseltown players who've earned such an honor. The duo began their cross-generational ascension back in the 1990s, with Aniston breaking through on the legendary sitcom "Friends," and funnyman Sandler doing so on "Saturday Night Live" prior to taking his talents to the big screen. As it was, the powerhouse team never actually worked together during their '90s heyday, pairing for the first time on the 2011 comedy "Just Go With It."
Despite earning raves for their on-screen chemistry, they waited until 2019 to re-team, doing so on the Netflix hit "Murder Mystery." The sequel to that streamer is soon to debut on the platform, and with the pair now on the promotional trail, a recent stop on the "Jake's Takes" show found them fielding a pointed question about which of their past projects they might've enjoyed collaborating on. To no particular surprise, Sandler admitted he would've enjoyed being on "Friends," joking, "I woulda been the monkey on 'Friends.' I woulda handled that." 
That got an expected laugh from both Aniston and host Jake Hamilton, though the former went on to confirm, "He wanted to be Ross." Sandler promptly confirmed as much, noting half-defeatedly, "I wanted to be Ross."
Sandler joked David Schwimmer got the role for a couple of very specific reasons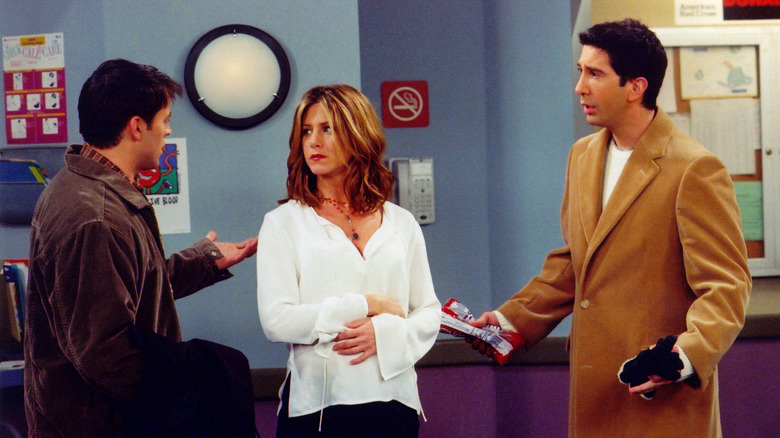 Getty Images/Getty Images
It should be noted that at no point does it seem Adam Sandler was actually in the running to play Ross Gellar on "Friends." During the interview on "Jakes Takes," the actor claimed he was never even asked to make a guest appearance on the show. It seems Sandler still has some hard feelings about that fact, however, stating, "It hurt," even as Jennifer Aniston jokingly added, "Don't poke the bear."
The role of the affably neurotic Ross, of course, went to David Schwimmer, who played the part for all 10 seasons of "Friends," becoming a bit of a small screen icon himself along the way. While fans of the series would likely consider it sacrilege to even ponder recasting the seminal role — particularly in the context of the "Ross and Rachel" storyline he shared with Aniston's Rachel Green — it's pretty easy to imagine Sandler stepping in and making it his own. Still, as the "Uncut Gems" star went on to joke, "Schwim-dog got it because he was taller than me ... and a little nicer."
Aniston ribbed her "Murder Mystery 2" co-star by adding, "Just a tiny bit." Surprisingly, she went on to name "Hubie Halloween" as a Sandler project she wished she could've been in, though she hilariously mispronounced it "Hubie Hollywood" — which in turn led Sandler and Jake Hamilton to riff about a potential sequel title. Suffice it to say, should "Hubie Hollywood" happen, Sandler may be sharing a writing credit. And yes, he'd be wise to write a role for his pal Aniston who, after all, was the first to utter the words.