Writer Shay Hatten On How Ballerina Fits Into The John Wick Universe - Exclusive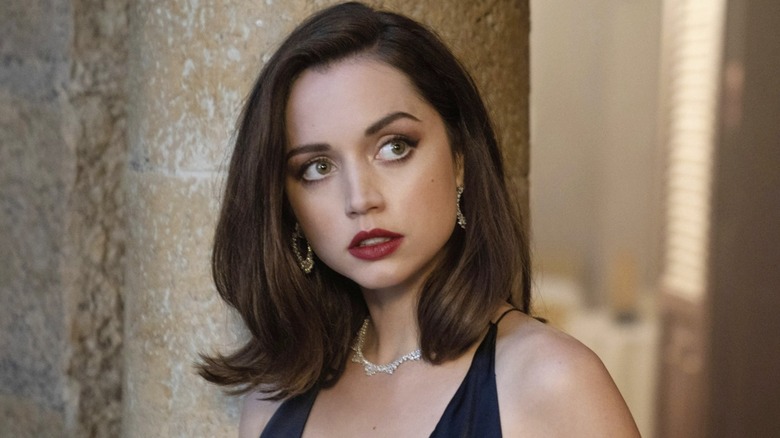 MGM
One of the most striking aspects of the "John Wick" franchise is its continuing air of mystery. Even after four films — including the outstanding new "John Wick: Chapter 4" — there is so much we don't know about John himself (Keanu Reeves), characters like Winston (Ian McShane) and the Bowery King (Laurence Fishburne), The High Table, and many other elements of the shadowy, surreal criminal underworld in which the films take place.
That may all begin to change with "Ballerina," the first official spin-off movie. Taking place in the "John Wick" universe but adjacent to the main storyline, "Ballerina" stars Ana de Armas and is directed by "Underworld" and "Live Free or Die Hard" helmer Len Wiseman. Its launching pad is the ballet school/assassin training center glimpsed in "John Wick: Chapter 3 — Parabellum," where John has a key meeting with the Ruska Roma crime boss/school administrator known as the Director (Angelica Huston).
The plot of the film remains a secret for now, but Ana de Armas' character, a ballerina assassin named Rooney, is apparently out to avenge the murder of her family. She's joined in the movie by an all-star cast that includes Gabriel Byrne, Norman Reedus, and — from the "John Wick" mothership — Ian McShane, the late Lance Reddick, and John Wick himself, Keanu Reeves.
According to co-writer Shay Hatten, who penned the script for "Ballerina" with Oscar-winning "Promising Young Woman" writer-director Emerald Fennell, the movie will indeed explore a whole new region of the "John Wick" universe. "[It] opens up a whole new avenue," he tells Looper in our exclusive interview. "It's [an] exciting extension."
Ballerina may fill in gaps in John Wick's background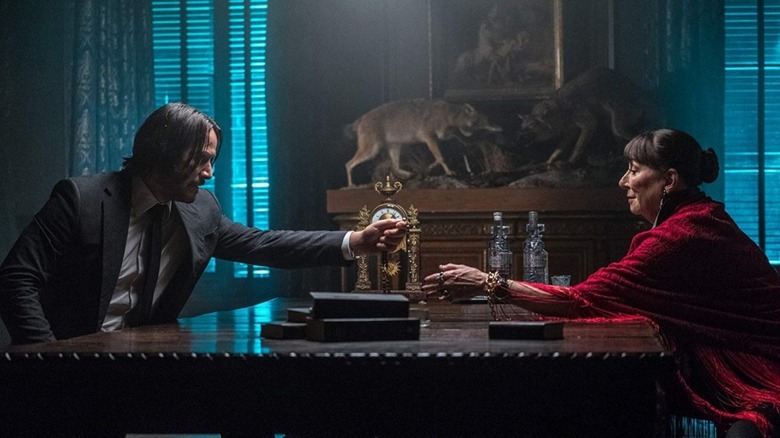 Lionsgate
"Ballerina" takes place between the third and fourth chapters of the "John Wick" series. While the film will focus on the character of Rooney, the fact that John Wick has a past with the Ruska Roma crime organization and the ballet school through which it operates — as well as his presence in the movie itself — indicates that we could learn more about the Baba Yaga himself.
Writer Shay Hatten says that this is exactly what fans can expect. "The main character is somebody who came up through the same ballet academy that we see in the third film with Angelica Huston, which, as you know, is a place that John also has a history with," Hatten explains. "In a cool way, by showing this new character coming out of that world, you might get some answers about what John's own history was like in that place and some of his training."
Hatten adds that even though we'll see familiar faces like John Wick, Winston, and Charon in the movie, "Ballerina" also charts its own direction.
"We get to answer some questions about John, while also introducing a new character who then — I won't spoil this — goes to a completely different corner of the 'John Wick' world that we have not seen before at all," teases Hatten. "That opens up a whole new avenue. It's [an] exciting extension, but we'll still bring back the people that you can't make a 'John Wick' movie without, like Ian McShane ... We'll still have those key tenets that everyone loves."
"Ballerina" is currently in post-production and is tentatively due out in spring or summer 2024. "John Wick: Chapter 4" is in theaters now.