Jesus Actor Tom Payne Felt TWD Didn't Live Up To The Comics When He Left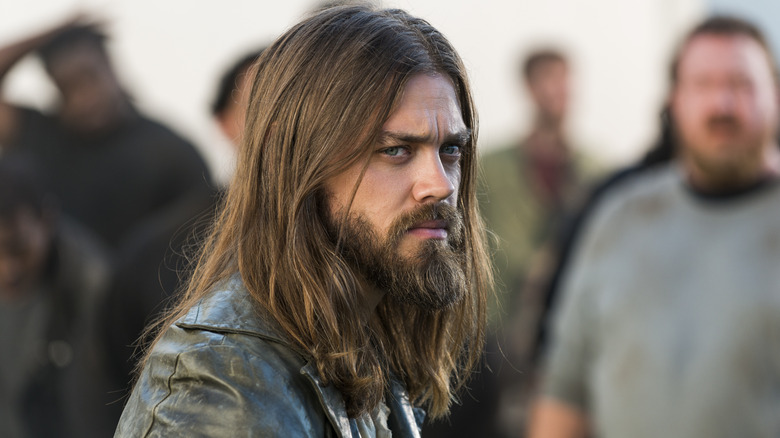 Gene Page/AMC
By the time Jesus died in one of the worst "The Walking Dead" endings, Tom Payne was practically begging to go. The actor first appears in Season 6 as the long-haired martial arts expert from Hilltop. He quickly endears himself to Rick Grimes (Andrew Lincoln) for his skills and becomes a devoted ally during the conflict with Negan (Jeffrey Dean Morgan). But while Jesus has a long and fruitful character arc in Robert Kirkman's comic, Payne couldn't help but feel his onscreen counterpart was lacking. Payne used Kirkman's source material as his primary focus for preparation, meaning he put a lot of work into Jesus' physical skills. But despite all his training, the seasons rarely did the character justice.
"That was also my frustration is that I would do conventions, and everyone would come up to me and talk about how cool the character was and how they couldn't wait for these things to happen, and then none of them happened," Payne reflected during the 2022 Fandemic Dead panel. As a fan, Payne was also excited to do specific set pieces but never got the opportunity. By the time The Whisperers rolled around, Payne had been so fed up with the character's lack of involvement that he advocated for his character's death. Payne stated: "I was ready to go. I was bummed that he never fought Negan and that him and Aaron weren't the ones who took down Beta."
All Out War should have been a bigger for Jesus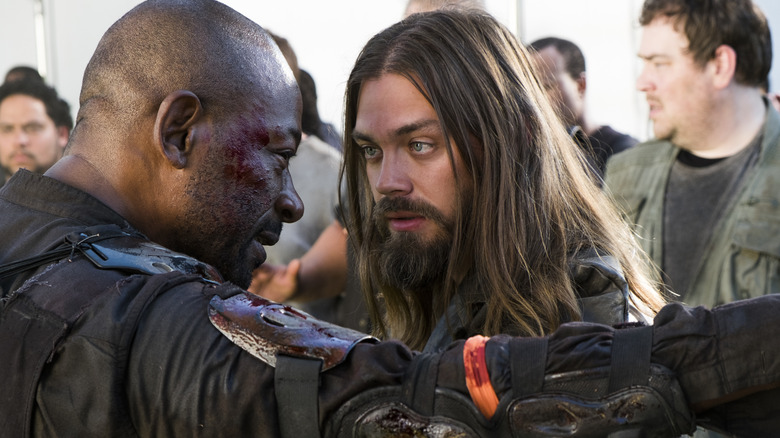 Gene Page/AMC
From the moment Rick and Daryl (Norman Reedus) first encounter Jesus trying to steal their truck, the new character has some obvious skills. More physically dexterous than any viewers have seen previously in the series, Jesus would undoubtedly be a great asset to Alexandria. Unfortunately for Tom Payne, that would never come to be. One of Jesus' great claims to fame is the "All Out War" arc in the comic, which Payne had been looking forward to.
"You don't get the scripts in advance, so I read the comic books, and that's how I did my preparation. And I was like: 'Oh, this is so cool, he gets to do all this stuff during All Out War and ... none of that stuff happened," Payne said at the Fandemic Dead panel. The arc features an impressive feat of Jesus holding Negan hostage, as well as catching a grenade in midair and throwing it back at the Saviors. But instead of these exciting moments fans expected from the comic, they got something even more unwanted: the death of Carl Grimes (Chandler RIggs) in Season 8.
After Carl survives being shot, killing his walker mother, and losing an eye, the young character still dies in a plotline that was a huge mistake. This takes place during the "All Out War" arc, overshadowing a pivotal Jesus moment that should have taken place. Just as Jesus was misused, so was Carl. Both characters who survive to the end of the comic are just thankless casualties in the series.