Big Bang Theory Fans Find This Scene Extra Sad After Watching Young Sheldon
The spinoff "Young Sheldon" often references the original series "The Big Bang Theory" through clever callbacks that strengthen the relationship between the two shows. By learning more about Sheldon's (Jim Parsons) childhood, we better understand his adult years through more context about his past. This even makes some moments heavier than others, like when Sheldon feels homesick and misses his dear Meemaw (June Squibb).
In "Young Sheldon," Meemaw (Annie Potts) is Sheldon's tough but fair grandma and his fierce protector who always has his back no matter what. She's also a fan-favorite due to Potts' scene-stealing performance as the quick-witted Texan. This aspect leaves viewers feeling even more empathetic toward adult Sheldon as we've also witnessed his memories with his loving grandmother. 
That makes a particular moment in "The Big Bang Theory" even more emotional when Amy (Mayim Bialik) surprises Sheldon with an unforgettable Christmas gift. She bakes him his Meemaw's signature Christmas cookies which helps cure his temporary lapse of homesickness. After watching "Young Sheldon," fans on Reddit find the sentimental sequence even more meaningful. This is exemplified by u/A-lexxd, who wrote, "Sobbing because we know how much he loves his Meemaw," with an accompanying emoji of tear-filled eyes. They're one of the many fans that found this scene even more significant following the character development in "Young Sheldon."
Fans now get misty-eyed thinking of Meemaw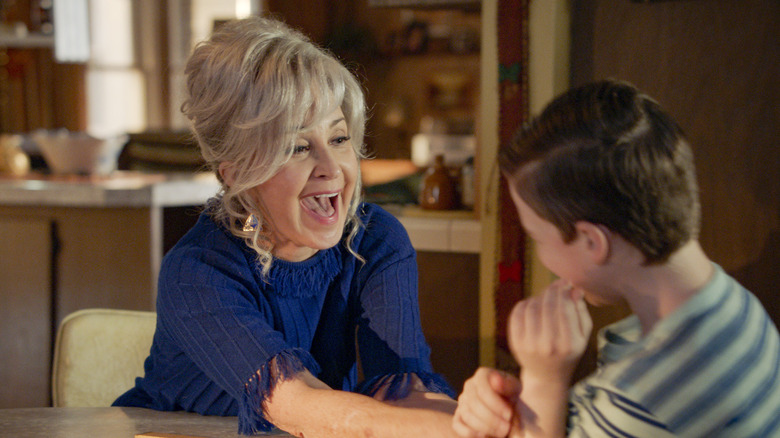 CBS
Among the other wacky members of the Cooper family, Sheldon's Meemaw stands out as a hilarious and joyful character. She's strong, independent, and intelligent, which often leads the rest of the Coopers to confide in her and seek her wisdom. This gives Meemaw and the gifted young Sheldon a special relationship that continues in "The Big Bang Theory."
Because of "Young Sheldon's" depiction, fans feel even more deeply about adult Sheldon's special Christmas gift from Amy. In "The Big Bang Theory" Season 8, Episode 11, "The Clean Room Infiltration," Sheldon's emotional reaction had fans weepy like u/Jake_malvo, who quoted the episode in the Reddit comments with, "It tastes like her hugs," and a sad face emoji. This is echoed by u/Hatface87, who wrote, "Damn onions," implying that the scene made them teary-eyed.
Another user, u/cturtl808, shouted out Amy for her selfless actions, "Amy genuinely loved Sheldon. She always went so far to show him." One user even compared the prequel to another heartwarming series with u/BrownieEdges, who said, "I love Young Sheldon. Funny and sweet. Like The Wonder Years." Though some fans may prefer Annie Potts' portrayal, Meemaw's spirit remains true in both versions, which makes this sweet moment even more emotional.