Walton Goggins Feels Justified Could've Been Two Seasons (But Is Happy With Six)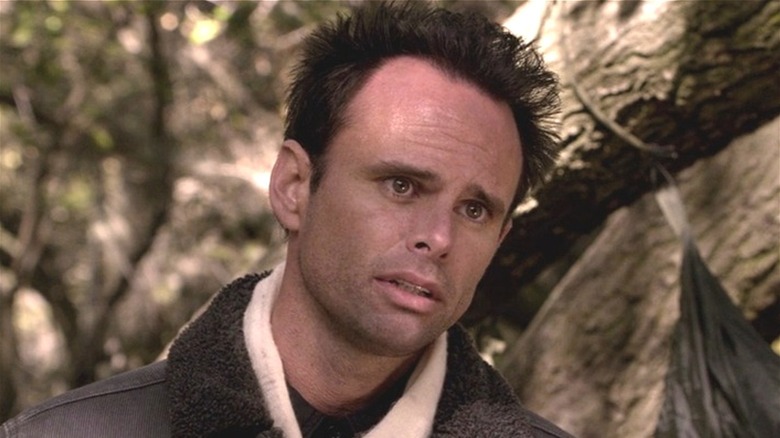 FX
"Justified" star Walton Goggins left an indelible mark on the FX television series. For six action-packed and character-driven seasons, the actor had the unique opportunity to portray the nefarious white supremacist, Boyd Crowder. But the heart of the show centered around the complicated friendship that existed between Crowder and "Justified" protagonist, Raylan Givens (Timothy Olyphant). It turned out that Boyd's oldest friend just happened to be Marshal Givens who, unlike his buddy, ended up on the right side of the law.
The two men forged their close-knit relationship while they were teenagers working together in the Kentucky coal mines. And Goggins felt so fortunate to have had the opportunity to play Boyd for six seasons. "This could have been a two-season show," Goggins said in an April 2015 interview with Esquire. "But God knows I'm glad it wasn't because we got to explore all the different sides of these people."
"I feel like I've unearthed all [Boyd's] deepest, darkest secrets, and I've been able to work with my tools in that soil for a very long time," Goggins continued. True, the actor might have been content with less time to explore the character on the neo-western, but he thoroughly enjoyed the extra time he had to cultivate the metaphorical garden of "Justified."
Goggins made the most of his extra time playing Boyd
Walton Goggins' Emmy-nominated run as the charismatic counterpoint to Marshal Raylan Givens (Timothy Olyphant) on "Justified" came to its epic conclusion during the series finale, "The Promise." And the actor was so grateful to have played such a complex character for six seasons. "After the decision was made to keep Boyd around after the first season, it was always going to come back to this," Goggins said during his interview with Esquire. "The Promise" indeed brings the character's story full circle.
Thankfully, Goggins' Boyd Crowder ended up staying with the show all the way to its immensely satisfying end. That extra time afforded Boyd some incredible character development, particularly where his complicated relationship with Raylan is concerned. The final scene showcases the extraordinary acting talents and chemistry shared by Goggins and Olyphant. Raylan journeys all the way from Miami to the Tramble Penitentiary where Boyd is incarcerated to deliver the news that Ava Crowder (Joelle Carter) perished in a car accident.
Boyd is visibly moved by Raylan's visit, and their friendship is then summed up in four simple words. When Boyd asks why Raylan showed up to tell him in person about the death of his one-time fiancée, the inmate surmises the answer for himself and says, "We dug coal together." It's a powerful moment that not only cements the true breadth of their relationship, but also wraps up the series beautifully.