Blue Beetle's First Trailer Is A Must-See Action-Packed Adventure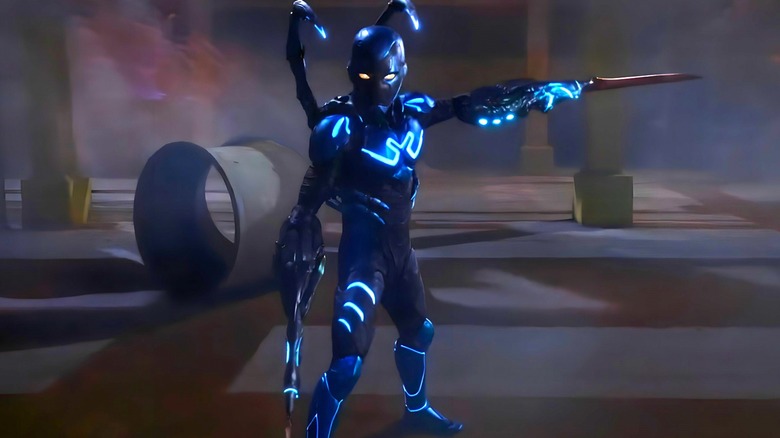 David Livingston/Getty Images
Times are tough for the DCEU but if the first look at "Blue Beetle" is anything to go by, the franchise will be just alright.
Originally set to debut on HBO Max, the mid-budget DCEU flick was given the greenlight for a theatrical release, proving that the brass at Warner Bros. Discovery still has some faith in the larger DC franchise. The film follows Jaime Reyes, the third canonical Blue Beetle. The teenage Reyes receives his powers from an alien scarab, which gives him a powerful blue suit with infinite possibilities. The upcoming film marks the first time the iconic character will be seen on the big screen.
Directed by Angel Manuel Soto, DC's latest features "Cobra Kai" stand-out Xolo Maridueña in the titular role. The first trailer effectively shows off Maridueña's charm as he tries to balance being both a teenager and superhero. What notably sets "Blue Beetle" apart is that it's set to be the first live-action superhero film to feature a Hispanic lead. Representation is clearly important for Soto, who has rounded out the cast with a number of Latino actors, including Oscar nominee Adriana Barraza and George Lopez, who plays Jaime's uncle.
Films like "Shang-Chi and the Legend of the Ten Rings" and "Black Panther" have proven that audiences will show up in droves to celebrate underrepresented communities on the big screen. If the final "Blue Beetle" film is half as exciting as its debut trailer, it's possible that DC will have a (much-needed) winner on its hands. 
The first Blue Beetle trailer is action-packed
The first "Blue Beetle" trailer confidently sets up Xolo Maridueña as the DCEU's next superhero. Action-packed and filled with unique, neon-heavy visuals thanks to the titular character's suit, the debut look at the upcoming superhero romp is more than just promising. While the trailer doesn't provide the most intimate look at Reyes struggling with his newfound powers, it does paint "Blue Beetle" as a true coming-of-age film. Audiences can expect the second trailer to expand upon the film's narrative and villain Victoria Kord, played by Susan Sarandon. 
As exciting as the trailer is, audiences might be skeptical about the opening weekend because of the upcoming DCEU reset, courtesy of studio president James Gunn. In his announcement discussing the soon-to-come DC slate, Gunn didn't explicitly mention if "Blue Beetle" has a future in the franchise. However, "The Flash," which releases several months prior to "Blue Beetle," is set to reset the entire franchise, meaning Jaime and his story will have actual consequences as the new and improved DCEU unravels. Gunn previously shared the first neon-doused "Blue Beetle" poster in early December 2022. Per the trailer, it's possible that "Blue Beetle" could even be stand-alone — only time will tell.
"Blue Beetle" hits cinemas on August 18.