Ghostbusters' Harold Ramis Stole Egon's Iconic Gear From The Set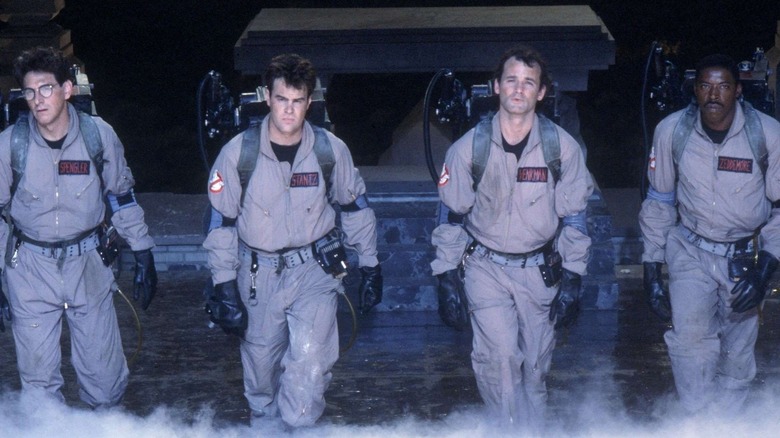 Columbia Pictures
"Ghostbusters" is an iconic film for more reasons than one, but it's hard to argue that the gear the eponymous crew wears isn't a big part of the appeal. In fact, some of these set pieces are so good that late star Harold Ramis couldn't help but steal some of his character Egon's most iconic gear. "I have a jumpsuit, which is faded, with all the patches, and then I also have Egon's business suit that he wore before we became Ghostbusters," Ramis told Morewhatnot in 2012. "I also have boxes of Egon glasses."
It's not entirely surprising that Ramis would take home some of his own gear from "Ghostbusters." As the film has continued to exist as a pop culture staple as well as spawn a franchise that's still ongoing today, the original outfits and devices from the films are now quite valuable. Many of the set pieces from the original two "Ghostbusters" films have actually been auctioned off over the years, and they fetched quite a price.
Harold Ramis' suit from Ghostbusters II sold for $55,000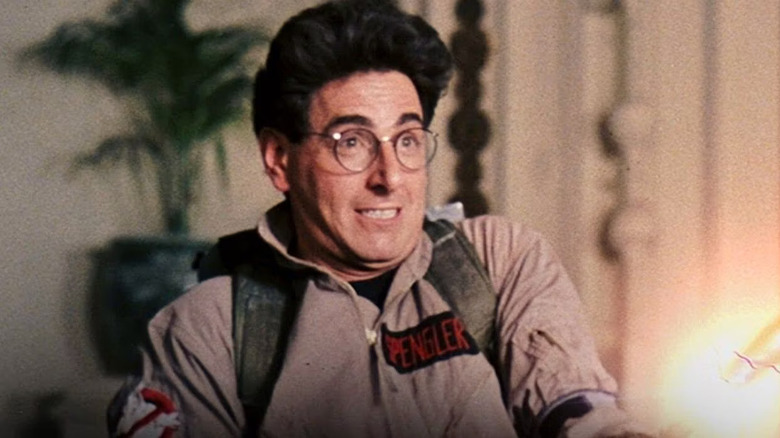 Columbia Pictures
According to Heritage Auctions, the Ghostbusters uniform that Harold Ramis wore in "Ghostbusters II" sold for a whopping $55,000 in December of 2022. Considering that Ramis passed away in 2014, it's not surprising that a lucky fan with a lot of spare money lying around would want this particular keepsake for their own collection. However, it's not the only set piece to be sold off when it comes to the "Ghostbusters" franchise.
Per Ghostbusters News, the suit that Dan Aykroyd wore in "Ghostbusters II," as well as several other props from the same film, sold for over $150,000 at auction in June of 2022, which is a fairly stunning amount of money. It just goes to show that nostalgia fuels a large part of pop culture and the appeal of the "Ghostbusters" franchise is seemingly never-ending. Given the success of the long-awaited sequel, "Ghostbusters: Afterlife," as well as the forthcoming release of more films in the franchise, it doesn't seem like that particular appeal will be dying down anytime soon.