That '70s Show's Tight-Fitting Costumes Created A Comical Struggle For Josh Meyers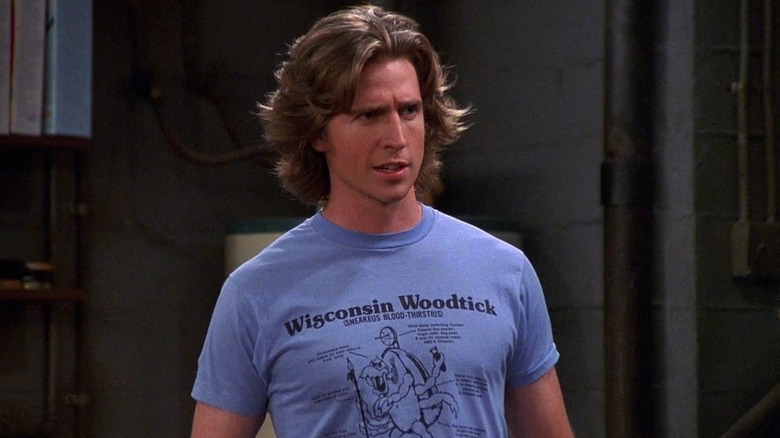 Fox
"That '70s show" relied heavily on painstaking visual recreations of the era to help transport viewers back to the Point Place, Wisconsin, of half a century ago. From the decor in the Forman family kitchen to vehicles like Eric Forman's (Topher Grace) Vista Cruiser and lots of feathered or permed hairdos, showrunners made sure that the styles shown were true to the period of the long-running series. The fashions throughout — from Jackie's (Mila Kunis) ever-present clogs and Kitty Forman's (Debra Jo Rupp) matching pastel outfits — were the work of Emmy-winning costume designer Melina Root, who was as responsible as anyone for helping craft a realistic diorama of the 70s. 
Root's attention to detail made for one interesting problem for Josh Meyers, who joined the cast in Season 8 as Point Place newcomer Randy Pearson. Randy was hired by Steven Hyde (Danny Masterson) at the record store he and his sister Angie (Megalyn Echikunwoke) were running. Randy later becomes a temporary love interest for Donna Pinciotti (Laura Prepon), but Meyers' 1970s-era pants fit so tight that he found figuring out what to do with his hands to be an awkward predicament.
Meyers credits the writers for integrating Randy smoothly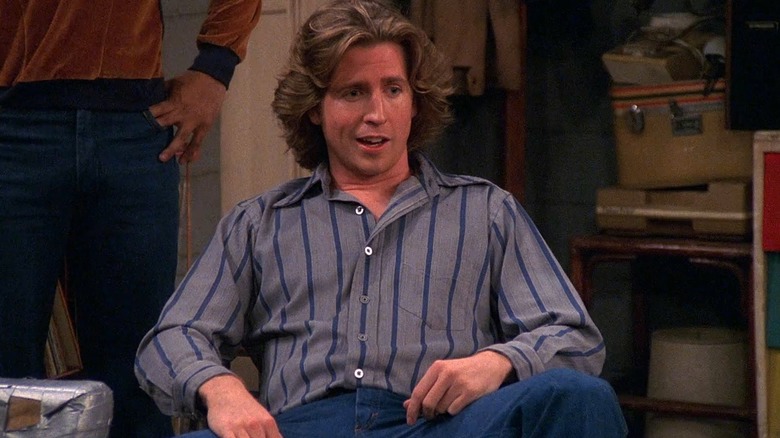 Fox
In a "That '70s Show" flashback featurette on YouTube, Josh Meyers discussed how excited he was to join the cast, but that he feared inciting the ire of fans who would be upset that he was "stealing Eric's girlfriend, which the writers did a very good job of explaining I was not doing."  
He went on to compare his ability to ingratiate himself with Eric's parents, Red (Kurtwood Smith) and Kitty (Debra Jo Rupp), to that of Eddie Haskell (Ken Osmond) of "Leave it to Beaver." And when it came to the fashion of the era depicted on "That '70s Show," he explained that he grew up in New Hampshire, where tight bell bottoms were apparently still in fashion. "Nothing strange for me, wearing these clothes," Meyers said. "My biggest problem was knowing where to put my hands in scenes because you just can't get 'em in your pockets." 
Despite the awkwardness of having his arms dangling loosely at his sides at times, Meyers managed to portray Randy as smooth enough to eventually end up romantically involved with Donna and become an integral part of the friend group at the heart of "That '70s Show."