The Hunger Games: The Ballad Of Songbirds And Snakes First Trailer Dives Back Into The Terrifying World Of Panem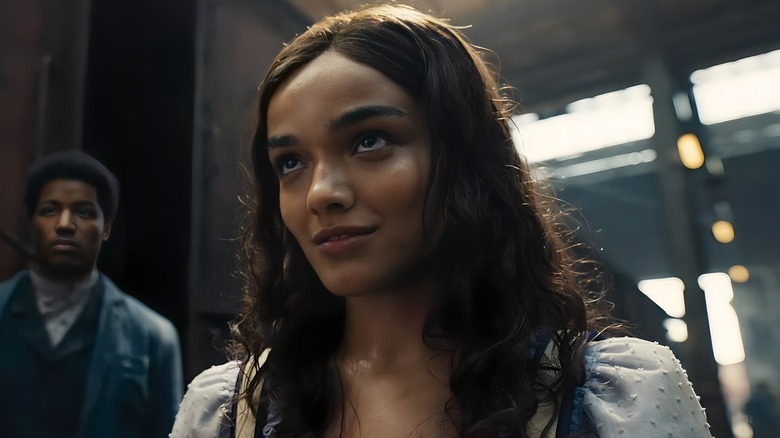 Lionsgate/YouTube
Thanks largely to the success of the "Harry Potter" film adaptations, the early 2000s saw a boom in young adult novel-based movies. "The Chronicles of Narnia," "Divergent," and more graced the silver screen in hopes of competing with the Wizarding World, with each finding varying levels of success. One of the franchises that came the closest to becoming an equal to its magical contemporary is "The Hunger Games," which took over the cinema across four installments from 2012 to 2015. In that time it amassed countless fans, raked in loads of cash, and made lead Katniss Everdeen (Jennifer Lawrence) a household name.
At the time of this writing, the era of widespread hype for "Hunger Games" movies has died down considerably. Hollywood hasn't tried to dig deeper into the world and characters created by author Suzanne Collins, but that's about to change. The "Hunger Games" universe is on its way back to the silver screen in the form of "The Hunger Games: The Ballad of Songbirds and Snakes." This prequel — based on the 2020 book of the same name — puts the spotlight on a young Coriolanus Snow (Tom Blyth) decades before taking up his role as the president of Panem.
For those who've been waiting for more "Hunger Games" media, your patience is beginning to pay off. We finally have a proper trailer for "The Ballad of Songbirds and Snakes."
The Ballad of Songbirds and Snakes brings Panem back to the movies in a big way
Even without the presence of well-known "Hunger Games" heroes, "The Ballad of Songbirds and Snakes" looks like an exciting prequel to the celebrated series. In this trailer alone, we get a glimpse at what Panem and its districts were like over six decades before the time of Katniss Everdeen and Peeta Mellark (Josh Hutcherson). We also learn a bit about the headspace of future president Coriolanus Snow, who seems quite different from his old "Hunger Games" self — famously portrayed by the great Donald Sutherland.
Additionally, the new "Ballad of Songbirds and Snakes" teaser offers up brief looks at some franchise newcomers as well as returning characters. First and foremost is Rachel Zegler's District 12 standout, Lucy Gray Baird, alongside such names as Hunter Schafer, Viola Davis, and Peter Dinklage, who play Tigris Snow, Dr. Volumnia Gaul, and Casca Highbottom, respectively. We'll have to wait and see how faithful they are to their book counterparts and how they'll fit into this Hollywood take on the "Ballad of Songbirds and Snakes" novel.
Lionsgate aims to release "The Ballad of Songbirds and Snakes" on November 17, leaving fans plenty of time to prepare for more action, drama, and adventure in the "Hunger Games" universe.