John Wick 4 Fans Can't Stop Talking About The Nostalgic Soundtrack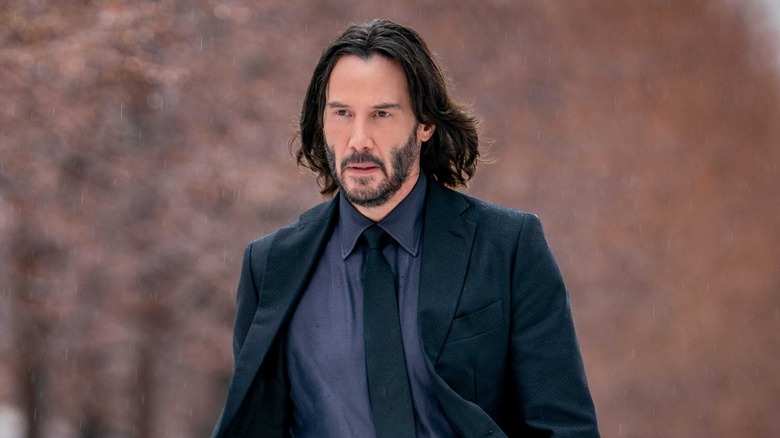 Lionsgate
"John Wick: Chapter 4" is in theaters now, and fans of the franchise seem to be particularly pleased with the saga's most recent installment. And earning particular praise is the soundtrack, which seems designed to trigger not just general music nostalgia, but nostalgia for music that is heard in previous "John Wick" films. The "John Wick" series has been around for almost a decade now, so as strange as it may seem, nostalgia for earlier movies in the series is a real factor in the enjoyment of its latest entry.
In a Reddit post praising virtually every aspect of the film, Reddit user u/Frankocean2 cited music throwbacks to the original "John Wick" as being particularly fulfilling: "We even had the same iconic soundtrack from 'Wick 1,' the club scene." Meanwhile, u/Multibananaman321 opined, "The soundtrack is SOO GOOD. We got the OG LED Spirals song from the first movie in a sequence that will go down in history. And then we got 'Genesis' from [French electronic duo] Justice on the stairs fight?"
And that's not all the praise that fans have reserved for the film's soundtrack.
The film includes some ear-catching cover songs that fans seem to love
While nostalgia for "John Wick" films of the past seems to make up a significant portion of the "John Wick: Chapter 4" soundtrack, fans also seem impressed by the film's signature cover songs of old favorites. Reddit user Ruddose, after first praising the aforementioned use of "Genesis" by Justice, went on: "The French version of 'Paint it Black' during the beginning of the superb car chase scene. What an amazing adrenaline rush."
"Chapter 4" also includes a cover of the classic Martha and the Vandrellas song "Nowhere to Run," an especially apt lyric for the plight of John Wick throughout the course of the movie.
The combination of music and action is an integral part of the appeal of the "John Wick" films, and it appears that the makers of "Chapter 4" have done right by the franchise's musical history in the eyes (and ears) of fans.